Buy local this holiday season
Looking for a real Christmas tree or unique gift? Consider one made from locally grown Ontario wood. Learn about the benefits of buying local and find Christmas tree farmers and artisans in your area.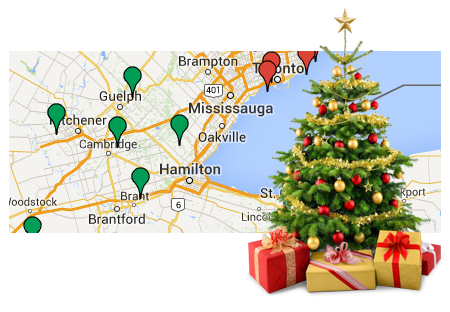 Learn about the many benefits of Ontario Wood and why it's the natural choice for price, function, beauty, versatility and performance.
Learn which type of Ontario Wood is best suited for your building project.
Producers, distributors and supporters can become a partner and use the official leaf logo to identify or show support for local wood products.
How distributors can order merchandising (point-of-sale) materials to help customers identify local Ontario Wood products.
Partner profile
Cherrywood Studio, King Township
Steve Meschino and Barb Benoit own and operate Cherrywood Studio in King Township, Ontario. They salvage trees in southern Ontario and turn them into beautiful and unique pieces of furniture for customers across Ontario and North America.
Cherrywood Studio works with local craftspeople for the metal fabrication used in their pieces and is a proud supporter of Ontario Wood.