2017 Accessibility Innovation Showcase
The Accessibility Innovation Showcase is an event highlighting innovative assistive technologies and devices through interactive exhibits.
Event details
Date:
September 25-26, 2017
Times:
September 25: 10 am – 6 pm
September 26: 9 am – 5 pm
Location:
The Sheraton Centre
Civic Ballroom
123 Queen Street West
Toronto, ON
Cost: Free admission
About the event
The 2017 Accessibility Innovation Showcase will profile innovative accessibility technologies and assistive devices through interactive exhibits. Thousands of visitors are expected and will experience the latest technologies to help improve the lives of Ontarians with disabilities.
Motivational speakers, artists and athletes will share their experiences and demonstrate how technological advancements can improve the lives of people with disabilities.
An official event of the 2017 Invictus Games, the showcase will bring together top innovators, investors, local and international dignitaries, government representatives and the public.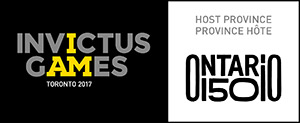 Who will attend
The showcase is for:
investors looking for companies with high investment potential in this emerging market
innovators who want to exhibit their technological innovations and assistive devices and participate in investment and industry networking opportunities
people interested in learning about innovative new technologies and how they are helping people with disabilities and changing the world.
Exhibitors
Able Bionics (booth #23)
Able Bionics provides exoskeleton products and services to help people with mobility impairments to walk.
Accessibility Directorate of Ontario (booth #10)
The Accessibility Directorate of Ontario is responsible for implementing the Accessibility for Ontarians with Disabilities Act and educating the public and organizations on the importance of accessibility.
AccessNow (booth #30)
AccessNow is a mobile app that uses crowdsourcing to rate the accessibility of locations around the world.
Aorte Fitness Gear (booth #46)
The Kinetic Resistance Apparatus by Aorte Fitness is a device designed for exercise, rehabilitation and muscle conditioning that is wheelchair and hospital equipment compatible.
Avertus (booth #32)
Avertus' Halo 10 EEG headset is a wireless brain-computer interface, eliminating the time-consuming application of wires and limiting the need for technician assistance.
Awake Labs (booth #44)
Awake Labs' Reveal is a wearable device that measures and tracks indicators of stress and anxiety and corresponding behaviours in real time.
Bisep (booth #24)
Bisep's A.R.M.M. is a dynamic device that attaches any wheelchair to any walker, enhancing the safety and effectiveness of ambulation training.
Braze Mobility (booth #13)
Braze Mobility's Braze View is an after-market solution that can transform any wheelchair into a 'smart' wheelchair that can detect obstacles such as people, walls and furniture.
BresoTec (booth #41)
BresoTec develops products for the diagnosis and treatment of sleep apnea and related health conditions.
BrightGuide (booth #21)
BrightGuide allows people with cognitive challenges to record and view videos of themselves performing activities, enabling their performance of daily routines while boosting self-confidence and autonomy.
Canadian National Institute for the Blind (CNIB) (booth #3)
The CNIB offers book/magazine production and distribution in accessible formats for print disabled users.
Carleton University (booth #1)
Key2Access is a technology allowing directional beacons to be set up in buildings, offering wayfinding capability for people with visual impairments. It can also activate automated doors. Timsle is an accountability network to help people keep on track with daily goals, alerting people close to them to offer support and alerting them if things seem to be veering off course. Lift is a height-adjustable, movable table with integrated storage that provides home cooks with a comfortable and flexible work surface in the kitchen.
Centre for Addiction and Mental Health (CAMH) (booth #2)
CAMH's MiChecker is a digital pet that turns routines into games for children and youth with developmental disabilities
Cheelcare (booth #22)
Cheelcare's Xceed wheelchair provides users a futuristic design and unparalleled multi-functionality in one innovative device while also offering uncompromising safety and comfort.
Crosswing (booth #18)
Crosswing's virtualME is an affordable assistive interactive robotics platform that enables people to conveniently connect with one another.
Cyberworks Robotics (booth #12)
Cyberworks has developed an affordable, fully autonomous self-driving add on system for standard power wheelchairs.
eSight (booth #31)
eSight's eGlasses are a breakthrough wearable device that allows those living with visual impairment to actually see.
Essential Accessibility (booth #19)
Essential Accessibility integrates web accessibility compliance and assistive technology to enhance the customer experience for people with disabilities.
GaitTronics (booth #48)
GaitTronics is an innovative robotics company developing rehabilitation technologies that improve patient care, minimize staff workload and reduce care costs.
GestureTek Health (booth #36)
GestureTek's IREX 1.5 immersive video gesture control technology places patients into virtual sport or gaming environments.
Heuristext (booth #20)
Heuristext's app makes information easier for anyone to understand by changing the reading level on any web site.
iBIONICS (booth #40)
The iBIONICS Diamond Eye device restores vision, enabling the blind to recognize faces and read large print, resulting in increased autonomy.
iMerciv (booth #38)
iMerciv's Buzzclip is a wearable assistive device that empowers people living with low vision, improving their confidence, independence and quality of life.
Interaxon (booth #35)
Muse is a brain-sensing headband that makes meditation easier by providing feedback on what's happening in your brain when you meditate, letting you know when your mind wanders and helping you regain focus.
Komodo OpenLab (booth #43)
Komodo's Tecla device enables those with physical impairments to use their iOS and Android devices, computers, and smart home systems, hands-free.
Koolway Sports (booth #14)
Koolway Sports' clothing is designed and manufactured specifically for wheelchair users, enabling them to achieve maximum independence in all aspects of life.
LegWorks (booth #37)
LegWorks All Terrain Knee is a high-functioning, waterproof and purely mechanical knee joint that enables people to conquer all terrains.
Magnet (booth #27)
Magnet is an online job matching platform and tool with connections to thousands of employers, many of whom know the benefits of hiring people with disabilities.
Marlena Books (booth #47)
The Marlena Books app allows access to engaging adult-level reading material for people with dementia, their family members and care givers, providing for cognitive stimulation and meaningful leisure.
Meditech International (booth #17)
Meditech's Bioflex laser therapy system effectively treats a wide range of conditions, ranging from musculoskeletal injuries to neurological disorders.
MyndTec (booth #39)
MyndTec's Myndmove is a non-invasive therapy that uses a functional electronic stimulation device (FES) to restore voluntary hand and arm function to people with arm and hand paralysis.
Neurovative Technologies (booth #33)
Neurovative Technologies' Vibrant technology applies high frequency, low amplitude vibration to pain-affected areas, providing pain management without medication.
Nia Technologies (booth #29)
3D Printability combines 3D scanning, modelling and printing technologies with custom software and affordable hardware to produce prosthetic and orthotic mobility devices for children and youth.
Novalte (booth #15)
Novalte is focused on empowering wheelchair users with limited upper body mobility to transcend their physical disabilities through innovative technologies and devices.
OCAD University (booth #6)
OCAD's BIG IDeA is a platform that brings business and people with disabilities together to advance accessibility innovation and inclusion in Ontario.
Quillsoft (booth #25)
Quillsoft's WordQ is a writing tool used alongside standard word processing software to provide writing assistance to students with learning and physical disabilities.
Ryerson University (booth #9)
Ryerson's Inclusive Media and Design Centre designs, creates and evaluates inclusive media and technology.
Sense Intelligent (booth #16)
Sense Intelligent's S-Hearing software turns smart devices into customizable, high quality hearing aids for the hearing impaired. V-Hearing is an intuitive, non-invasive tool to help deaf people interpret sound through their vision.
Steadiwear (booth #34)
Steadiwear's Steadiglove is a lightweight, compact, responsive glove that reduces tremors in Essential tremor and Parkinson's Disease.
TellMe TV (booth #26)
TellMe TV is the world's first 100% described video-on-demand service offering convenient audio description on demand for people with visual impairment.
Tetra Society of North America (booth #5)
The Tetra Society matches technical volunteers with people with disabilities to create custom-built assistive devices.
Top Motion and Mobility (booth #11)
Top Motion and Mobility provides custom design, manufacturing, repairs and pressure wound prevention services for people using wheelchairs.
TorchGames VR (booth #42)
TorchGames VR is dedicated to creating immersive virtual reality games for education, therapy, rehabilitation and training for young people with autism and their families.
Toronto Rehabilitation Institute - UHN (booth #7)
Toronto Rehab's iDapt (intelligent Design for Adaptation, Participation and Technology) Lab is focused on developing new and more effective rehabilitation treatments, assistive devices and technologies to maximize recovery for people with disability, illness and age-related conditions.
Trexo Robotics (booth #28)
Trexo Robotics has created the first ever exoskeleton devices to help children with disabilities learn to walk.
University of Ottawa (booth #4)
The Wireless Call Bell is a medical alert device designed specifically for patients with mobility challenges or reduced cognitive skills.
Head Mouse is a calibrated gyroscope sensor attached to multiple wearables that acts as a traditional mouse, allowing users to operate their computers based on a reading from the gyroscope.
Vigurus Technologies (booth #45)
Vigurus' Sp1ke technology is used in a range of applications offering pressure relief, load management and vibration damping whether sitting, standing or lying down.
Exhibitor Floorplan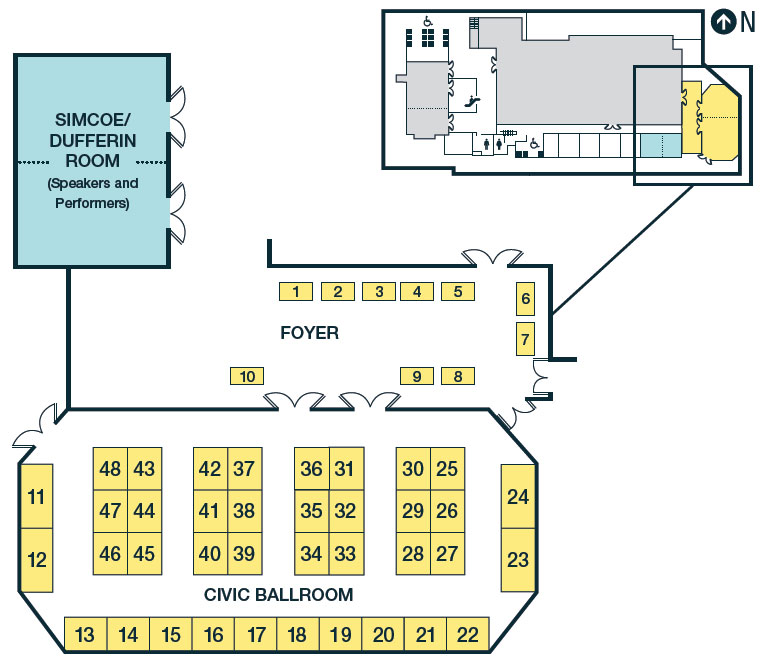 View a larger version of this map (PDF)
Daily schedule
Monday, September 25
Time
Simcoe Dufferin Room
Speakers and Performers
Welcome to the Accessibility Innovation Showcase
10:00 a.m. – 10:15 a.m.
Official Accessibility Innovation Showcase Opening
Welcome remarks
10:15 a.m. – 10:45 a.m.
Performance
LEGacy Circus,Erin Ball and Vanessa Furlong
10:45 a.m. – 12:00 p.m.
Wearable Assistive Technologies Fashion Show
eSight, iMerciv, Interaxon, Steadiwear, University of Ottawa
12:00 p.m. – 1:00 p.m.
Intermission
Theme: What's Next for Accessibility Technology?
1:00 p.m. – 1:30 p.m.
Accessibility Innovations from Holland Bloorview
Dr. Tom Chau, VP Research and Director, Bloorview Research Institute, Holland Bloorview Kids Rehabilitation Hospital
1:30 p.m. – 1:45 p.m.
Technology Demonstration
iBIONICS
1:45 p.m. – 2:15 p.m.
Performance
Kara Shaw, Musician
2:15 p.m. – 2:30 p.m.
Technology Demonstration
Komodo
2:30 p.m. – 3:00 p.m.
Accessible Media Inc.
Peter Armstrong, Manager, Digital Content
3:00 p.m. – 3:30 p.m.
Emmetros
Jennifer Krul, Chief Experience Officer
3:30 p.m. – 3:45 p.m.
Technology Demonstration
Nia Technologies
3:45 p.m. – 4:15 p.m.
Canadian Broadcasting Corporation (CBC)
Patrick Dunphy,Digital Accessibility Program Manager
4:15 p.m. – 4:30 p.m.
Technology Demonstration
Novalte
4:30 p.m. – 5:00 p.m.
University of Toronto
Dr. Goldie Nejat, Director,Institute for Robotics and Mechantronics, University of Toronto
5:00 p.m. – 5:15 p.m.
Technology Demonstration
Torch Games VR
Tuesday, September 26
Time
Simcoe Dufferin Room
Speakers and Performers
Theme: Getting Better at Getting Older
9:30 a.m. – 10:00 a.m.
The Silver Tsunami Cometh: Implications of Changing Demographics
John Wright, CEO,Dart Insight and Communication
10:00 a.m. – 10:30 a.m.
University of Toronto
Dr. Anita Stern, Research Associate, Technologies for Aging Gracefully Lab
10:30 a.m. – 10:45 a.m.
Technology Demonstration
BrightGuide
10:45 a.m. – 11:15 a.m.
Toronto Rehabilitation Institute, UHN
Dr. Geoff Fernie, Institute Director, Research
11:15 a.m. – 11:30 a.m.
Technology Demonstration
Bisep
11:30 a.m. – 12:00 p.m.
Sinai Health System, UHN
Dr. Samir Sinha, Director of Geriatrics
12:00 p.m. – 12:15 p.m.
Technology Demonstration
Crosswing
12:15 p.m. – 12:45 p.m.
McMaster Institute for Research on Aging (MIRA)
Dr. Parminder Raina, Scientific Director
12:45 p.m. – 1:00 p.m.
Technology Demonstration
University of Ottawa
Theme: Spotlight on Invisible Disabilities
1:00 p.m. – 1:45 p.m.
Performance
Michael McCreary, Aspie Comic
1:45 p.m. – 2:00 p.m.
Technology Demonstration
Heuristext
2:00 p.m. – 2:30 p.m.
Centre for Addiction and Mental Health (CAMH)
Dr. David Goldbloom, Sr. Medical Advisor
2:30 p.m. – 2:45 p.m.
Technology Demonstration
Awake Labs
2:45 p.m. – 3:15 p.m.
Performance
Workman Arts Bruised Years Choir, Jim Le Francois, Choir Director
3:15 p.m. – 3:30 p.m.
Technology Demonstration
Quillsoft
3:30 p.m. – 4:15 p.m.
Keynote Speaker
Rick Green, Totally ADD
4:15 p.m. – 4:30 p.m.
Official Accessibility Innovation Showcase Closing
Remarks
Contact us
Email us for more information.
Updated: May 18, 2021
Published: April 11, 2017