Alternate-leaf dogwood
Scientific name: Cornus alternifolia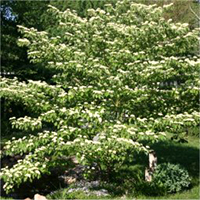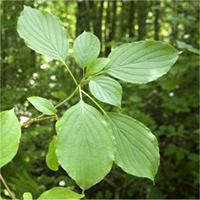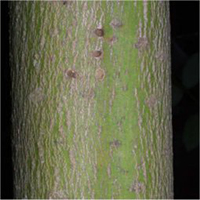 What it looks like
This species is unique amongst the dogwoods for having an alternate leaf arrangement, though leaves are clustered on the ends of the branches. It is also called pagoda dogwood for its attractive horizontal tiers of branches on older trees. Large clusters of white flowers appear in spring, followed by dark blue berries on red stalks in midsummer.
Where it is found
Alternate-leaf dogwood is a common understory or forest-edge species throughout southern Ontario, with isolated stands around Sault Ste. Marie, Thunder Bay and Lake of the Woods area. It is a slow-growing species.
Planting Tips
Size: Up to 10 m high
Moisture: Prefers evenly moist soils
Shade: Prefers partial shade, full sun with ample moisture
Soil: Prefers well-drained, deep soils
To provide understory species like alternate-leaf dogwood with even moisture all year long, mulch well with 8 cm of bark mulch, or plant near the sloped edge of a water feature where the roots can access water in the heat of the summer.
Older specimens of alternate-leaf dogwood can be affected by a stem canker but planting healthy stock and limiting drought stress will help prevent this problem.
Did you know?
Alternate-leaf dogwood berries are a favourite food of summer songbirds.
Image credits
Tree: Steven Katovich
Leaf: Natural Resources Canada, Canadian Forest Service
Bark: Steven J. Baskauf
Berries: Sean Fox
Updated: October 06, 2021
Published: July 17, 2014