Balsam poplar
Scientific name: Populus balsamifera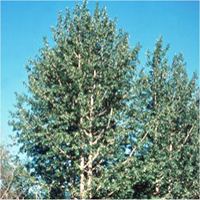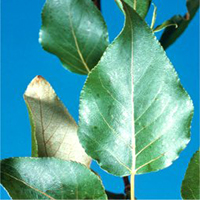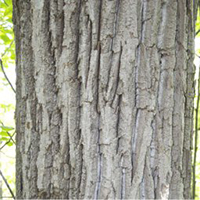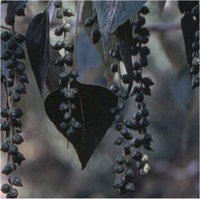 What it looks like
Balsam poplar is notable for its pointed, shiny, oval-shaped leaves and resin-dotted undersides. Apart from other native poplars, this species has sticky, fragrant buds that smell of balsam. Male trees flower in long, hanging catkins before the leaves appear and female trees disperse fluffy seeds into the air in late spring.
Balsam poplar has flat gray scaly ridges at maturity.
Where it is found
The range of balsam poplar spans coast to coast in Canada, and grows everywhere in Ontario except on the northernmost fringe near Hudson Bay. It is one of the hardiest deciduous trees in Canada.
Planting Tips
Size: Up to 25 m tall
Moisture: Prefers moist soils
Shade: Intolerant of shade, prefers full sun
Soil: Prefers rich, well-drained soil
Balsam poplar can provide a quick "nurse crop" for shade-tolerant species needing wind protection to get established, such as hemlock or white pine.
It is often planted as a fast-growing windbreak in rural areas and does not root sucker as readily as other species.
Did you know?
Bees sometimes harvest the resin from balsam poplar and use it to disinfect their hives.
Image credits
Tree: Natural Resources Canada, Canadian Forest Service
Leaf: Natural Resources Canada, Canadian Forest Service
Bark: Natural Resources Canada, Canadian Forest Service
Berries: Natural Resources Canada, Canadian Forest Service
Updated: October 18, 2022
Published: July 18, 2014