Bur oak
Scientific name: Quercus macrocarpa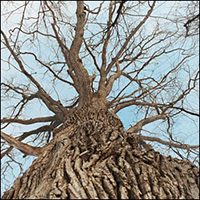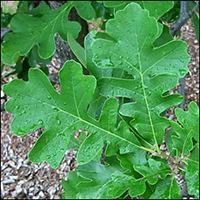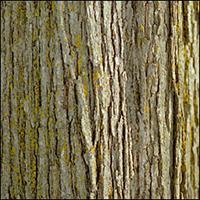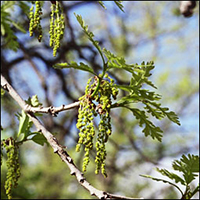 What it looks like
The bur oak's large leaves are 15 to 25 centimetres long, and are shiny green on top, and pale and hairy underneath. Its acorns, which are 1.5 to 3 centimetres long, have a deep cup covering 2/3 of the acorn. This cup has a bristle fringe around the upper edge.
Depending on where it grows, the bur oak can be different shapes. It's usually tall with a straight trunk but if grown in shallow soil, it can be smaller with a twisted trunk and gnarled branches.
Where it is found
The bur oak is a medium to large tree, growing up to 30 metres in height. It is the most common oak in Ontario.
Planting Tips
Size: 15 to 30 metres tall, trunk 60 to 120 centimetres in diameter
Moisture: Tolerates a wide variety of moisture conditions
Shade: Prefers full sun, but can tolerate moderate shade
Soil: Can grow in a variety of soils
The bur oak's roots grow deep into the soil, so plant it where there aren't underground pipes. The bur oak can survive being transplanted and it grows well in cities.
Did you know?
The bur oak can survive forest fires because it has very thick bark. It can also tolerate drought because its roots grow deep into the ground.
Image credits
Tree: Daniel Tigner, Canadian Forest Tree Essences
Leaf: USDA Plant Database
Bark: Daniel Tigner, Canadian Forest Tree Essences
Fruit: Daniel Tigner, Canadian Forest Tree Essences
Updated: October 18, 2022
Published: July 18, 2014