Cargo e-bike pilot program
Learn about using a cargo e-bike in Ontario.
About cargo e-bikes
Cargo e-bikes are a type of electric-powered bike with a platform or box to carry larger items like packages and boxes for deliveries.
Businesses can use cargo e-bikes:
as another way to deliver products
to reduce their carbon footprint
as an alternative to larger delivery trucks
People can also use cargo e-bikes to transport larger items for personal purposes.
There are many kinds of cargo e-bikes, for example: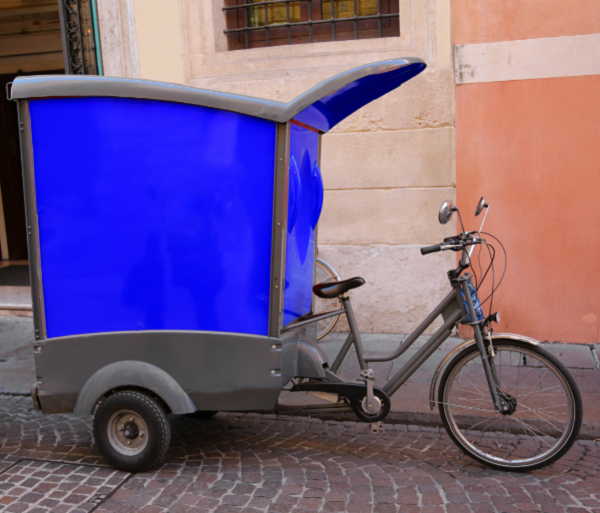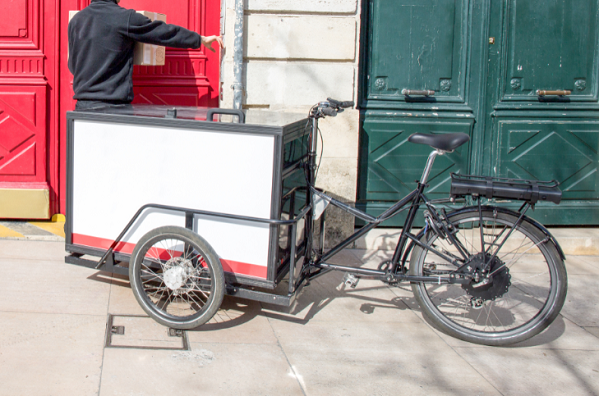 About the pilot program
The cargo e-bike pilot program lets municipalities choose where and how cargo e-bikes can be used. The pilot will run from March 1, 2021, to March 1, 2026.
The pilot program sets out requirements, such as:
helmet requirements
minimum age for operators
size and speed restrictions
Municipalities that choose to allow cargo e-bikes are responsible for how cargo e-bikes are managed in their municipality. This includes determining:
where cargo e-bikes can be used (for example, on roads and bike paths, in parks and on trails)
where cargo e-bikes can park
how to monitor and report on the use of cargo e-bikes under the pilot
if insurance is required (the type and coverage)
how people can give feedback on cargo e-bike use in their municipality
other considerations relevant to the municipality
After the pilot
We will use the information gathered from municipalities during the pilot to help determine if cargo e-bikes will be allowed permanently in Ontario and what the rules will be. Municipalities are also required to provide information about any collisions to the province.
How to participate
People or businesses
If you or your business want to participate in the pilot program, you must:
Check with your municipality to find out whether cargo e-bikes are allowed and if so, what requirements apply.
Municipalities
Municipalities that want to allow cargo e-bikes to operate on their roads must pass by-laws to permit their use and set out specific requirements based on what is best for their communities. The municipal guidelines document outlines best practices for municipalities participating in the pilot program.
Municipalities should also let the Ministry of Transportation know that they are participating in the pilot by contacting SPDB@ontario.ca.
Requirements
Cargo e-bike requirements
Cargo e-bikes allowed under the pilot must:
have a traditional bicycle design
be electric-powered with a maximum power output of 1000 watts
have a maximum power-assisted speed of 32 km/h
have pedals to propel the bicycle at all times
have a platform, basket or container for carrying cargo, parcels or goods
have steering handlebars
weigh more than 55 kilograms
be a maximum width of 1.3 metres
be a maximum length of 4 metres
be a maximum height of 2.2 metres
have wheels with a minimum width of 35 millimeters and a minimum diameter of 350 millimeters
have two or three wheels
have brakes
have a horn or bell
have one white light in front, one red light in rear and reflective material on the sides
not fully enclose occupants (partial enclosures over occupants are permitted)
not be deemed a motor vehicle
There is no maximum weight limit.
Driver requirements
The person driving a cargo e-bike under the pilot must:
be at least 16 years of age
allow passengers only if the passenger is using a seat designed for passenger use (the seat must be manufactured as part of the vehicle)
wear a helmet (passengers must also wear a helmet)
not be under the influence of drugs or alcohol while operating a cargo e-bike (consequences under the Criminal Code of Canada may apply)
use the cargo e-bike in the bicycle lane or to the right-most side of the road (where permitted)
ensure that any load is loaded, bound, secured, contained or covered so that no portion of the load may become dislodged or fall, leak, spill or blow from the cargo e-bike
The person driving a cargo e-bike is not permitted to:
tow devices or vehicles
carry dangerous or hazardous goods
leave the vehicle in a location that is intended for vehicles or pedestrians (for example, bicycle lane or sidewalk)
operate the cargo e-bike on major highways (for example, 400-series highways, QEW, etc.)
modify the vehicle
Other requirements
As with regular bicycles or e-bikes, all Highway Traffic Act rules of the road apply to cargo e-bikes. Penalties will also apply to violations of the pilot regulation (fines of $250 to $2,500). Police enforce violations of the pilot regulations.
For the full list of pilot requirements, please see Ontario Regulation Cargo E-Bikes.
Updated: June 04, 2021
Published: March 01, 2021