Eastern hemlock
Scientific name: Tsuga canadensis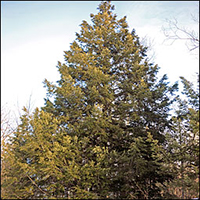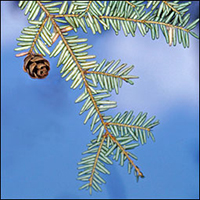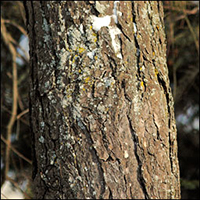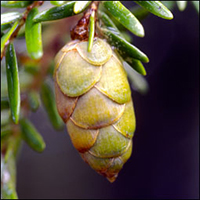 What it looks like
Its shape is conical, with a wide trunk that tapers into a thin top. Skinny flexible branches grow straight out from the trunk and then droop at the ends. The eastern hemlock's bark is scaly when the tree is young and cracks deeply as the tree gets older.
Its needles are 1 to 2 centimetres long and are shiny green on top and paler underneath. The cones of the eastern hemlock are oval shaped, and are 12 to 20 millimetres long. In the late fall and winter, the seeds fall out of the cones and onto the ground.
Where it is found
The eastern hemlock grows in southern Ontario. It prefers moist and cool areas and grows in a range of different soil types.
Planting Tips
Size: 30 metres tall, trunk 100 centimetres in diameter
Moisture: Needs a lot of moisture
Shade: Very shade tolerant
Soil: Grows in many soil types
The eastern hemlock is very shade tolerant, so it's ideal for planting in a spot that doesn't get much sun. It can grow in any soil type.
Did you know?
The eastern hemlock can live for up to 600 years!
Image credits
Tree: Daniel Tigner, Canadian Forest Tree Essences
Needles: Daniel Tigner, Canadian Forest Tree Essences
Bark: Daniel Tigner, Canadian Forest Tree Essences
Cone: Daniel Tigner, Canadian Forest Tree Essences
Updated: October 18, 2022
Published: July 18, 2014