Eastern redcedar
Scientific name: Juniperus virginiana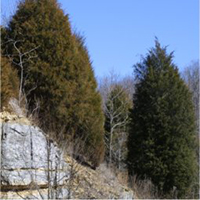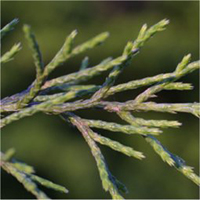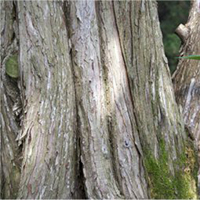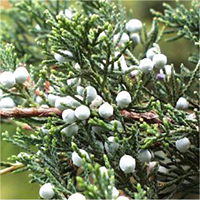 What it looks like
This species looks and sounds like a cedar tree from a distance but it is a tree-sized juniper. It has two kinds of bluish-green leaves, sharply pointed needles and softer, more rounded scale leaves. The cone looks like a berry, with a bluish-white powder on the surface. It is slow growing but old bark peels off in long, fibrous strands.
The eastern redcedar is well adapted to dry soils and harsh conditions, and thrives even with salt spray from our roads.
Where it is found
Eastern redcedar is found in eastern Ontario and also scattered along the shores of Lake Huron, Lake Erie and Georgian Bay, as far north as the French River. It is often abundant on roadsides and in abandoned fields.
Planting Tips
Size: Up to 10 m tall
Moisture: Dry to average moisture
Shade: Intolerant of shade
Soil: Prefers well-drained loamy, sandy or rocky soils with high pH
As a native evergreen, this species is useful for windbreaks and hedges on tough, dry, limestone-based soils where little else grows. It rarely requires pruning but can be sheared into topiary.
Did you know?
Migratory seed-eating birds are thought to be responsible for the scattered pockets of eastern redcedar near many lakes.
Image credits
Tree: Steven J. Baskauf
Needles: Robert Vidéki
Bark: Natural Resources Canada, Canadian Forest Service
Cone: Paul Wray
Updated: October 18, 2022
Published: July 18, 2014