Ministry of Transportation Engineering Development Program
Learn about Ontario's engineering development program and how to apply.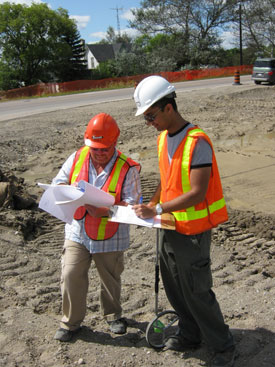 The Engineering Development Program (EDP) is a four-year rotational program where participants gain engineering experience in a variety of disciplines. After completion of the four years, EDP participants are encouraged to secure their engineering license with the Professional Engineers of Ontario (PEO). They have an additional two years to successfully secure a regular position outside the program by way of a self-directed job search.
Why apply to the Engineering Development Program?
Gain relevant work experience to obtain your Professional Engineering Licence. The EDP is designed to provide you with the required work experience to obtain your Professional Engineers of Ontario Licence within four years.
Satisfying and meaningful work. Your contribution will be vital towards enhancing Ontario's highways and bridges, as well as MTO's delivery of the largest highway construction program in Canadian history.
Networking opportunities. Interact with engineering professionals from the private sector, municipalities, and transportation agencies, putting you on the right track to a successful career in the Ontario Public Service.
Career Growth in the Ontario Public Service. Begin with us, stay with us. You will have the opportunity to apply for more senior positions with competitive salaries.
Who can apply for the EDP?
This program is for those who have graduated within the last two years from a four-year University degree in civil or geotechnical engineering and who wish to obtain their Professional Engineers of Ontario License from PEO. You must be a Canadian citizen or permanent resident of Canada eligible to work in Ontario.
How and when can I apply?
You can apply for this program through the OPS Careers website. Be sure to check the OPS website often for EDP job postings.
You can apply for this program through the OPS Careers website by submitting a cover letter and resume. EDP job postings are posted in the fall of each year. Be sure to check our website often for updates and the OPS Careers website. You may also choose to be notified of opportunities by e-mail for up to nine months when new job advertisements are posted that match the criteria or career stream you are interested in. To subscribe to these notifications, see Job Alert Subscribe.
To be alerted of EDP job postings during the period of your subscription, select the Region(s) you are interested in, select "Engineering" as a job category, select "English" as Jobs Posted in, and ">$50,000" as a minimum salary.
Are there resources available to assist me in preparing a cover letter and resume?
Yes. It is recommended that you review and update your resume and cover letter for every job posting you apply to. For more tips and tools on resume writing go to our Ontario Public Service Careers website. From the main page, click on "Hiring Process" (found on the left side of the screen) to access a Resume Writing Guide and other tools.
Is there on-the-job learning and how does it work?
Yes, the ministry provides both classroom as well as on-the-job learning. Participants can expect to engage in practical, multifunctional learning experiences through rotational assignments in many disciplines, which could include:
Where can I ask questions about the EDP?
Please direct any questions you have about the EDP to MTO-EDP@ontario.ca. A ministry staff person will respond to you shortly.
What kind of work or rotational assignments are available?
Potential work could include the following:
Highway design
research technical data and conduct site investigations for preliminary designs, quantity and cost estimates, tender documents
design using Digital Terrain Modelling, Computer-Aided Drafting (AutoCAD)
assist in consultant acquisition and management, including evaluating proposals
Traffic
review traffic capacity and collision analyses
evaluate proposed changes to traffic control practices and policies
develop innovative solutions to traffic management issues
design and implement new control devices
assist in the design and implementation of: Freeway/Advanced Traffic Management Systems, and Intelligent Transportation Systems
Bridge engineering
conduct structural condition inspections
perform preliminary designs and investigations
assist in the design of bridge structures
utilize Computer Modelling to assess bridge behaviour (SFRAME, CANBAS)
conduct Hydrology studies
Environmental
support project teams and environmental staff in:

assessing environmental impacts
ensuring compliance with Environmental Assessment requirements
preparing environmental reports
recommending mitigation measures to address potential implications of highway construction
Geotechnical/Engineering materials
assess field information including: pavement condition, and subsoil and aggregate sources
research and evaluation
prepare pavement and soils design reports
identify pavement management strategies
recommend rehabilitation programming
Operational services
conduct field reviews of municipal/maintenance projects
prepare highway and infrastructure repair projects and highway inventory reports
operation of Advanced Traffic Management System, Global Positioning, Advanced Road Information System
Maintenance
monitor highway conditions and determine need for action
prepare/administer maintenance contracts
highway and bridge repairs, electrical systems, overhead signs
arrange for appropriate equipment, material and labour
inspect work to ensure adherence to safety standards
utilize state of the art systems, including; Advanced Traffic Management System, Global Positioning, Advanced Road Weather Information System
Construction
support the contract administration of ministry construction projects
monitor construction contracts
manage quality assurance acceptance testing and inspection
assist in the acquisition and management of consultants, including evaluating proposals
use leading edge technologies: SuperPave methodologies, total station surveying, ignition oven testing
Updated: March 17, 2022
Published: March 17, 2022