Silver maple
Scientific name: Acer saccharinum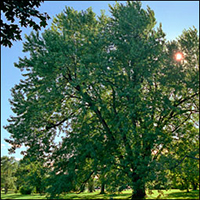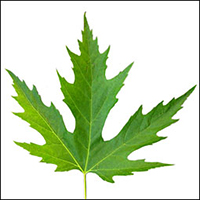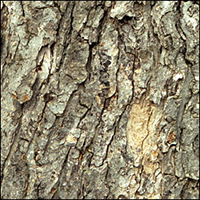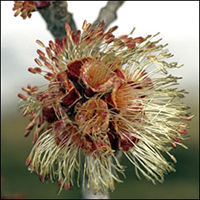 What it looks like
The silver maple is a large tree that can grow to be 35 metres tall with a trunk that's more than 100 centimetres in diameter. Its light green leaves are 15 to 20 centimetres long, with 5 or 7 lobes. The silver maple is very similar to the red maple — except that its leaves turn pale yellow or brown, not red, in the fall. Its seeds are found in "keys" that fall down from the tree in the late spring. Bark on the silver maple's trunk is smooth and gray when the tree is young, and then becomes dark reddish brown and breaks into strips that peel off at either end and make the trunk look "shaggy". Sometimes, the trunks of silver maples are hollow, creating space for animals and birds to live in.
Where it is found
The silver maple grows in central and southern Ontario.
Planting Tips
Size: Up to 35 metres tall, trunk 100 centimetres in diameter
Moisture: Prefers moist soil
Shade: Slightly shade tolerant but prefers full sun
Soil: Prefers rich soil
The silver maple is a large tree, so make sure it will have plenty of room to grow.
It isn't a good tree to plant next to city streets, because it has a lot of leaves that fall off in the autumn and it has a lot of roots that can clog sewer pipes.
Did you know?
The silver maple grows quickly — it's often planted to provide shade or to block unsightly views.
Image credits
Tree: Daniel Tigner, Canadian Forest Tree Essences
Leaf: Kristian Peters
Bark: Daniel Tigner, Canadian Forest Tree Essences
Flower: Daniel Tigner, Canadian Forest Tree Essences
Updated: October 18, 2022
Published: July 18, 2014