White birch
Scientific name: Betula papyrifera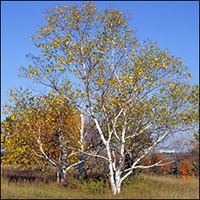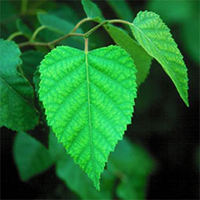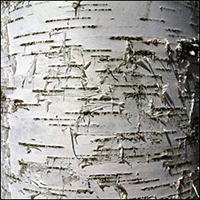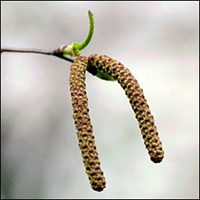 What it looks like
The white birch is a medium-sized tree that can be 25 metres tall. The tree's trunk is covered in thin, smooth white bark that peels off in large sheets. Bark from the white birch is very strong and pliable — it can be used to make canoes. Buds, leaves and seeds from the white birch are a great source of food for birds and animals. Leaves from the white birch tree are egg-shaped or triangular in shape and are 5 to 10 centimetres long. They are dull green on top and lighter green and slightly hairy underneath.
Where it is found
The white birch is found everywhere in Ontario except for along the shore of Hudson Bay.
Planting Tips
Size: 25 metres tall, trunk is 60 centimetres in diameter
Moisture: Can tolerate a variety of moisture levels
Shade: Intolerant — needs full sun
Soil: Can tolerate a variety of soils
White birch trees are often used in landscaping because they will grow almost anywhere, as long as they get enough sunlight.
Did you know?
Peeling off too much of the white birch's bark can kill the tree.
Image credits
Tree: Daniel Tigner, Canadian Forest Tree Essences
Leaf: Louis-M. Landry, University of California
Bark: Louis-M. Landry, University of California
Catkin: Daniel Tigner, Canadian Forest Tree Essences
Updated: October 06, 2021
Published: July 18, 2014