Winter driving
Learn how to get ready for winter and stay safe on the road.
Getting ready for winter
Winter weather can start early – especially in Northern Ontario. Follow these tips so you'll be prepared for the first snowfall.
Get a maintenance checkup to make sure your vehicle is winter-ready
Keep your fuel tank at least half full to help reduce moisture in the fuel system and add weight to the vehicle
Make sure you have an ice-scraper and washer fluid that works down to -40oC
Put together a winter survival kit to keep it in your vehicle and include:

charged phone
water and non-perishable food
flashlight
blanket and warm clothes
jumper cables
shovel
traction mats or sand
candles and a lighter or matches
Winter tires
Putting winter tires on your vehicle:
improves traction and control in frost, snow and icy conditions
shortens braking distances by as much as 25%
You could also get a discount on your auto insurance – ask your insurance provider.
Be sure to install four winter tires – never mix different types of tires on one vehicle.
Check your tires regularly for wear and pressure. Cold weather can bring down your tire pressure, and worn or damaged tires make it harder to drive safely.
How to recognize a winter tire
The easiest way to know a tire has been designed specifically for severe snow conditions is to look for the three-peak mountain snowflake symbol right on the tire.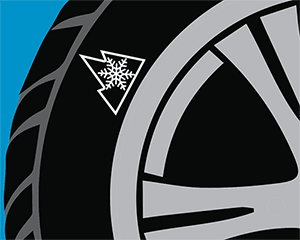 All-season and studded tires
All-season tires:
are not the same as winter tires
can start to lose grip at 7oC
Studded tires:
provide similar stopping distances as winter tires in most conditions
are less effective on bare pavement
are allowed on vehicles registered in Northern Ontario
are not allowed in Southern Ontario, unless you're visiting from out-of-province or a resident of Northern Ontario
Driving in winter weather
Winter weather can be unpredictable but some extra preparation and caution can help you stay safe.
Before you leave
Check the weather forecast. If it looks bad, delay your trip if you can
Visit Ontario511 to find out where plows are on provincial highways 
Use Ontario 511 to check road conditions:
Clear ice and snow from your windows, lights, mirrors and roof
On the road
Slow down and stay in control

Many winter collisions happen because drivers are going too fast for road conditions.

Don't use cruise control on wet, snowy or icy pavement – it reduces your reaction time and vehicle control.

Steer gently on curves and in slippery conditions. Hard braking, quick acceleration and sudden gear changes can cause you to skid.

If you do skid, release your brakes and steer in the direction you want to go. Be careful not to steer too far though or the car could spin.

Give space

It takes longer to stop on slippery roads – make sure there's extra space between you and other vehicles.

Focus and stay alert

Focus on the road. Put down the phone and don't drive distracted.

Pay attention to the road surface. Asphalt in winter should look grey-white. If it looks black and shiny it could be covered in ice. Remember that shaded areas, bridges and overpasses freeze earlier than other sections of road.

See and be seen

Use your vehicle's full lighting system in poor visibility and whiteout conditions. If conditions become dangerous, pull over safely and wait for the weather to improve.
Driving near snowplows
Stay back from working snowplows and other winter maintenance vehicles (e.g. trucks spreading salt or spraying anti-icing liquid) with flashing blue lights. You'll see them on highways before, during and after a snowfall or storm.
Never pass a working snowplow – it's very dangerous for you and the plow driver. Sight lines and visibility can be significantly reduced by blowing snow and the ridge of snow that the plow creates. Trying to pass between or around a snowplow could result in a severe – even fatal – collision.
Be patient – it takes time to clear the roads after a snowfall. If you're driving behind a snowplow, wait for it to finish its job. Roads are plowed in sections, so you usually won't be stuck behind a plow for more than 20-30 minutes.
Tips for commercial truck drivers
Winter driving rules apply no matter what kind of vehicle you're driving in the winter but there are a few extra things truck drivers should do:
clear your vehicle of ice and snow, including the top of trailers
check your lights regularly along your route for ice and snow build up
consider using a fuel treatment product to prevent diesel from gelling
plan your route before you leave and know where the truck stops are located
steer gently on curves and in slippery conditions. Sudden moves can cause you to lose control or jackknife
know how your brakes react to snow and ice. A tractor trailer's braking distance is 4 to 10 times longer on ice than on a dry road
Updated: December 29, 2022
Published: December 06, 2016