Alert: Loading limitations of utility service covers
Learn about suggested precautions when conducting construction work over underground utility vaults under sidewalks and other non-roadway areas.
Recently in Ontario a worker died and another was critically injured while operating a mobile elevated work platform over a utility service cover that was on top of a telephone company cable vault embedded in concrete below a public sidewalk. The utility service cover broke under the weight of the equipment, destabilizing the elevated platform and causing it to tip over.
Hazard
Utility owners may use similar cable vaults for different applications; only the grade of the service cover that goes on top of the vault changes, based on where the vault is embedded. Utility vaults located underground, in grass surrounds or designated walkways where there is no deliberate vehicle traffic, may use "light duty" service covers designed for green belt application. These covers are rated at 907 kilograms (kg) or 2,000 pounds (lbs) and categorized for pedestrian use only.
Utility vaults that are located anywhere in a sidewalk where vehicular traffic is limited to class 7 vehicles (3,060 kg or 2.5 ton truck) require a heavy duty cover with at least a tier 22 grade and designed to withstand a maximum applied load of 9,979 kg or 22,000 lbs.
Note: To avoid equipment or machinery tip-over hazards caused by utility covers that are broken or deformed by excessive loads, always refer to the equipment/machinery operator's manual to determine the weight of the equipment/machinery and corresponding accessories or attachments. Be sure that they do not exceed the design load limitations of any utility covers in the work area.
A mobile elevating work platform with the boom extended to a maximum reach of 24 metres (m) or 80 feet (ft) can weigh over 16,782 kg or 37,000 lbs. A single wheel can produce a point load of over 9,979 kg or 22,000 lbs. Employers must inspect utility service covers in the work area and ensure they are capable of supporting all loads, or that they are adequately covered with a covering capable of supporting all loads expected to be applied to them, including mobile equipment or machinery.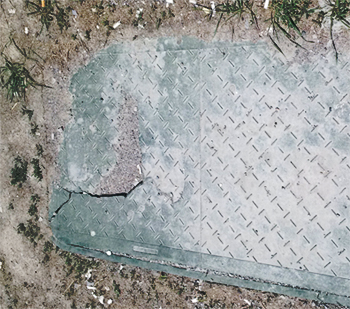 Purpose
This alert is intended to increase awareness about the safety requirements under the Construction Projects Regulation, O. Reg. 213/91. It is intended to help employers and municipalities be aware of the potential hazards associated with utility service covers installed on public rights of way which may not be strong enough to support vehicles and equipment.
Municipalities and contractors using heavy equipment like scissor lifts and boom trucks while doing work on public rights of way, including sidewalks, should be aware of the strength limitations of utility service covers in the work area. The necessary precautions should be taken to prevent workers from being exposed to the dangers associated with working on a surface that cannot support the load applied to it.
Protective measures
Obligations under the Occupational Health and Safety Act and the Construction Projects Regulation
Employers must ensure that existing utility covers are capable of supporting loads they may be subjected to by the work activities taking place and, if necessary, replace an existing utility cover with one of sufficient strength. Alternatively, the utility cover may itself be covered with a material capable of supporting the load without failure.
For more information
This resource does not replace the Occupational Health and Safety Act (OHSA) and its regulations and should not be used as or considered legal advice. Health and safety inspectors apply and enforce these laws based on the facts they find in the workplace.
Updated: March 11, 2022
Published: March 11, 2022