Bicycle safety
Learn how to keep yourself safe while cycling.
Overview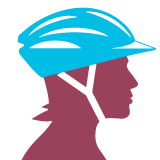 People of all ages can ride a bicycle, and those 16 years or older can ride an e-bike (electronic bicycle).
You can learn more about cycling in the guides below. They cover topics such as:
how a bicycle should fit
safety equipment
bicycle safety checks
hand signalling
riding with traffic
understanding road and traffic signs
A detailed handbook of rules and safety standards for any rider.
A kid-friendly handbook of cycling safety tips and rules for young riders.
Where you can ride
You can ride on:
most roads
bicycle lanes and cycling routes
multi-use trails and paths
You cannot ride:
on controlled access highways, such as Ontario's 400-series highways
within a pedestrian crossover to cross the street
within a crosswalk at any intersection or location with traffic signals
on sidewalks
Children under 10 can ride on the sidewalk until they develop the skills to ride on the road with traffic.
If you want to cross a road inside a pedestrian crossover or crosswalk, you must walk your bike to the other side.
Stay to the right
Ride in a straight line on the right-hand side of the road at least one metre from the curb or from parked cars, where practical.
When being passed, stay as close to the right side of the road as you can. You are allowed to use any part of the lane for safety reasons such as avoiding obstacles in your lane.
You do not need to stay to the right when:
preparing to turn left
passing another vehicle
you are going faster than other vehicles
the lane is too narrow to share
Required safety equipment
Bike helmets
Wearing a helmet can greatly reduce the risk of injury or death if you fall or collide with a car, pedestrian or other cyclists. A bicycle helmet is strongly recommended but not legally required if you are 18 or over.
The best helmet is one that:
fits properly
is worn correctly
has been manufactured to meet strict safety standards
Children and youth
By law, cyclists under the age of 18 must wear an approved bicycle helmet. For children age 16 and under, a parent or guardian must make sure they wear a helmet.
Children are required to wear an approved bicycle helmet when riding in a child carrier or a bicycle trailer.
Other equipment required by law
bell or horn
lights and reflectors:

a white light mounted on front of your bike
a red light or reflector on the back at night

reflective tape:

white reflective tape on the front forks
red reflective tape on the rear forks
Cycling and the law
Under Ontario's Highway Traffic Act (HTA), a bicycle is considered a vehicle, just like a car or truck.
As a cyclist, you:
must obey all traffic laws
have the same rights and responsibilities as drivers
cannot carry passengers if your bicycle is only meant for one person
Bicycle traffic signals
Cyclists must obey bicycle traffic signals where they are installed and regular traffic signals otherwise. If both a bicycle traffic signal and regular traffic signal apply to the same lane, cyclists must obey the bicycle signal.
One-metre passing law
When passing a cyclist, drivers must maintain a minimum distance of one metre between their vehicle and the cyclist, where it is practical to do so. Cyclists are not required to leave a one-metre space, however, must still obey all the rules of the road. If you are being overtaken by a driver when riding, turn out to the right to allow the vehicle to pass.
Updated: February 18, 2022
Published: December 23, 2021