Get out and cycle Ontario!
Explore the province

Take advantage of on- and off-road paths around the province.

Learn the rules of the road

Improve your skills and help contribute to safer streets.

Be part of the climate change solution

Get out of your car and on to your bike to reduce greenhouse gas pollution.
Get around your community
Paths and routes can help you cycle where you need to go.
Across the province, communities are improving cycling routes to make it even easier for you to get around on your bike.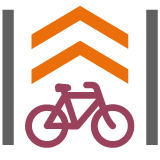 Cycling-friendly communities
Through the Ontario Municipal Commuter Cycling Program, we're doubling our investment in projects that make it easier for people to cycle to work, school and around their communities. $94 million will be used to build bike lanes and support other local cycling projects, as part of our Climate Change Action Plan.
---
A province-wide cycling network
Plans are underway to develop a province-wide cycling network to connect communities and destinations across Ontario. We've identified a network of primary cycling routes across the province using input from stakeholders, communities and the public.
We will be working with our partners to develop an implementation plan.
---
Reports and strategies
Our 20-year plan for cycling
#CycleON: Ontario's Cycling Strategy is a route map to promote the growth of cycling across the province over the next 20 years. A big part of our plan is focused on making it safe and convenient for you to cycle every day.
This plan outlines the specific actions we will take to promote cycling and cycling safety.
It focuses on the five key areas of:
designing healthy, active and prosperous communities
improving cycling infrastructure
making highways and streets safer
promoting cycling awareness and behavioural shifts
increasing cycling tourism opportunities
Action Plan 2.0 is the latest installment in the series of action plans for #CycleON: Ontario's Cycling Strategy. We release Action Plans every five years.
This is Ontario's five-year plan to fight climate change, reduce greenhouse gas pollution and transition to a low-carbon economy.
Banner photo - Credit: Ontario Growth Secretariat, Ministry of Municipal Affairs
Updated: September 22, 2022
Published: May 29, 2017