Black spruce
Scientific name: Picea mariana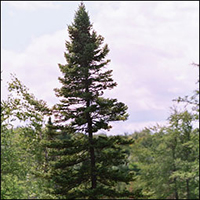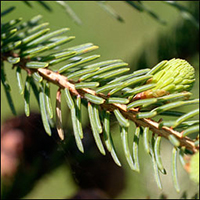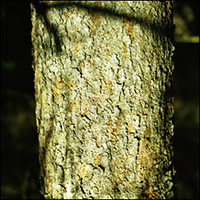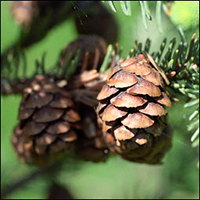 What it looks like
It has short dark bluish-green needles, which are blunt on the end.
When grown on high and dry ground, black spruce trees are taller and thicker. When it grows in wetlands, the tree is much smaller. Trees grown in wetlands can reach 200 years of age.
Black spruce cones are egg shaped, 2 to 3 centimetres long, and are dark brown. They are found at the top of the tree and may stay on the tree for up to 30 years.
Where it is found
The black spruce is called a transcontinental species – it's found from one end of Canada to the other, and all across Ontario.
Planting Tips
Size: Between 20 and 30 metres tall, trunk usually between 23 and 26 centimetres in diameter
Moisture: Tolerates different moisture levels
Shade: Tolerates partial shade
Soil: Grows in a variety of soils
The black spruce is an adaptable tree that grows well in a variety of soils, moisture levels, and light conditions.
Did you know?
The red squirrel eats the tips of the black spruce, which can create a thick dense clump of branches at the top of the tree.
Image credits
Tree: Daniel Tigner, Canadian Forest Tree Essences
Needles: Daniel Tigner, Canadian Forest Tree Essences
Bark: Daniel Tigner, Canadian Forest Tree Essences
Cones: Daniel Tigner, Canadian Forest Tree Essences
Updated: October 18, 2022
Published: July 18, 2014