Charging electric vehicles
Learn how and where to charge your electric vehicle (EV).
Types of chargers
Electric vehicles (EVs) can be recharged at different speeds depending on the capacity of the battery. Charging capacity can be divided into three categories:
Level 1 charging includes plugging in a standard cord set that comes with all EVs into a wall socket. This is the slowest level of charging (110 Volts/15 Amps) with an approximately 8 km range per hour of charging.
Level 2 charging is the most common level of charging with similar requirements to a clothing dryer or stove. Level 2 chargers can be installed in homes and commercial facilities by licensed electricians. They charge slightly faster than Level 1 chargers (240 Volts/30 Amps) with approximately 35 km range per hour of charging.
Level 3 charging/direct current (DC) is the fastest level of charging (400 Volts/100 Amps). Level 3 stations charge a battery from empty to 80% in 30-45 minutes with approximately 250 km range per hour of charging.  
EV charger locations
In addition to recharging at home, you can charge your EV at publicly available charging stations. There are more than 1,700 charging stations with over 5,000 charging ports in Ontario today.

Ontario has 32 Level 2 EV chargers installed at the following carpool lot locations. 
| Municipality | Highway | Crossroad |
| --- | --- | --- |
| Innisfil | Hwy 400 | Innisfil Beach Road |
| Milton | Hwy 401 | Guelph Line (Main Street North) |
| Beamsville | QEW | Ontario Street |
| Arnprior | Hwy 417 | Ottawa Road 29 |
| Cavan | Hwy 115 | Peterborough Road 10 |
| Gananoque | Hwy 401 | Highway 401 & Highway 2 |
| Cambridge | Hwy 401 | Hwy 401 & Townline Road |
| Windsor | Herb Gray Parkway | Howard Avenue Diversion |
Find carpool lots on Ontario 511.
Installing an electric vehicle charger
Follow these steps to install an EV charging station at your home or business:
Get a permit from the Electrical Safety Authority (ESA) before starting the installation. 
Installation must be done by a licensed electrical contractor in compliance with the Ontario Electrical Safety Code. 
Confirm that all equipment is certified for use in Canada by a nationally recognized certification agency such as Canadian Standards Association, Underwriters Laboratories Inc., Intertek Testing Services or displays other certification marks approved by ESA.
For more information about EV charging station installation, visit the Electrical Safety Authority website. 
Reserved EV charging parking signs
Signs for EV charging parking include:
a no parking symbol
an EV charger symbol
the text "Except while charging"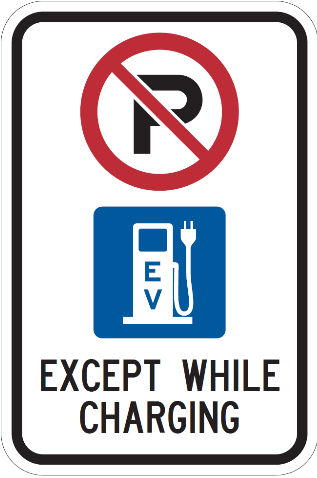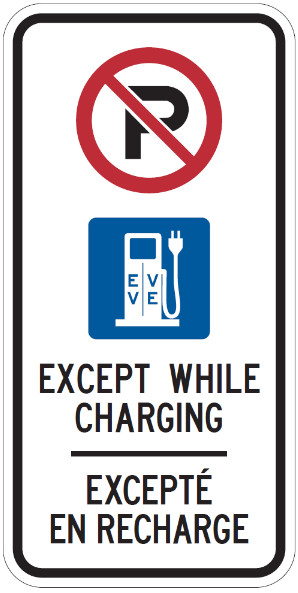 Business owners or operators with EV charging stations may choose to install a sign at parking spaces with chargers. Signs can be purchased from companies who manufacture them according to Regulation 615: Signs.
For more information, please visit:
Reserved parking for electric vehicle charging spaces
Only electric vehicles plugged into a charging station are permitted to park in spaces with a designated EV parking sign.
Tickets can be issued for:
parking a non-electric vehicle in a designated EV charging space
parking an EV in a designated EV charging space that is not plugged in
Ticketed vehicle owners may be subject to a fine of $125 under section 30.2 of the Highway Traffic Act.
Updated: April 26, 2022
Published: January 25, 2022