Fisheries Management Zone 14 (FMZ 14)
Information about fishing and how fish resources are managed in Fisheries Management Zone 14 (main basin of Lake Huron).
News and updates
The revised lake trout rehabilitation plan for Ontario waters of Lake Huron is available for your review. For more information, contact the Upper Great Lakes Management Unit at 519-371-0420.
Fishing rules
You can:
About this zone
FMZ 14 includes the waters of Georgian Bay and the North Channel of Lake Huron. This zone has:
the largest bay on the Great Lakes
Thirty Thousand Islands, the world's largest freshwater archipelago
shoreline that includes Canadian Shield, glacial areas and limestone
many tributaries draining the Canadian Shield
farmland to the south
near-shore fisheries for walleye, small and largemouth bass, northern pike, muskellunge, yellow perch
offshore recreational fisheries for chinook salmon, rainbow trout
commercial fisheries for lake whitefish, walleye, lake trout, yellow perch
FMZ 14 is one of 20 fisheries management zones in the province.
Location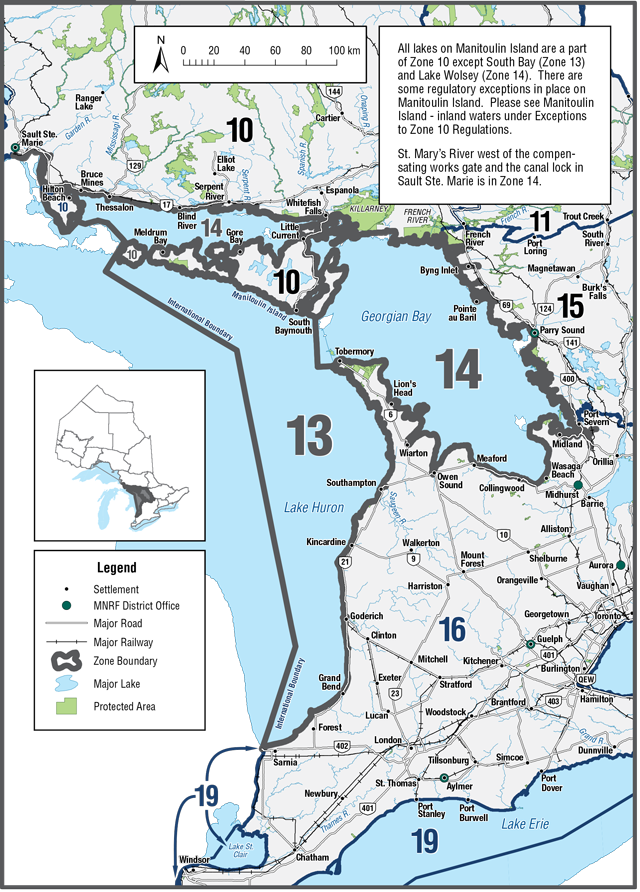 FMZ 14:
includes the waters of Georgian Bay and the North Channel of Lake Huron
stretches northwest to the compensation works on St. Mary's River Sault Ste. Marie
dividing line from FMZ 13 (the main basin of Lake Huron) begins at the tip of the Bruce Peninsula, goes through the Bruce archipelago to Manitoulin Island
FMZ boundary extends across river mouths in most cases
cities include Sault Ste. Marie, Blind River, Gore Bay, Little Current, Parry Sound, Midland, Collingwood, Owen Sound and Wiarton, and more than 20 First Nations communities
Legal boundary map and detail maps
Legal boundary map for FMZ 14 and detail maps 1 - 24.5 (PDF)
Regulation maps
Monitoring reports and management plans
Zone advisory council
The FMZ 14 council provides advice during the development of fisheries objectives and strategies.
Council members represent a broad range of views including:
angling groups
commercial fishers
scientists and researchers
conservation groups
interested community members
The advisory council participates in fisheries management by:
sharing ideas and expertise with the Ministry of Natural Resources and Forestry
helping to develop and implement management strategies
communicating with the local and angling community
For more information about the Fisheries Management Zone 14 advisory council, please contact the Upper Great Lakes management unit at 519-371-0420.
General fishing rules
Updated: May 19, 2021
Published: May 20, 2014