Fisheries Management Zone 4 (FMZ 4)
Information about fishing and how fish resources are managed in Fisheries Management Zone 4 (Northwest Region: Kenora, Red Lake, Dryden, Sioux Lookout, Thunder Bay).
News and updates
The ministry has completed the fisheries management plan for FMZ 4.
Fishing rules
You can:
About this zone
FMZ 4 is located in northwest Ontario. This zone has:
a vast area (60,440 square kilometres) of which less than 25% is privately owned
lakes of intermediate depth and stained water clarity
important recreational, commercial and tourism-based fisheries
prominent fisheries for northern pike, walleye, lake trout, lake whitefish, smallmouth bass and muskellunge
brook trout, rainbow trout and splake stocked into many lakes for additional angling opportunities
the "Specially Designated Waters" of Red Lake, Gullrock Lake, Lac Seul, Minnitaki Lake, Abram Lake, Pelican Lake, Botsford Lake and Big Vermilion Lake
FMZ 4 is one of 20 fisheries management zones in the province.
Location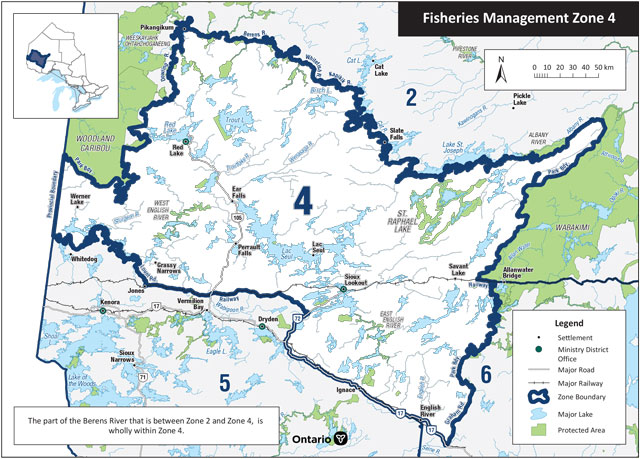 FMZ 4:
is bordered to the west by Woodland Caribou Provincial Park and the Manitoba border
its eastern edge borders Brightsand River Provincial Park and Wabikimi Provincial Park
its northern border is marked by the Berens River and Cat River systems
its southern border follows Highway 17 and the Canadian National Railway line
cities include Red Lake, Ear Falls, Sioux Lookout and Ignace
Legal boundary map and detail maps
Legal boundary map for FMZ 4 and detail maps 1 - 22 (PDF)
Monitoring reports and management plans
Zone advisory council
The FMZ 4 council provides advice during the development of fisheries objectives and strategies.
Council members represent a broad range of views including:
angling groups
scientists and researchers
conservation groups
interested community members
The advisory council participates in fisheries management by:
sharing ideas and expertise with the ministry
helping to develop and implement management strategies
communicating with the local and angling community
More information about the Fisheries Management Zone 4 advisory council please contact Steve Bobrowicz.
General fishing rules
Updated: November 22, 2022
Published: July 17, 2014