Forest fires
Information about the current forest fire danger, forest fire activity and fire restrictions across the province.
Report a fire

To report a forest fire call 310-FIRE (3473)

South of the French and Mattawa rivers please call 911.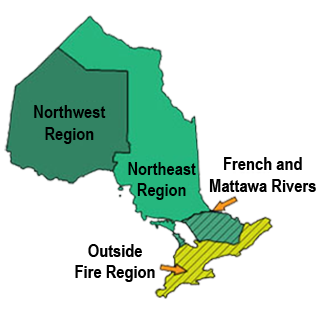 Real time updates.
Our interactive map visually shows active fires, current fire danger across the province and restricted fire zones in effect.
The map now shows perimeters for some fires over 40 hectares in size. Please note that not all fires are mapped and perimeters are not updated every day (may differ from the size reported in the table).
We recommend using Google chrome as your web browser to access the map.
Forest fire updates
Ontario's wildland fire season extends from April 1 to October 31. Provincial outdoor burning regulations are no longer in effect. Please use caution with outdoor fires. Residents within municipal boundaries should check with their local fire department for burning restrictions, or permitting requirements. November 1 marked the beginning of FireRanger recruitment for the 2024 fire season. Interested candidates can submit their application at ontario.ca/fireranger.
New social media channels
You can follow us now on Facebook, Instagram and X (formerly known as Twitter). You can find us at @ONforestfires on all 3 platforms for wildland fire updates and FireSmart tips.
Follow us in English @ONforestfires:
Restricted fire zones
There are currently no restrictions in effect.
Contact information
Northeast Region
Northwest Region
Chris Marchand
Fire Information Officer
807-323-1851
Alison Bezubiak
Fire Information Officer
807-937-7330
For highway conditions, including road closures:
511
511on.ca
For air quality in your area, please visit:
Public Weather Alerts for Canada
For smoke drift conditions across North America, visit:
Smoke drift across North America
For information about forest fire smoke and your health, consult:
Smoke and your health
Fires: year to date
The figures below represent the year-to-date total number of forest fires inside Ontario's fire region for the 2023 fire season, as they compare to the 2022 season and to the 10-year average.
---
You are responsible for fires you light
From April through October, people using outdoor fires must follow strict guidelines under the Forest Fires Prevention Act of Ontario to ensure their fires are properly managed.
Anyone who starts a fire outdoors must take all necessary steps to tend the fire, keep it under control, and make sure the fire is out before leaving the site. A person failing to burn safely could be fined and held responsible for the cost of putting out the fire. People living in municipalities should check with local fire officials for bylaws on outdoor fires.
About Aviation, Forest Fires and Emergency Services (AFFES)
Visit our forest, wildland and outdoor fires page for more information on AFFES and wildland fire management, including:
Updated: November 08, 2023
Published: March 14, 2022