Get a manufacturer licence plate, dealer plate or service plate
Learn how to get a manufacturer, dealer or service licence plate and permit so you can make, sell or transport vehicles and trailers in Ontario.
Overview
If you make, sell or provide services for vehicles in Ontario, you may be eligible to get one of the following types of licence plates:
manufacturer plate
dealer plate
service plate
These plates are used for specific purposes such as testing or transporting a vehicle.
You must apply for the plate you wish to use. After we approve your application, you can purchase the licence plate and permit from a ServiceOntario centre.
Manufacturer licence plate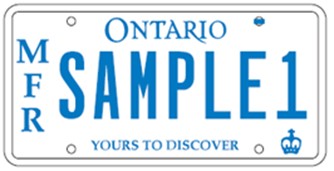 A manufacturer licence plate allows you to drive vehicles for the purposes of testing, demonstration, evaluation and exhibition.
You can get a manufacturer licence plate for a:
passenger vehicle
commercial vehicle
bus
motorcycle
To be eligible for this plate, you must be a:
motor vehicle manufacturer
motor vehicle component manufacturer (for example, Canadian Vehicle Manufacturers' Association)
How to apply
Download the application form for a manufacturer's licence plate.
Mail, email or fax your application to:
Ministry of Transportation
Vehicle Programs Office
145 William Hearst Avenue, Room 147
Downsview, Ontario
M3M 0B6
Email: VPO@ontario.ca
Fax: 416-235-4821
If we approve your application we will mail you a letter. Once you have your letter, visit a ServiceOntario centre to get your plate and permit.
Dealer plate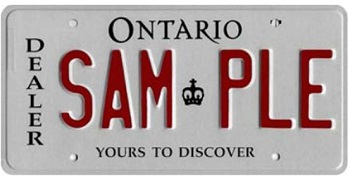 A dealer plate is for motor vehicle dealers to use only on vehicles that are owned by and part of the dealer's inventory for sale. Dealer plates are only issued to vehicles that are registered in Ontario.
It is a single, portable licence plate with the word "Dealer" on the left side. It has red letters and numbers on a white background.
To be eligible for this plate, you must either be a new or existing motor vehicle dealer licensed under the Motor Vehicle Dealers Act.
How to apply
You can get a dealer plate at ServiceOntario.
If it is your first time applying for a dealer plate or if you have a dealer authorization letter that has expired you must:
provide your original dealer number certificate issued by the Ontario Motor Vehicle Industry Council (OMVIC)
provide your driver's licence or two pieces of identification
pay a fee
Find out the cost of the fee you must pay.
If you already have a valid dealer authorization letter, you can get a dealer plate or permit once you pay the fee to purchase a plate.
Find a ServiceOntario centre to purchase a dealer plate.
Service plate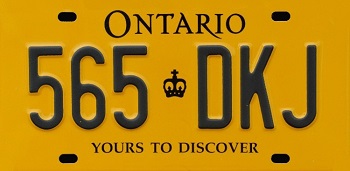 You can get a service plate if you repair, customize, modify, manufacture or transport motor vehicles or trailers.
A service plate may be used:
on a trailer or motor vehicle (not including a motorcycle or motor-assisted bicycle) for purposes related to the repair, road testing, customization or modification of the vehicle. The vehicle must be in the possession of the person the service plate was issued to.
for transporting a vehicle for business purposes
for purposes related to the manufacturing or sale of a trailer
for towing a vehicle for business purposes
to tow a vehicle to a location where its load will be removed or to an impound facility
Read the law to learn more about how to use service plates.
How to apply
You can apply for a service plate at ServiceOntario.
You must:
present a letter on company letterhead, outlining the reasons why the plate is required, if it is your first time applying
present a Class A garage licence, if you are a trailer dealer
register the plate and permit under the legal name of the business or proprietor
pay a fee
Updated: June 28, 2022
Published: March 22, 2022