Ontario Wildlife Damage Compensation Program: information for municipal investigators
Learn how to complete an application form when investigating livestock or poultry that have been injured or killed due to wildlife predation.
Overview
The Ontario Wildlife Damage Compensation Program (OWDCP) provides financial assistance to eligible producers whose:
livestock or poultry was killed or injured as a result of eligible wildlife predation (wildlife attack)
bee colonies, beehives or bee-hive related equipment was damaged by eligible wildlife
This page provides a summary to help municipal investigators complete application forms for the OWDCP. Read the details in the Ontario Wildlife Damage Compensation Program guidelines.
Steps to complete the application form
Download the Ontario Wildlife Damage Compensation Program Application Form (PDF)
Step 1 - owner identification and basic eligibility requirements
Have the owner complete Step 1 of the form.
Ensure the owner fills out the eligibility requirements section which includes providing a:

Canada Revenue Agency (CRA) number
Farm Business Registration Number (FBRN)
Premises Identification (PID) number.

Check to ensure all information is complete in Step 1.
Applicants without a CRA number need to provide their Social Insurance Number (SIN) to the municipality and/or OMAFRA when requested.
Applications missing a FBRN or PID are ineligible under the program and we will not process them until they provide this information.

Applicants that do not have an FBRN (valid in the current or previous calendar year) must qualify for an exemption and provide proof of that exemption in order to be eligible for compensation under the program.

If information is missing, we will contact the municipality to get the information before we process the application. This may result in a delay to the processing timelines. If they do not provide the information, we may deem the application ineligible.
If the owner has an email address, we recommend including it in order to facilitate any communication regarding the application.
Step 2 - investigator information
Fill in your contact information.
Phone and email are required in case we need to get in touch with you about a question regarding the application.
Step 3 - description of damages
Fill in the injury/kill date (date of the attack).
Indicate the type of damages being reported, either death or injury of the animal(s).
Include any paid veterinary receipts for relevant livestock/poultry injuries (if applicable).
Injured animals
Owners should immediately seek veterinary care or other treatment to prevent further suffering of an injured animal. If the animal is in distress and suffering, the producer may euthanize it before you (the investigator) arrive.
Veterinary care costs are eligible under this program up to the fair market value (FMV) of the livestock. Costs related to a producer's on-farm inventory of medications count as an eligible expense. We require:
proof that a vet directed the drug use as a treatment for the injury
a receipt from the producer for the medication purchase
Owners should save and submit all veterinary or medication receipts and invoices with the application.
Step 4 - description of livestock and signs of predation
The information reported in this section will be used to calculate the value of the predated animal. The following fields must be included in order to assign fair market value to the livestock producer:
number of head
species and type of animal (for example chicken, lamb, steer, etc.)
estimated live weight in pounds - this is used to calculate pricing based on the weight categories of market animals
age of animal(s) - this is used to calculate young stock pricing (lambs, steers, etc.)
sex of animal(s)
your declaration as to whether there is enough evidence to determine that an eligible wildlife species caused the livestock or poultry death/injury
whether any available premiums apply, including pregnant, registered or poultry breeding stock. The producer must provide required documentation outlined in table 1. An example of a breeding record can be found in figure 1.
Indicate and document evidence of predation based on the kill/injury site evidence. Fully detailed descriptions in the application will assist OMAFRA in assessing the claim. If you tick "yes", an explanation is required. All statements must be substantiated by photographic evidence.
Describe in detail any evidence that animal was alive prior to the attack. Examples could include, but are not limited to,

the hoof membrane of a newborn animal being worn
manure or dirt on the hooves
the animal having identification markers (ID tag, tattoo, ear notch, or leg band)
young animals licked or dried off

Describe in detail any evidence that the livestock/poultry bled from the attack. This could include blood on the body or around the area where it was attacked.
Describe in detail any signs of tissue damage (bruising or hemorrhaging) under or around the lacerations or puncture wounds on the hide.
Describe in detail any other signs of predation. Examples could include drag marks on the ground, broken vegetation, predator tracks, scat or fur.
Table 1: Required documentation for livestock premiums
| Available premium | Required documentation |
| --- | --- |
| Pregnant | Breeding records required. Can include a handwritten breeding record or a pregnancy scanning report from a veterinarian or technician (see Figure 1). |
| Registered | Breed registration documents linking to the ID tag or tattoo must be provided for the animal. Alternatively, parental registration papers and documentation demonstrating a genetic link can be provided. |
| Poultry breeding stock | Sales receipts and proof of pedigree are required. |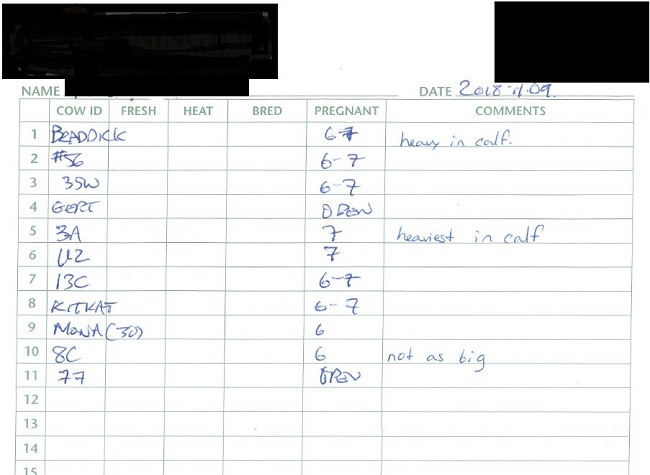 Step 5 – Description of predator and site evidence
Identify the predator species. Eligible wildlife species for damage to livestock and poultry include:
bear
bobcat
cougar
coyote
crow
eagle
elk
fisher
fox
hawk
lynx
mink
raccoon
raven
vulture
weasel
wolf
Provide a description of the events and the attack site. Items to highlight could include:
Outlining any secondary details to support wildlife identification (such as tracks, how the animal was attacked, if a predator was seen in the area) and support the primary evidence outlined above.
Note weather conditions and their potential impact on the available site evidence. For example, you could note that it was above 30 degrees Celsius so not much of the carcass left due to decomposition, or rain events for days washed away the blood on the carcass and around the site.
Indicate any behaviour exhibited by the herd or flock after the attack. For example, pacing the fence, balling or spooked.
Photographic evidence
Provide at least three colour photos per individual livestock or poultry. The more photos the better. Three example photos can be found in figures 2-4. Photos should be in colour and high quality.
Photos must include (required):
a close-up photo of all injuries and/or wounds sustained, for example bite marks, wounds, lacerations, bleeding, or bruising
a photo of the entire animal showing all injuries and/ or wounds sustained
photos of the location where the incident occurred, including any evidence of a predatory struggle, for example blood splatters and trails, drag marks, torn-up earth or vegetation, predator tracks or scat
Photos should include (recommended):
Photo of ear tag(s), tattoo(s) or other forms of identification such as paint brands or ear notches, if available. These may not be available on young animals or carcasses which have ears eaten off.
Photo of the hooves, if it is a young animal, if available.
Photos of any other relevant items from the attack site, examples could include the entry point of the predator, damage to the fence and photos of weather conditions.
Provide a description of how the photos support the evidence of predation on the application form.
If there are applicable photos taken by the owner that support the evidence you have collected, encourage the producer to submit these photos as additional evidence.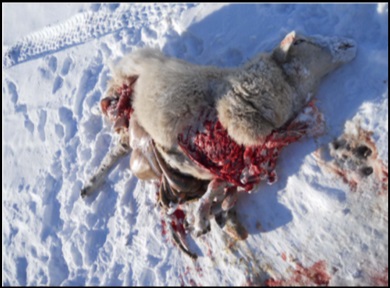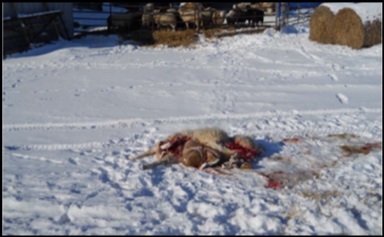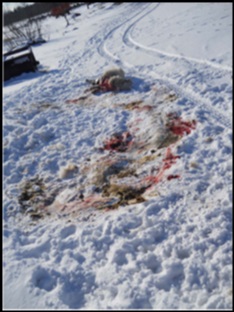 Step 6 - reasonable care
The following will be used to assess whether reasonable efforts have been taken to prevent the injury or death of livestock or poultry. Provide information about:
herd/ flock size (number of adult head, for example number of ewes or cows)
overall health condition of remaining herd/flock
deadstock disposal practices on-farm
livestock inspection frequency
if fencing is present, the condition the fencing is in and the type of fencing being utilized, for example five strand electric fencing, rail fencing, page wire, mesh wire fence or pf electric netting
presence of livestock guardian animal(s) such as a dog, donkey or llama
whether the owner provided reasonable care based on your conversation with them. Other predation prevention measures could include predation deterrents such as visual or noise, or hunting or trapping. Add details in the comments field if this is applicable.
Upon submitting five application forms in one calendar year, the owner must complete and submit a reasonable care plan. We will contact the owner in this case and provide them with the required document.
Step 7 - municipal or territorial investigator declaration and signature
Attest that the findings of your investigation were fully documented and truthful by signing and dating the application.
Step 8 - owner declaration and signature
Have the owner indicate if they will provide additional evidence, which may not be currently available, to the municipality within seven business days of the investigation.
The owner should review the completed application form and ensure all details provided by the investigator are accurate and enough detail is provided.
Have the owner sign the completed application form to attest that the evidence provided is correct. This binds the owner to the terms and conditions of the program.
If the owner provides additional evidence within seven business days of the investigation, the territorial investigators must submit it to the program administrator via e-mail at wildlife.damage@ontario.ca or by mail to:

Ontario Ministry of Agriculture, Food and Rural Affairs
Attention: OWDCP Program Administrator
1 Stone Road West, 4th Floor Northwest
Guelph, Ontario N1G 4Y2
Step 9 - submitting this program application
Municipal investigators must submit an application within seven business days of conducting an investigation. They should provide a copy of the report to:
the owner of the livestock or poultry
the clerk of the municipality in which the livestock or poultry were injured or killed
Territorial investigators must submit an application within seven business days of conducting an investigation. They should provide a copy of the report to:
the owner of the livestock or poultry
the OMAFRA program administrator
All application forms and supporting documentation should be submitted via email to wildlife.damage@ontario.ca.
What makes an application ineligible
Farm Business Registration Number (FBRN) is invalid in the current and/or previous year or it is not associated with the applicant
Ontario Premises Identification (PID) number is invalid
livestock or poultry species is not eligible
predator species is not eligible
application is incomplete
the livestock or poultry was diseased or sick
the owner is not in compliance with Ontario Regulation 106/09 of the Nutrient Management Act or Ontario Regulation 105/09 of the Food Safety Quality Act (FSQA)
Contact us
For more information on the Ontario Wildlife Damage Compensation Program contact us at:
Telephone: 1-877-424-1300
Email: wildlife.damage@ontario.ca
Updated: May 15, 2023
Published: July 23, 2021