Peachleaf willow
Scientific name: Salix amygdaloides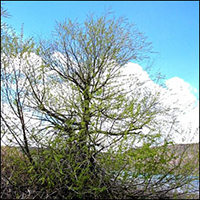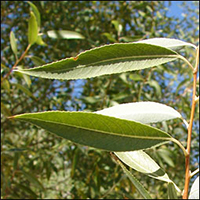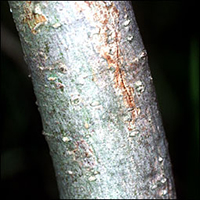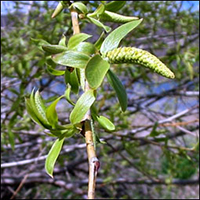 What it looks like
The peachleaf willow has long pointed leaves that are 5 to 14 centimetres long, and are dark green on the top and pale green underneath. The peachleaf willow's blossoms, called catkins, grow on leafy shoots that hang down from branches. They appear in the spring at the same time as the willow's leaves. Many animals feed on twigs and buds from willow trees, and its flowers are a source of nectar and pollen for bees.
Where it is found
A native of Canada's prairies, the peachleaf willow is found in southern Ontario. It usually grows in a clump with other peachleaf willows, in moist soil close to rivers, lakes and in swamps.
Planting Tips
Size: Up to 20 metres tall, trunk is 40 cm in diameter
Moisture: Needs a lot of moisture
Shade: Needs full sun
Soil: Grows in a variety of soils
Peachleaf willows need a lot of moisture, so they grow best in damp soil.
Did you know?
The peachleaf willow can be found as far south as Mexico.
Image credits
Tree: USDA Plant Database
Leaf: USDA Plant Database
Bark: USDA Plant Database
Catkin: USDA Plant Database
Updated: August 04, 2022
Published: July 18, 2014