Pin oak
Scientific name: Quercus palustris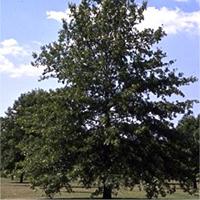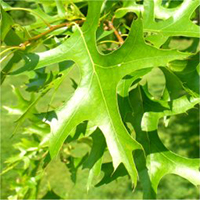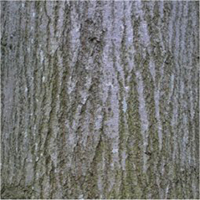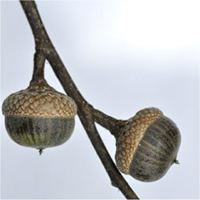 What it looks like
Pin oak has the fewest number of lobes of our pointy-toothed oaks. Oak flowers are often not noticed but this species blooms when the leaves are very small. The acorns are small, squat, with a tight cup. The bark is shiny and grayish-brown, only turning dull and ridged with age. Pin oak gets its name from the small dead branches that often project from the tree's winter silhouette like pins.
Where it is found
Pin oak is locally abundant at the east and west ends of Lake Erie, but has been planted as an ornamental beyond this range. It is valued for its smaller stature, symmetrical shape and tolerance of urban conditions.
Planting Tips
Size: Up to 20 m tall
Moisture: Prefers moist sites, tolerates seasonal flooding
Shade: Prefers full sun, tolerates partial shade
Soil: Prefers rich, acidic soils, tolerates heavy clays
The normal dark, glossy green foliage of pin oak may turn yellowish-green on high pH soils. Adding compost or peat to the planting area may help but other species may be better adapted in the long-term.
With a shallow, fibrous root system, pin oak is one of the easiest native oaks to transplant.
Did you know?
In the pointed-leaf oak family, acorns take two years to mature. You can see miniature acorns ahead of maturing acorns with binoculars or on low branches.
Image credits
Tree: David Stephens
Leaf: Bruce K. Kirchoff
Bark: Steven J. Baskauf
Acorn: Bruce K. Kirchoff
Updated: October 18, 2022
Published: July 18, 2014