Shagbark hickory
Scientific name: Carya ovata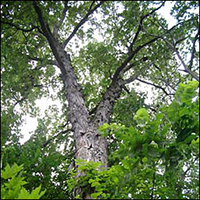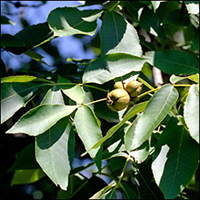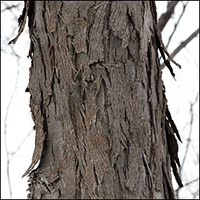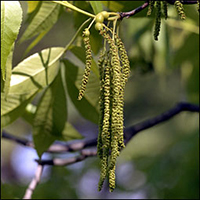 What it looks like
The leaves of the shagbark are 15 to 25 centimetres long, made up of 5 leaflets on a central stalk. They are green on top, and paler and hairy underneath. The tree's bark separates into long plates as it gets older, which loosen from the trunk and give the tree a 'shaggy' look — that's how it gets its name. It can live for 200 years, grows to be 25 metres tall, and prefers rich, moist soil. Nuts from the shagbark hickory are edible and are 3 to 4.5 centimetres long. They are sweet tasting and are a favourite food of squirrels.
Where it is found
The shagbark hickory grows only in southern Ontario along the St Lawrence River and into Quebec.
Planting Tips
Size: 20 to 30 metres tall, trunk is 30 to 80 centimetres in diameter
Moisture: Prefers moist soil
Shade: Prefers sun, but can tolerate some shade
Soil: Prefers rich soil
Shagbark hickories grow well on hillsides and in valleys — they prefer moist soil.
Did you know?
Lone stands of shagbark hickory have been found near Lake Huron and Georgian Bay. They may have been planted by native people hundreds of years ago.
Image credits
Tree: Susan Sweeney
Leaf: Daniel Tigner, Canadian Forest Tree Essences
Bark: Daniel Tigner, Canadian Forest Tree Essences
Catkin: Daniel Tigner, Canadian Forest Tree Essences
Updated: August 04, 2022
Published: July 18, 2014