Survey: Exploring the creation of urban provincial parks
From June 19 to September 4, 2023, we asked you about our proposal to create a new urban provincial park near Uxbridge, and what you thought about urban provincial parks.
The survey is now closed.
Background
Ontario is providing families with more opportunities to get outside and enjoy more time in nature.
The Ministry of the Environment, Conservation and Parks is exploring the creation of the province's first urban provincial park in the Township of Uxbridge, 25 kilometers east of Newmarket and 50 kilometers northeast of Toronto (see map).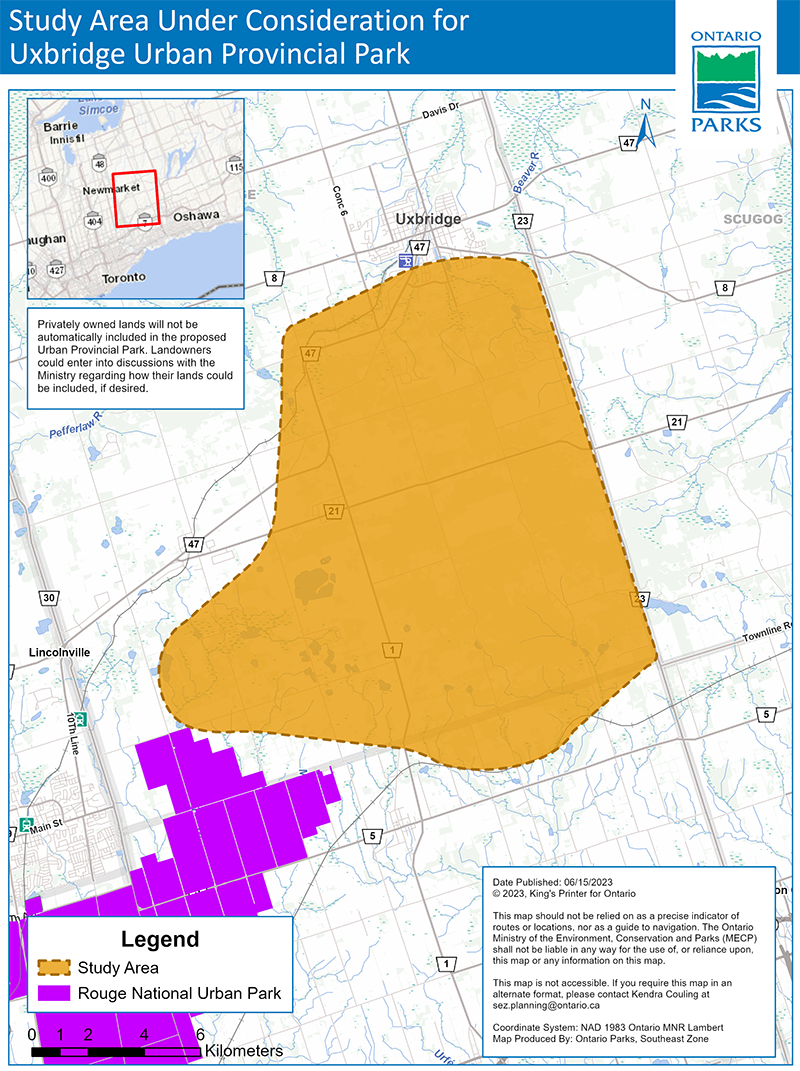 An urban provincial park could:
provide opportunities for the community and visitors to enjoy the area's natural beauty, including hiking and birdwatching
strengthen the long-term protection of the area's biodiversity
Our survey asked what you thought about the proposed provincial park in Uxbridge, and about urban provincial parks in general, including:
what an urban provincial park could include and how it could be used
the types of activities you would like to see in an urban provincial park
the types of programming you might enjoy
Next steps
The survey is now closed. Thank you to everyone who participated.
We will share information on what we heard in the coming months.
Other opportunities for public consultation
In 2023, we will begin to conduct assessments and evaluations of the proposed site near Uxbridge to learn more about:
ecological values and conditions
significant features
current uses
We want to hear what you think about a proposal to create Uxbridge Urban Provincial Park. If a decision is made to create this new provincial park, the Ontario government will provide additional opportunities for public and Indigenous consultation on proposals to regulate and establish the lands as a provincial park.
Consultations will be hosted on the Environmental Registry of Ontario and Ontario's Regulatory Registry.
Your privacy matters
Your personal information is being collected under the authority of Ontario's Provincial Parks and Conservation Reserves Act, 2006 to help us understand the public's needs and expectations for a proposed new urban provincial park near Uxbridge. All submissions received are considered public information. They will be reviewed and may be used by the Ministry of the Environment, Conservation and Parks (MECP).
Your information will not be placed on mailing lists or released to any third party.
Comments (not including personal information) will become part of the consultation record and may be shared with the general public. Personal information may be used by MECP to follow-up with you upon request or when required. It will also be used to send you information about future MECP initiatives involving this proposed provincial park. Please indicate in your response if you do not wish to be notified of new initiatives.
Contact
If you have any questions about this survey or you are interested in learning more, please contact:
Kendra Couling
Park Planner, Southeast Zone
Ontario Parks
Email: planning.sez@ontario.ca
Tel: 705-313-6491
Updated: September 05, 2023
Published: June 19, 2023