Summer Company Yearbook 2019
Chantal Ouellet — Skid Craft Co.
Belleville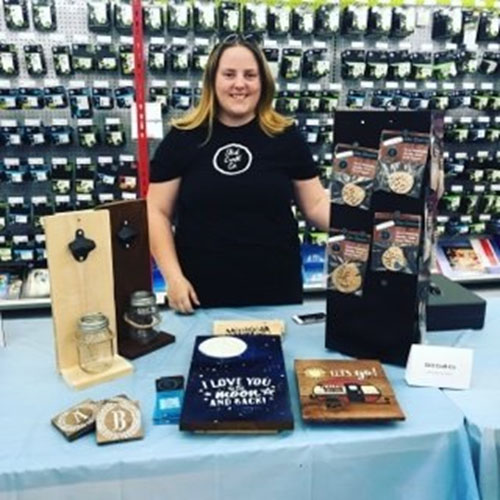 Transforming scrap into unique handmade products
Like many Summer Companies, Skid Craft Co. started out as a hobby. Chantal Ouellet came up with the idea to repurpose scrap from wooden skids while she was in high school. When her wooden creations got rave reviews from family and friends, Chantal realized that her hobby could become a business.
Skid Craft Co.'s mission is to retrieve old skids and scrap wood from local landfills and fire sites and "upcycle" them. Chantal takes these saved materials and transforms them into new and unique handmade products. Old wood can be put to many uses, and her products include custom signs, coasters, keychains, and car charms.
"The Summer Company program opened up many opportunities for me," says Chantal. "The staff gave me a lot of great guidance through the whole process of starting and running my own business."
Chantal says that the program was especially helpful in developing her confidence and meeting the challenges facing any new business. She used social media to promote Skid Craft, and appeared in person at numerous local events over the summer.
Facebook: @skidcraftco
Victoria Kennedy — The Bliss
Belleville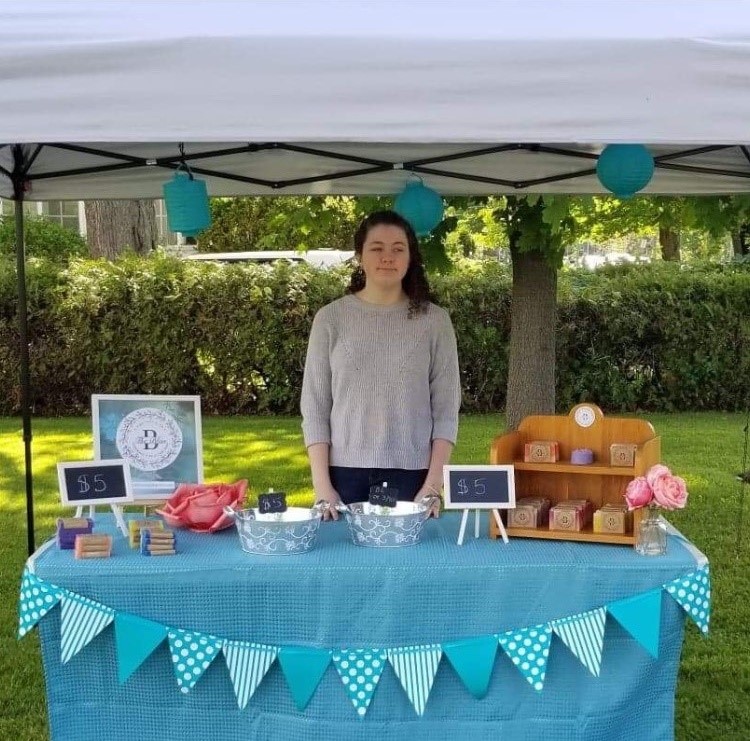 Following her bliss, literally
What is "The Bliss?" For 17-year-old Victoria Kennedy of Belleville, it's starting and operating a successful summer company. Victoria is the owner and operator of The Bliss, which makes and markets handmade palm oil-free soaps, vegan soaps and reusable ecofriendly makeup wipes.
Victoria learned how to make soap from her mother, and wanted to base her Summer Company on the family hobby. Victoria was eager. She began work on her business plan as soon she heard about Summer Company, and started investing in the company before she received her acceptance letter.
Victoria's enthusiasm served her well. "Starting a business can be really hard and stressful," she says, "but it's like learning anything new. It takes time and practice to get good at it."
The marketing program for The Bliss included the usual social media campaigns. Victoria took promotion one step further, by attending local shows and festivals throughout the summer. That work also helped her with direct feedback from customers and potential customers.
Facebook: @blisssoap
Michael Fenn — Joyful Sound Music Studio
Brockville – Leeds Grenville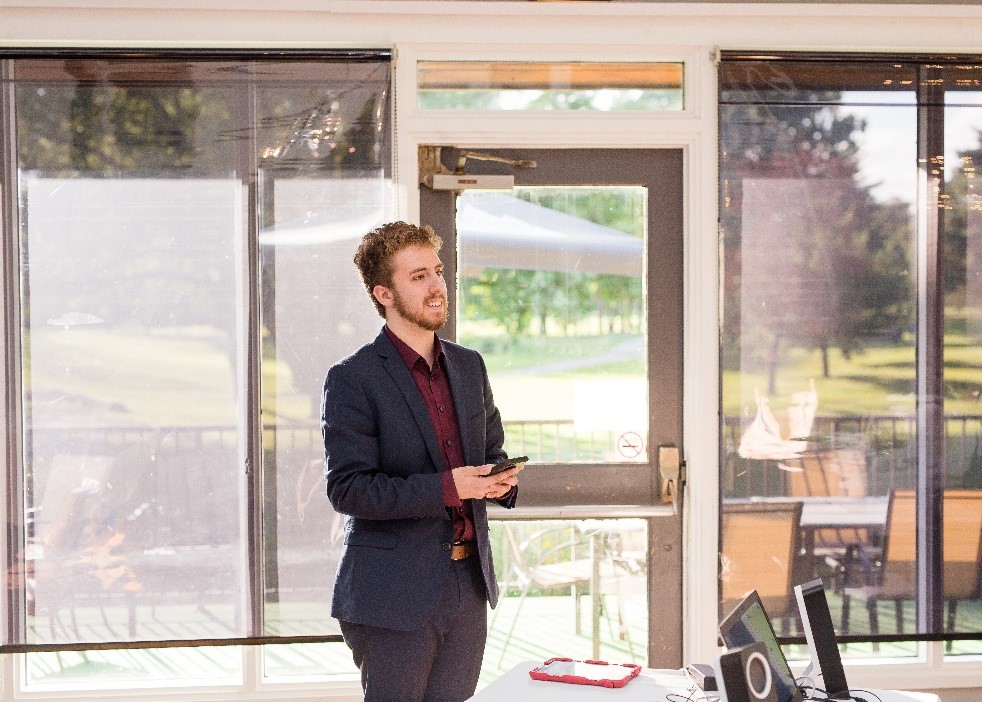 Putting his talent to work
Michael Fenn wanted to put his singing and instrumental skills to work for the summer. A talented and experienced vocalist at the age of 18, Michael has already performed in numerous plays, musicals, and concerts. To capitalize on his talent and knowledge, he set up Joyful Sound Music Studio in Brockville.
Michael provided 45-minute vocal lessons to students of all ages who wanted to develop their talents with professional instruction and coaching. Through word of mouth and online marketing, he surpassed his original target of signing 20 students by 25 percent. He also continued personal performances and bookings through the summer, outside of regularly scheduled lessons.
The result: Michael is one of the Leeds Grenville Small Business Enterprise Centre's highest earning artists in the 20-year history of Summer Company. He also received the SBEC's Award of Excellence, sponsored by mentor Kevin Savoy of ByNan Business Solutions. Michael is now majoring in music and education at Queen's University.
Nick Veenstra — GARDENZUP
Bruce County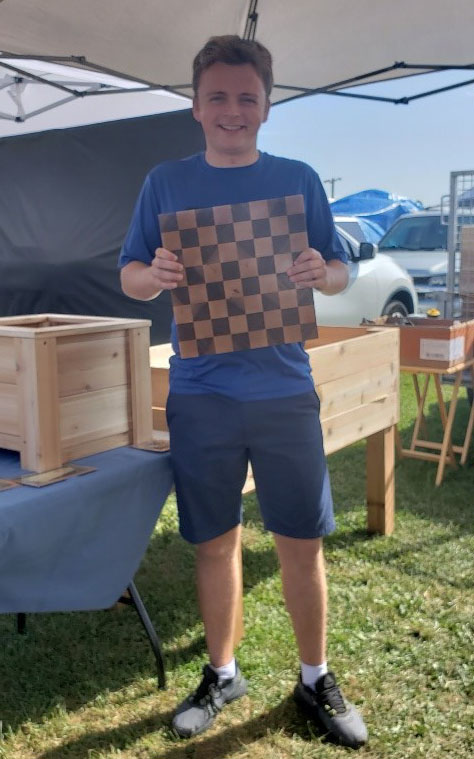 Making gardening accessible to all
Nick Veenstra has taken the "backbreaking" out of gardening for many happy customers in Bruce County. Nick's Summer Company, the aptly named GARDENZUP, manufactures raised garden beds. Raised garden beds allow people to garden without having to bend over or stoop, making gardening accessible to people of all abilities. Nick's garden beds are crafted from Western Red Cedar, a high quality, durable wood that can last for years.
Nick's marketing was hands-on. He sold his product at a busy local market, setting up pre-made planter boxes in various sizes as a display. To increase traffic, he started producing custom make checker boards and charcuterie platters for sale. They provided new opportunities to talk to potential customers he found that people would inquire about getting planters made with specific measurements to fir their space. To better serve the market, Nick started taking custom orders and offering delivery.
Business to Bruce supported GARDENZUP by running a digital marketing campaign that would promote each student, their business and drive more traffic to their website and social media accounts.
Nick says he found great value in the training and mentorship supports provided by Summer Company.
"I didn't have any experience in financial management or taxation," he says, "so I especially liked the seminars on those topics. They are very important to a manufacturing business like mine.
Nick was paired with a mentor from Paisley who owns a business, and is very active in community volunteering and the local Chamber of Commerce. The mentor helped connect Nick to potential customers and helped him network in the community. Nick is now putting his experience to work at university, where he's majoring in marketing and entrepreneurial studies.
Meaghan Herrington — Early Mornings Relief Milking & Farm Services
Cobourg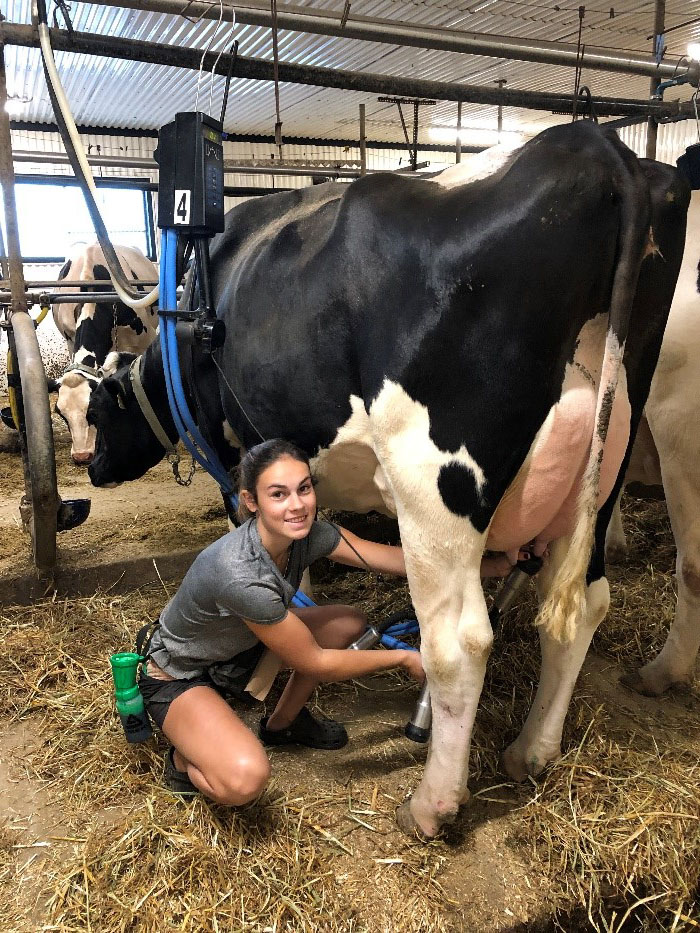 Building a business on a family tradition
Meaghan Herrington knows that farming is a 24/7 job, which is why she set up Early Mornings Relief Milking & Farm Services. Meaghan travels to various local farms, providing relief milking, cow clipping, and barn cleaning services.
Meaghan's passion for farming comes honestly: she's the fifth generation on her family's dairy farm. She was raised with extensive daily duties, and has put her experience to use with her Summer Company. With well over 1,000 farms in Northumberland County, her target market offered plenty of opportunity.
Meaghan marketed her business by contacting local farmers directly, handing out business cards, and active promotion in the farming community through word of mouth. Her success didn't go unnoticed. Over the summer, Meaghan was approached by a writer from Ontario Farmer magazine, and was featured in an article that showcased her unique business. The magazine is distributed Ontario wide.
Summer Company helped Meaghan in many ways. It helped her carry on her family's legacy in the agricultural industry, market her venture, and serve her neighbours with the essential services. Meaghan has already begun plans to continue her business following the program.
McKay Barr — Barrk Bowls
Collingwood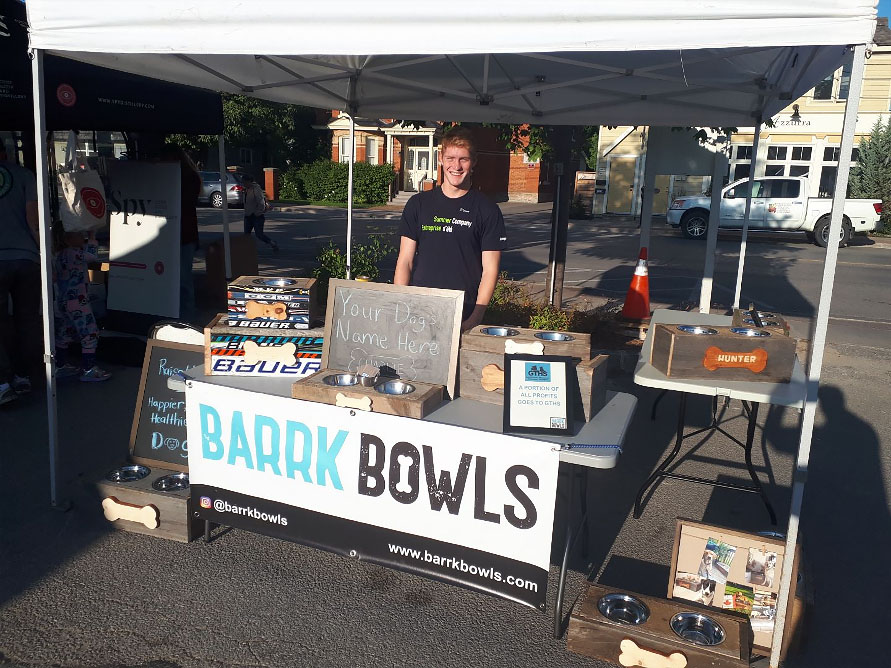 Keeping pets and their owners happy
McKay Barr had a pet with a problem: messy eating habits. His solution was elegantly simple. He designed and built bowls that were raised from the floor, which helped to prevent food and water from spilling while his pet was eating. McKay wanted to share his innovation with fellow animal lovers, and Barrk Bowls was born.
Barrk bowls are made from old barn board and reclaimed wood, and are designed to help improve digestion, posture, and the overall health and happiness of pets. The bowls also feature a dog bone shaped wood panel that can be customized with a pet's name.
McKay says that the Summer Company program taught him skills in networking, sales, communication, problem solving, and adaptability.
"I learned how to sell a product that people had never seen before," he says. "I sold it by telling my story and creating value in the craftsmanship of the product. I saw my time and hard work pay off."
With his strong beliefs in animal welfare, McKay decided to donate a portion of all sales to the Georgian Triangle Humane Society.
Jeremy Harman — Lifestyle Wedding Photography
Guelph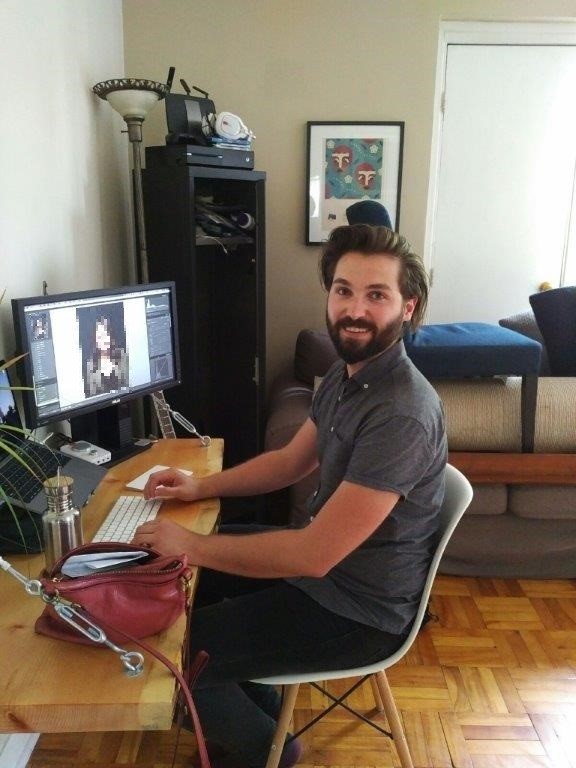 Managing the customer relationship
Jeremy Harman has always been passionate about art, creativity and images. A hobby photographer for seven years, he's put all of his skills and knowledge to work with his summer company, Lifestyle Wedding Photography.
Jeremy is a fourth-year marketing and business communication student at the University of Guelph. He used his education and experience to give his customers a unique experience that separates his company from the competition. Extras include handwritten letters, a bottle of wine after the engagement photography session, and a beautiful box filled with images of the wedding day that he delivers before leaving the venue. Quotes always include the full cost of prints and other services. Follow-up includes thank you cards and a one-year anniversary email to check in with the customer.
All of this extra effort keeps Jeremy's company at top of mind for current and past clients. With the support and resources of the Summer Company program, Jeremy exceeded his financial goals for the summer, and plans to continue with his business after graduation.
Taylor Flewwelling – Barnyard Broilers
Temiskaming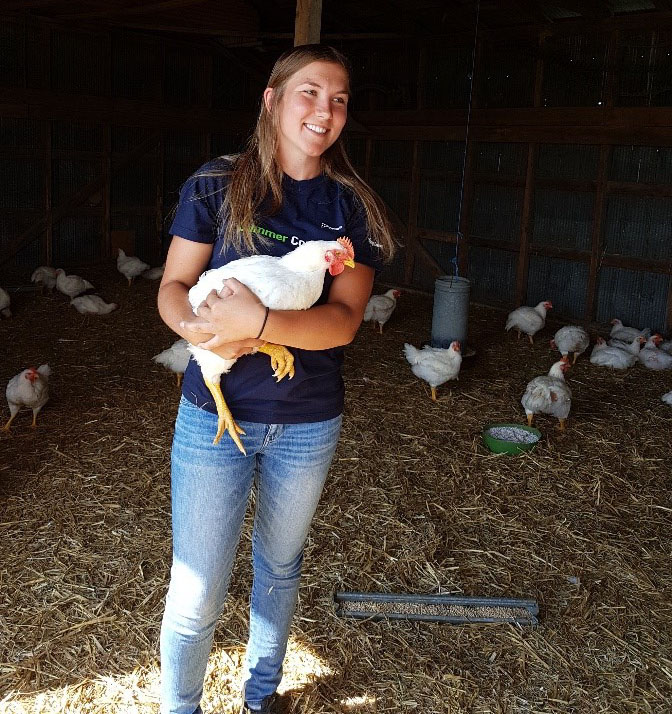 Moving from farm to table
Her studies in the Agricultural Sciences program at the University of Guelph are already paying off for Taylor Flewwelling of Earlton, Ontario. Majoring in animal sciences, Taylor set up and ran a summer company that provided her community with a steady supply of chicken.
Barnyard Broilers was a huge success, drawing on Taylor's experience and education to provide the best quality of chicken feed and care. Taylor provided her customers with a quality product that was carefully managed over the Summer Company contract. Her education and her life experience in a farming family and community were great contributors to the success of Barnyard Broilers.
Taylor did so exceptionally well that she will be featured in the printed publication Ontario Farmer in the very near future. The young entrepreneur plans to build on the success of Barnyard Broilers next summer.
Jalene Rolf Von Den Baumen – Picture Perfect Organizing
Halton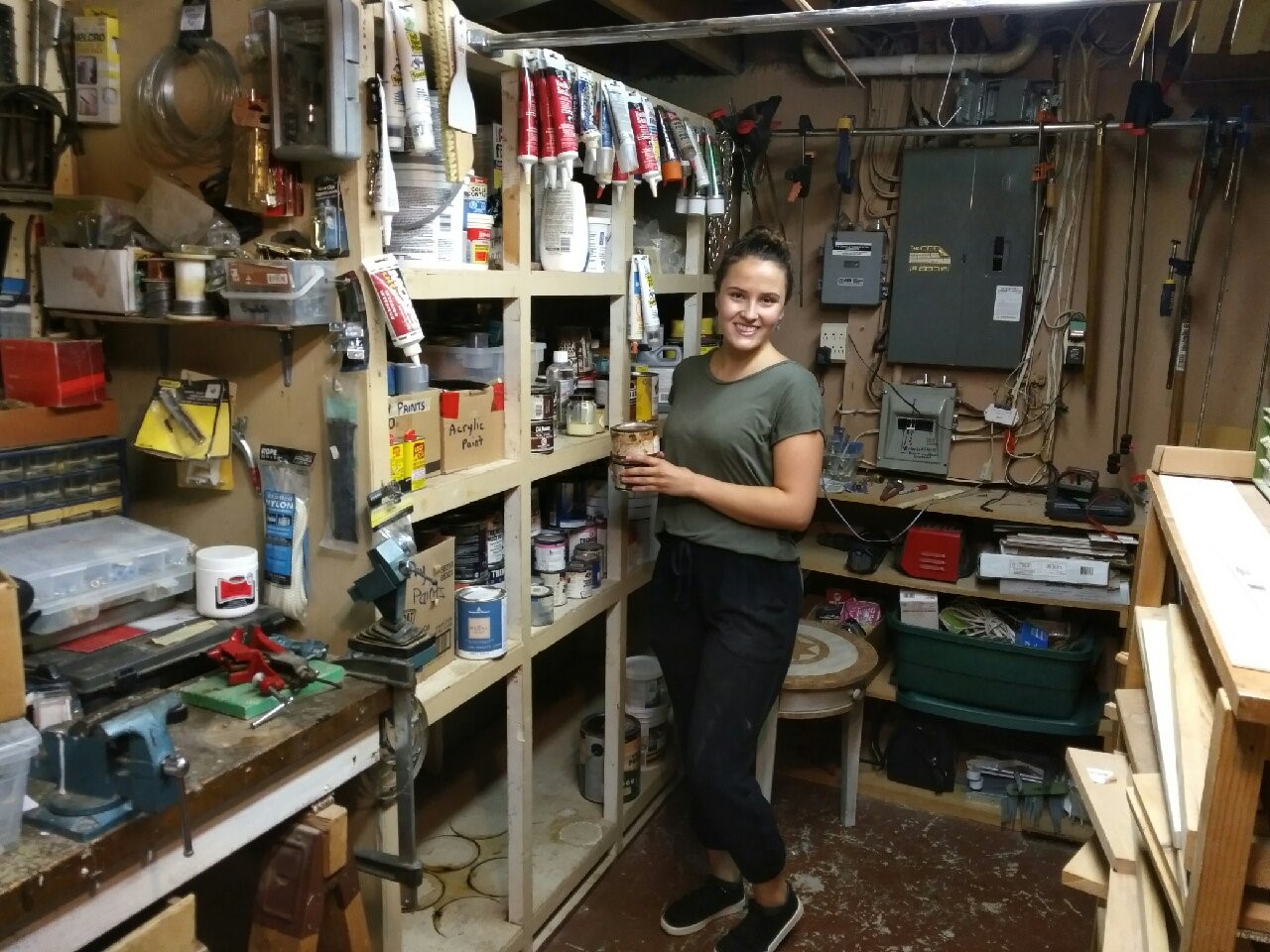 Getting clients organized, one space at a time
Jalene Rolf Von Den Baumen offers a service that many people want and need. Picture Perfect Organizing is a detail-focused and affordable de-cluttering service, customized to meet each client's specific needs. The main services of her business include reviewing cluttered spaces, providing a thorough and detailed cleaning, and staging the space or adding custom organization systems.
Jalene was an active participant in the 2019 Summer Company Program. She was engaged in all of the mentor meetings, asked lots of great questions, and provided ongoing feedback on her challenges and experiences.
With the help of the program's mentoring and training, Jalene built her confidence. After practicing her sales pitch many times, she was soon speaking confidently about the benefits of her business. Jalene quickly realized that word of mouth was going to be a large part of her business promotion efforts. She incentivized past clients to help her acquire additional business, and soon had numerous referrals. She identified real estate agents as a key target audience for her services, and secured several new clients.
Jalene hopes to continue operating Picture Perfect Organizing as she balances work and school to finish her post-secondary education.
Wen Tong – Future Flourish Soaps
Halton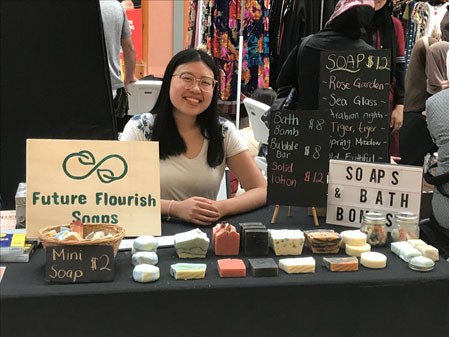 Selling sustainable soap
Wen Tong took her passions for the environment and the art of crafting soap and turned them into a business. Future Flourish Soaps offers handmade personal care products, including artisan soaps, bath bombs, and lotions, all inspired by nature. The company's products are vegan, palm-free, cruelty-free, and wrapped in plastic-free, recyclable packaging. All ingredients are sourced to meet a high standard of quality.
Wen has been selling at her products at various markets and fairs across Halton region, and online via her website. Through the Summer Company mentor meetings, Wen learned how to optimize her time while she hand-made batches of soaps. Wen also learned about setting the value of her products and how to target a clientele looking for handmade, eco-friendly goods.
Wen also learned about influencing shoppers by providing free samples and "mini" versions of her products. This helped to promote her brand, create customer engagement, and ultimately generate sales. With her success over the summer, Wen has now turned her hobby into a fulfilling business. She plans to continue to operate Future Flourish Soaps beyond the summer and throughout the school year.
Facebook: @futureflourish
Ailish Corbett - Ailish Creates
Hamilton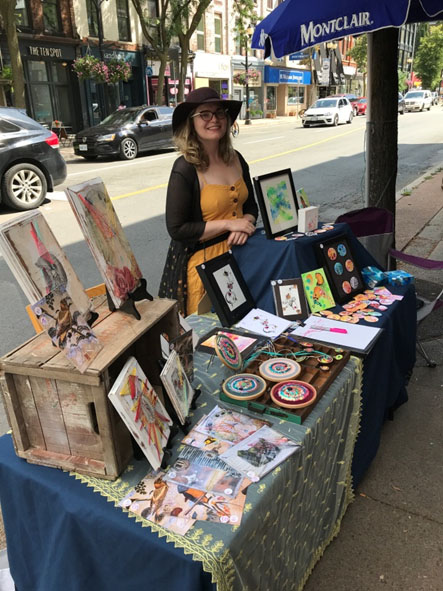 Mentoring nourishes creativity
Dreaming of becoming an artist since childhood, Ailish found a voice for her internal musings in a visual way. Her business, Ailish Creates, offers affordable hand-printed cards and artist's prints of her unique artwork.
The Summer Company program helped Ailish develop her business and entrepreneurial skills to complement her formal training as an artist. Mentorship played a huge role in Ailish's Summer Company experience. It gave her the opportunity to meet with professionals and entrepreneurs who genuinely wanted her to succeed.
As an artist, one of Ailish's biggest accomplishments this summer was selling her artwork. Ailish had studio space as a Resident Artist in Hamilton's creative industries complex, The Cotton Factory, awarded through the Hamilton Art's Council. As soon as she started marketing and advertising her work, she was delighted by the interest and response she received.
With infinite passion for creation and finite space, Ailish is excited to continue putting her inventory of art on display for the world. She plans to continue her business in both commercial and non-commercial markets. Ailish Creates operates online and you can see her work at local festivals and art markets.
Facebook: @ailishcreates
Peter Shirley – Big Pete's Painting
Hamilton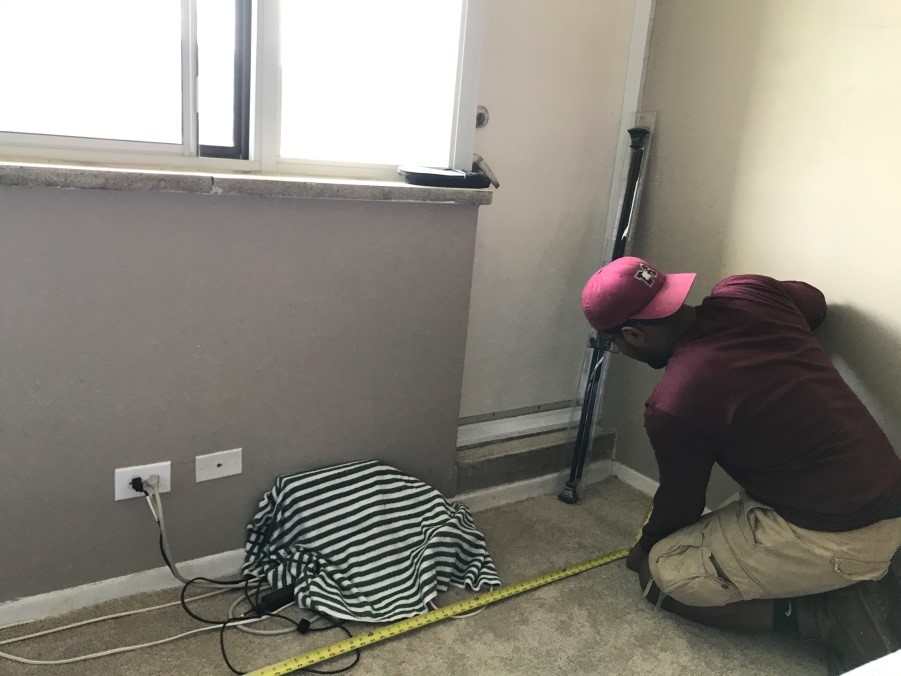 Leveraging experience to grow
Experience is always a great teacher. For Peter Shirley, it also provided the spark to create his own company. While working for a painting company last summer, Peter took careful notes on how to manage a successful business.
Once he had identified best practices, Peter took a risk and decided to start his own business with Summer Company. Focusing on interior and exterior residential painting, Big Pete's Painting also offers deck cleaning and staining services, and handyman work such as blind installation, fixture/coverage installation, landscaping, and furniture assembly and removal.
While Peter soon learned about the passion entrepreneurs have for their businesses, he worried that it was in danger of becoming "some sort of obsession". Recognizing his passion, the Summer Company mentors showed Peter it is okay to step back and take a breather to decompress every day.
Last summer, Big Pete's Painting completed an exterior home repaint that will be featured in an upcoming edition of Lowe's Inspire magazine. Working on large residential projects has shown Peter that the opportunities are endless. He plans to grow the company and expand into commercial painting and eventually home renovation and resales.
Facebook: @BigPetesPainters
Iain Corbett – Corbett Contracting
Hamilton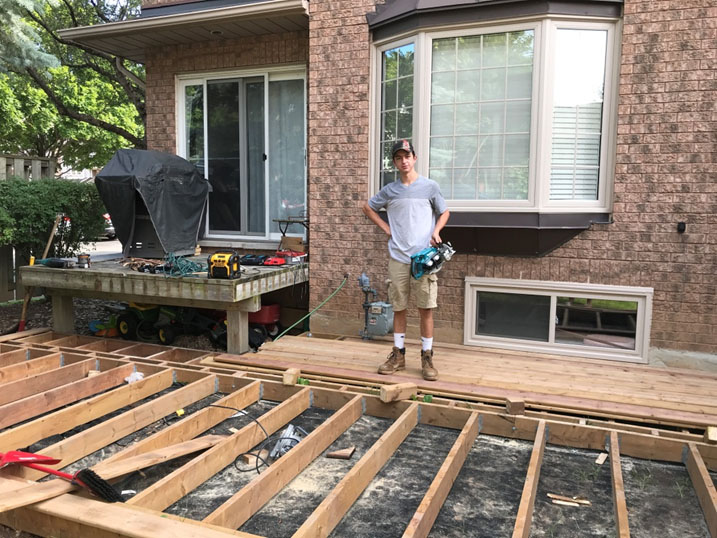 Using the peer network to meet new challenges
Iain's interest in construction began in woodshop class. He loved the course and thought he could make a career out of it. This summer, Iain started Corbett Contracting, a deck and fence building company in Burlington, Ontario.
It was the mentoring and networking that really helped Iain make the most of his Summer Company experience. Iain found the opportunity to pick the brains of a team of professionals to be invaluable. Summer Company helped provide a support system to work through those the inevitable problems of new entrepreneurs. Iain connected with his Summer Company peers before and after mentoring sessions, building a network of potential referrals. Iain and his peers often talked about growing their businesses together, and plan to work with each other in the future.
Iain's craftsmanship is garnering new clients and repeat business. His awards already include wins at both the Halton Skills and Ontario Skills competitions, and a top 10 finish at Canada Skills. Iain plans to continue his business part-time while completing the Building Renovation Technician program. And he looks forward to operating his business full-time once he has completed his studies.
Facebook: @CorbettDeckAndFence
Jerri-Lyn King – Lower Mohawk Creative Creations Bling
Hamilton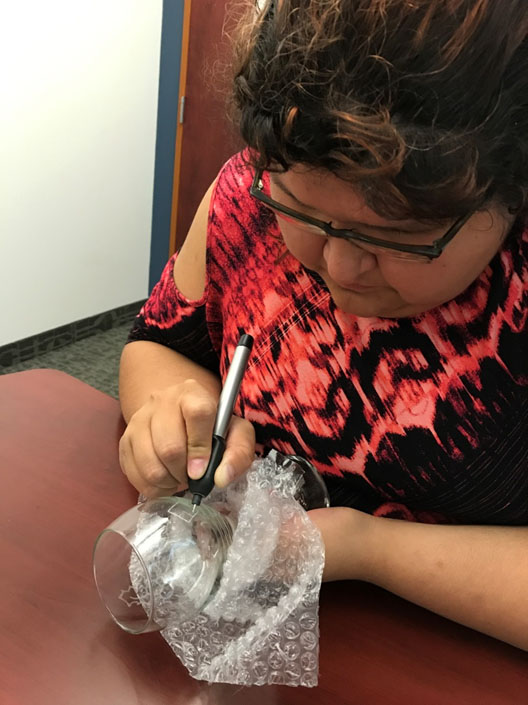 Creating unique and traditional designs
Inspired by her Mohawk culture, Jerri-Lyn King wanted to create traditional designs in her own unique way. Lower Mohawk Creative Creations Bling is an art business that focuses on creating handmade items and engravings on wood or glass. Whether she is engraving or beading, Jerri-Lyn adds individualized touches and personalization to every creation she makes.
Jerri-Lyn's Summer Company participation helped her step out of her comfort zone in many ways. She had noticed that glass etching was not being offered among the traditional craft vendors on the Six Nations Reserve. The program gave her the ability to expand her creative offerings from beading and wood engraved boxes to include glass etching. Along with her new artistic ventures, Jerri-Lynn's work with Summer Company was a learning experience that she will carry with her far beyond the program.
Jeri-Lyn will be continuing her business along with her studies. She also hopes to grow her business to include workshops that help others develop their own creativity and embrace cultural teachings.
Emma Enright –Textiles by Emma
Hamilton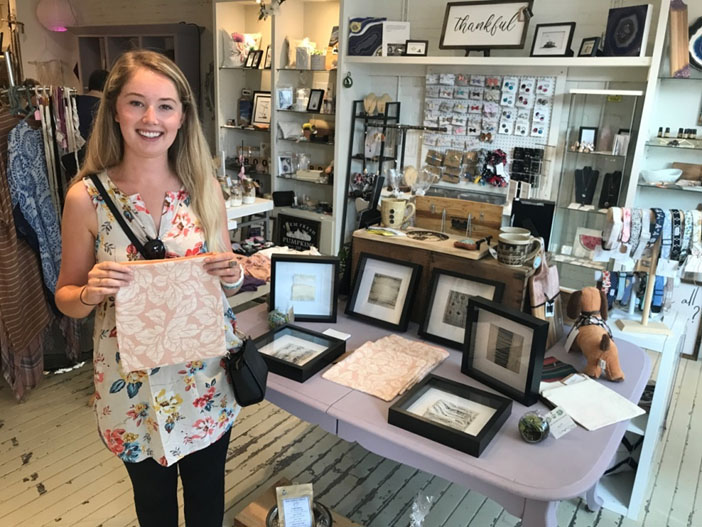 Weaving art with business
Growing up in a family rooted in the arts, Emma Enright was surrounded by artists and crafts people who supported her artistic development. Her work in textiles began with an early interest in fashion and sewing. A textile design major at the Ontario College of Art and Design University, Emma sells her textiles online. She also offers courses on how to work with textiles, such as weaving. To Emma, this is a special and unique service that practices mindfulness and relaxation, that in turn, can help bring a community together.
Taking the opportunity to start a business in the summer before her final year helped Emma see if entrepreneurship was right for her. With the support of her mentors, Emma was challenged to push the boundaries of what she thought she could do. She accomplished a lot: setting up her website, selling her work through a local retailer, presenting live artist talks, hosting workshops, attending an artist residency in Nova Scotia, and having her work featured in galleries throughout Hamilton. Her mentors and peers helped provide strategies and ideas that kept Emma engaged in her business, and motivated to push her own limits.
After she had learned the technical side of her art, Summer Company helped Emma develop her business and entrepreneurial skills. Emma looks forward to continuing her business while in school and beyond graduation.
IG:@textilesbyemma
Anna Pittock – Clean & Clear Window Washing+
Huron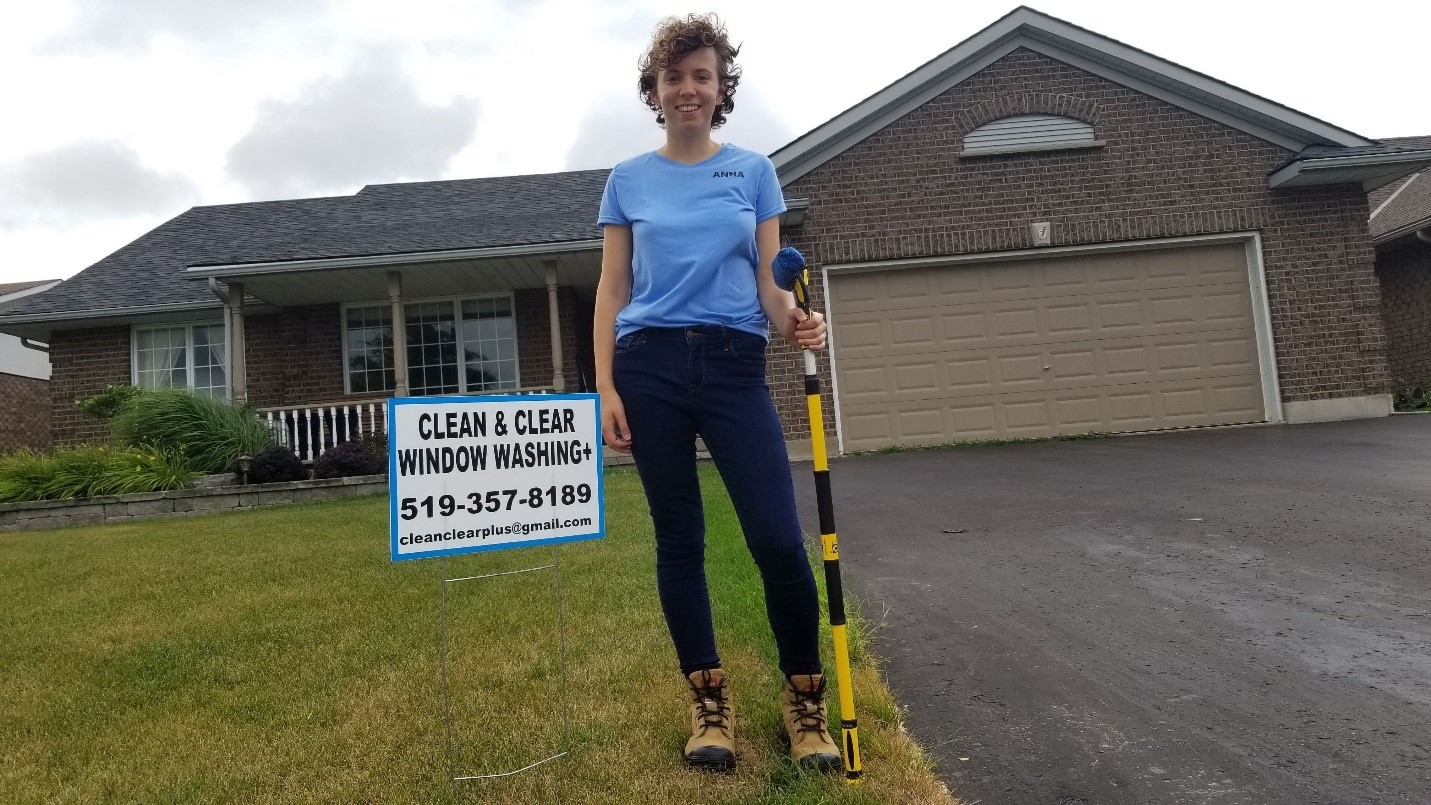 Cleaning up in an eco-friendly way
Anna Pittock wants to do her part to reduce the amount of harmful chemicals entering the environment from standard household cleaning products. After the grade 11 student from Wingham convinced her mom to purchase microfibre cloths that clean surfaces without any additional chemicals, Anna saw an opportunity. Why not offer window environmentally friendly washing services to her neighbours?
Anna used her Summer Company grant money to buy more eco-friendly cleaning supplies and to create promotional materials to build awareness of her brand in the neighbourhood. Clean and Clear Window Washing+ was born! Anna was very busy over the summer, servicing over 20 homes. She maintained steady customer growth via word of mouth from satisfied customers. Anna also plans to continue the business after she goes back to school in the fall. She's also exploring adding new services to her roster, such as interior home cleaning.
West Larabee – NorthSouthEast Productions
Huron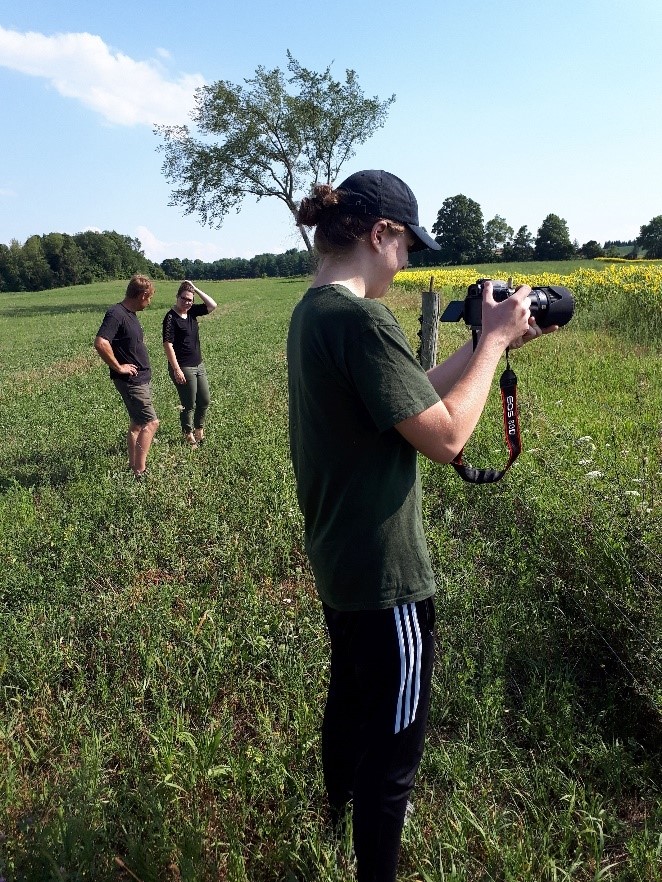 Visualizing business success
West Larabee is a visual thinker and creator. Not surprisingly, the grade 12 student from Wingham counts graphic design, videography, and photography among his hobbies. Setting up a Summer Company to create and sell promotional social media was a natural choice.
West decided that he would target the business community, offering video production services to create content for local businesses and realtors over the summer. At the beginning of June, West created his business and named it NorthSouthEast Productions.
West used a portion of the Summer Company grant to purchase a high-end digital camera that allows him to take exceptional videos and photos for his clients. After a slow start to the season, West used his experience with his first client as a springboard to new customers through referral. He is now scheduled to continue working well into next year.
The photo above shows West working on location with a local beef farmer who sells his meat directly to consumers. West was hired to redesign the farmer's website, develop creative content (photos and videos of the farm), and set up an online mailing list.
Evan Naylor – Naylor Creative
Kawartha Lakes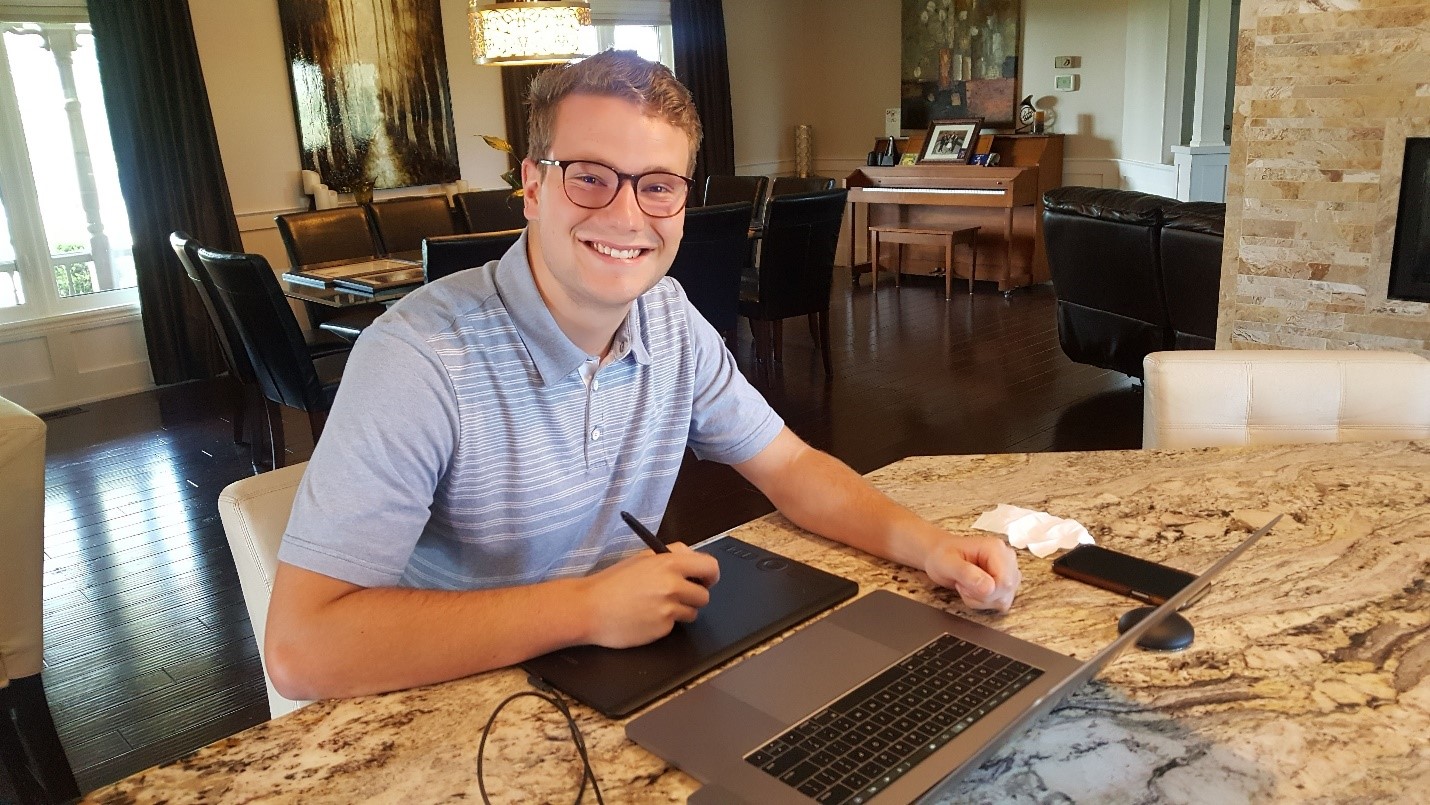 Designing for small business success
Design from professional agencies can extremely expensive, and is often out of reach for many small businesses. To meet that need for affordable graphic design, Evan Naylor established a design company offering an alternative for small businesses.
A third-year finance student at the University of Ottawa, Evan combined his business training with his graphic design skills to launch Naylor Creative. As a member of a family of entrepreneurs, Evan thought it would be fun (and profitable) to run his own business offering website development and graphic design to small businesses in Kawartha Lakes. He was right.
Evan's Summer Company experience taught him the importance of planning, and how to develop a client base. He also honed his time management skills, maintaining the balance between project management for existing clients and signing new ones. Over the summer, he developed his own process for managing current jobs, securing new clients and keeping existing clients satisfied.
By the end of the summer, Evan had created a successful business with very strong sales. He plans to continue to operate the business part-time as he continues his studies.
Luke Wyatt – Northline Visuals
Kawartha Lakes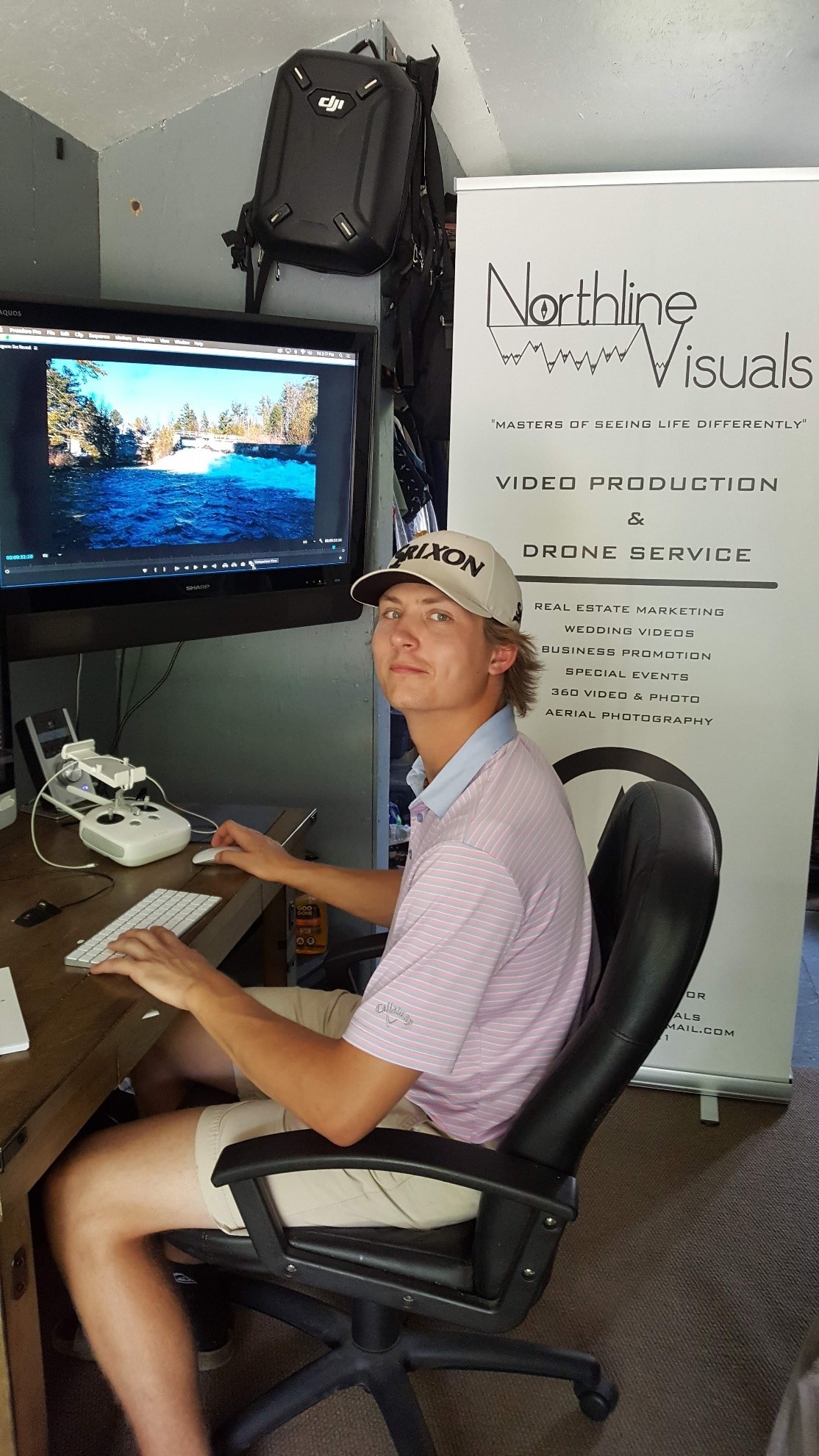 Seeing life from a different point of view
Aerial photography and video has become a key part of many company's marketing programs. Luke Wyatt saw the opportunity in his local area, and set up Northline Visuals, a full-service company offering video and photography at a reasonable cost. Northline specializes in both aerial and ground still photography, along with aerial and ground professional ultra HD video. Luke has a wide-ranging clientele that includes local business owners, real estate companies, golf clubs and resorts.
Luke found a way to make his hobby a business and to do something he enjoyed. Going through the business planning process helped him to understand the costs involved in getting started. He soon learned that he didn't need to spend a lot of money on top of the line equipment. Instead, he invested in upgrading equipment as revenue grew and only when absolutely necessary.
Luke found time management to be the most challenging aspect of running his own business. Finding the time to keep things like bookkeeping and reporting up to date was a problem. Luke solved it by creating a system to track client meetings and administrative activities that became an important part of his business processes.
"It's always good to know what you have planned for the day before you start," he says.
Luke plans to continue to operate the business part-time as he continues with his studies.
Andrea Schram – Schrams's Sewing
Kenora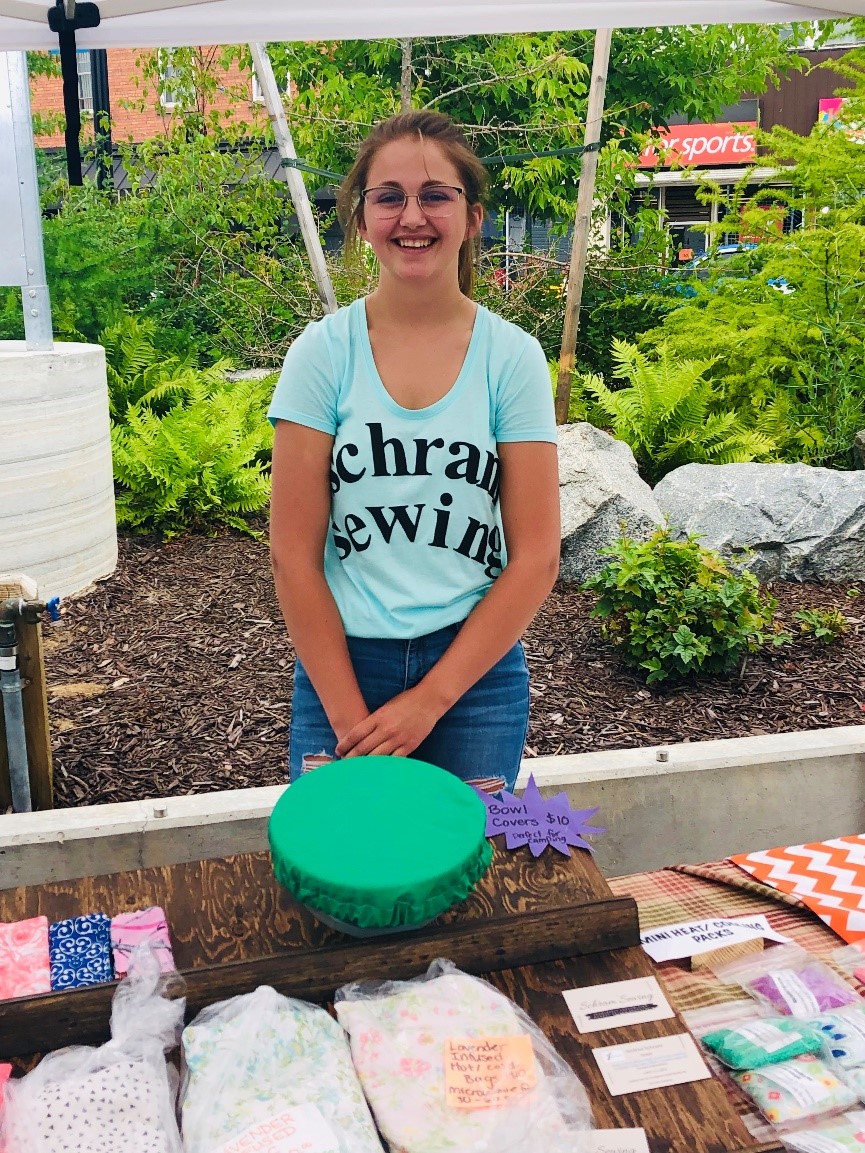 Continuing the family tradition
Andrea Schram has a big advantage. She comes from a family of entrepreneurs, with her parents, grandparents, brother and sister all business owners. The family had plenty of useful advice for her as she set up and ran her sewing company.
She also had lots of relevant training and experience, learning to sew when she was in Grade 9 and attending the Head Start in Businesses, Youth Enterprise Olympics in Thunder Bay for the last three years. That's where she heard about Summer Company.
Andrea started by sewing scrunchies for sale, and quickly realized that there was a market for pillowcases, quilts, heat/cooling packs and bowl covers. She took custom orders and attended the Rainy Lake Square market on every Thursday in Fort Frances. Andrea's scrunchies are also sold in retail stores in Emo and Fort Frances.
Andrea credits her business success to her commitment, determination, passion and the way she was raised. When thinking of her future, she sees herself as the boss, operating her own business.
Denisa Suteu - Weddings by Denisa
Kitchener Waterloo
Decorating for the big day
Denisa Suteu's business got its start after she created a custom sign for a relative's wedding. The response to her work was so positive, Denisa thought there was a market for wedding décor, and she was right.
Weddings by Denisa took off very quickly. Sales were so strong, Denisa soon had the entrepreneur's dilemma: more business than she could handle. Her Summer Company mentors stepped up with advice and some plans to ensure that she'd be able to fill all of her new orders and keep customers happy.
Selling through Etsy and local markets, Denisa had revenues in the tens of thousands of dollars.
"I loved it!" says Denisa. "I wouldn't have been able to expand my business without the Summer Company program."
Denisa plans to continue running her company as she heads back to school.
Kole Simm - Beaver Builders
Kitchener Waterloo
Putting experience to work
Kole Simm has experience in construction and related jobs, and he put it to good use in his Summer Company, Beaver Builders. Kole spent a very busy summer with numerous projects, including renovations, deck building and sidewalk paving.
When he wasn't on the job sites, Kole continued working on building his business, on and offline. His Summer Company training was especially helpful for marketing.
"I really learned a lot from the SEO (Search Engine Optimization) and Google My Business training sessions," he says.
He also credits his success to personal connections he made over the summer.
"Summer Company connected me with lots of different people in the community," says Kole. "I learned a lot from them."
https://www.beaverbuilders.ca/
Sergiu Anton - ROCA Technical Soccer Training
Kitchener Waterloo
Focusing on the technical side of soccer
Sergiu Anton used his experience playing soccer in Europe to create and build his Summer Company, ROCA Technical Soccer Training. Sergiu's company was different than many others, focusing on the technical side of the game.
Through mentor meetings and the Sales Business Training Sessions, Sergiu was able to gain more clientele through a referral program. He also learned how to better communicate with local coaches, and how to strengthen his company's online presence. As a result, Sergiu was able to generate solid revenue from his Sunday Soccer School, week long camps, and individual/group training sessions.
"The Summer Company has taught me a ton of information, which people go to school for years to attain," he says. "I received this information for free, along with mentorship, and a grant to get me started. This is a fantastic opportunity for any young entrepreneur, and I am grateful that this exists in the community."
Riley Van Overberghe - Driveway Auto Detailing
London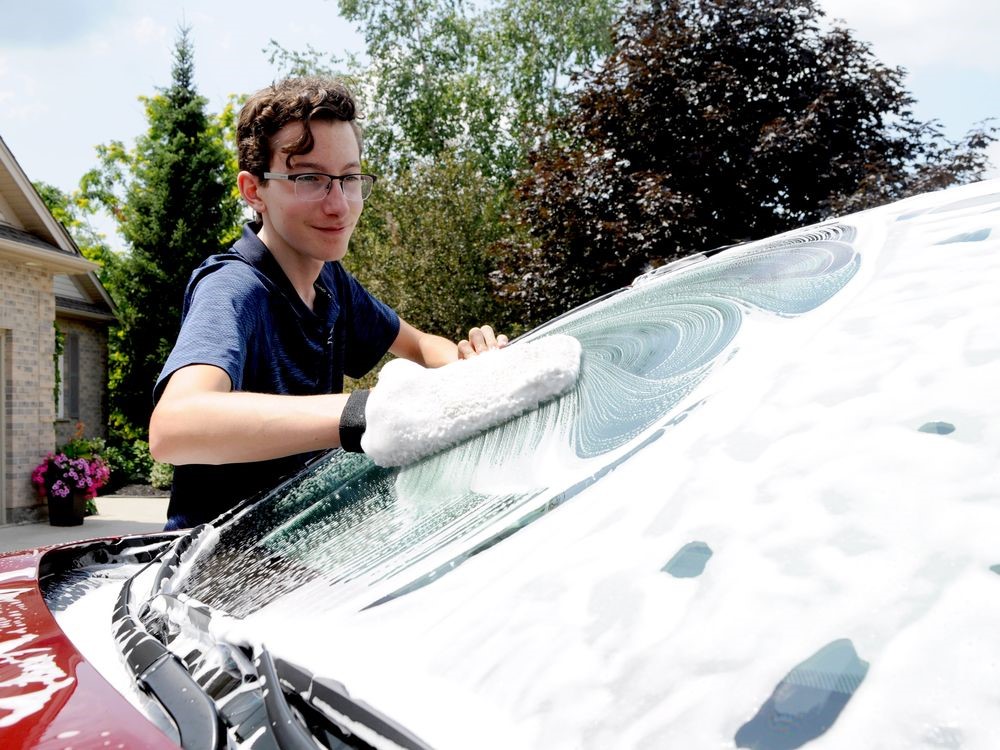 Offering a quick and easy car clean-up
Everyone wants to have a clean car, but many of us are just busy (or lazy) to take our car to a cleaning company. Riley Van Overberghe solved that problem with his Summer Company, Driveway Auto Detailing.
Riley served motorists all over the London area by going directly to the client's home for the detailing work. His customers all said they really appreciated the savings in time and effort that Driveway Auto Detailing provided. Any customer who tried Riley's service was quickly convinced of the benefits of having their car detailed right in their own driveway.
A Grade 10 French immersion student, Riley is a self-declared car buff, and says he really enjoyed turning his hobby into a summer business.
Kathleen Gonsalves - Judda
Durham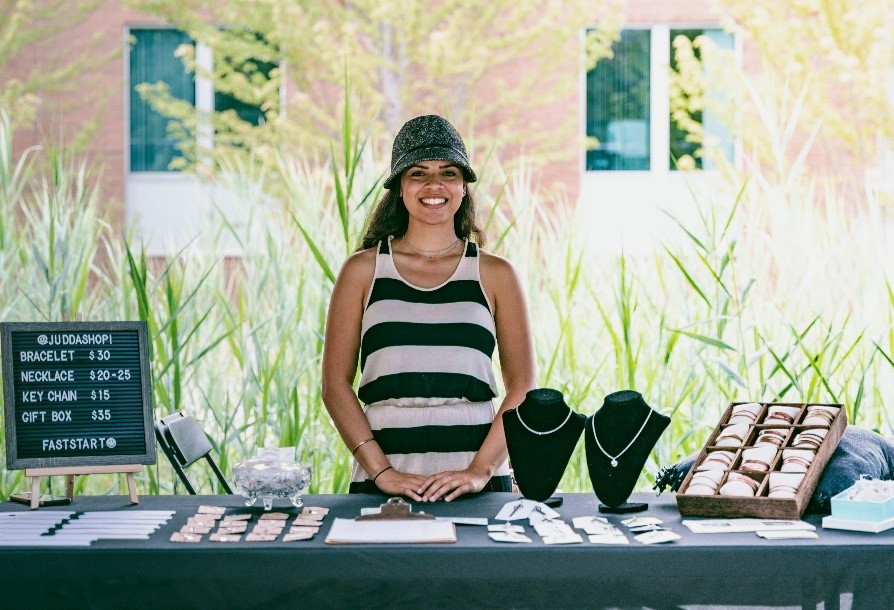 Jewellery with a message
Business student Kathleen Gonsalves wanted to do more than just turn a profit with Judda, her Summer Company. Judda sells handmade jewellery, accessories and gifts, with a portion of the profit going towards a chosen charity. But Kathleen has added an extra value proposition to each product, including an inspiring phrase with each piece of jewellery.
"I truly believe the words we speak have immense power" says Kathleen. "A simple reminder can lead to a shift in someone's perspective. A day can be changed by a simple word. This is why I've chosen to exclusively sell jewellery with positive sayings."
Kathleen says that Summer Company has given her the opportunity to take risks, and grow at a faster rate than she could have working on her own.
"I've also met great people that I will be able to partner with in the future," she says. "It has been an overall great experience!"
The future looks bright for Judda, which continues to grow. Kathleen has numerous sales opportunities coming up in all around southern Ontario. And with the launch of her new website, she's confident of a new source of customers.
Mayuran Ganesethas - SV Robotics Academy
Markham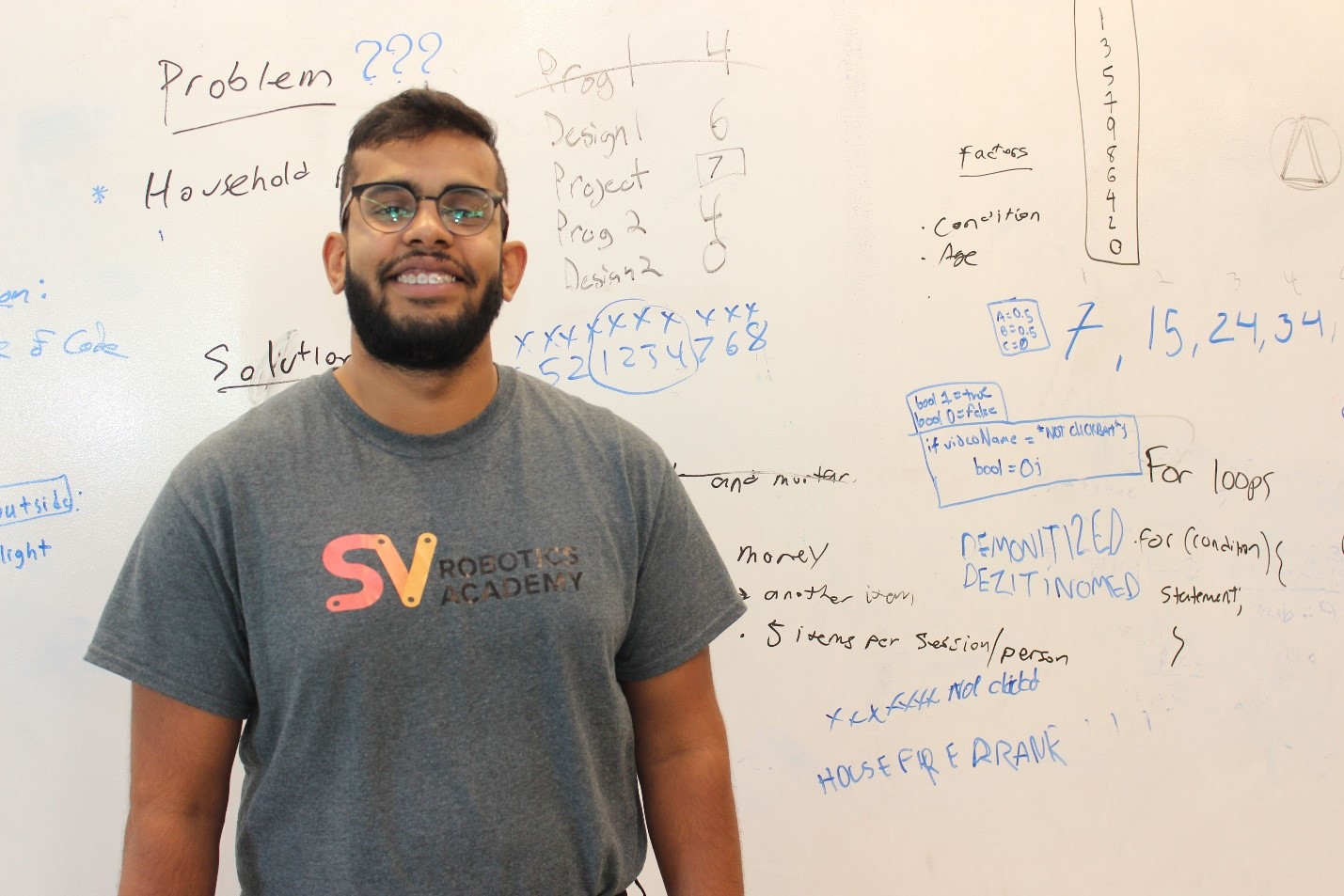 Preparing young students for the future
SV Robotics offers is an educational robotics and engineering programs for youths aged 12-18 in Markham. Mayuran Ganesethas says he started the Summer Company business because he knew that many students have capabilities that exceed the standards of the traditional school system.
SV Robotics has a wide-ranging curriculum covering mechanical design, programming, electrical design, and product design. To accelerate learning, the curriculum connects lessons with creation projects that students work on during the week. This helps them deepen their understanding and accelerate their learning. A typical project might see a student create a solar panel that tracks the sun's movement in the sky.
Mayuran was able to grow his class size and hire more teachers with the grant funding he received. He is set to continue operating his business throughout the school year, and even after he graduates. He credits Summer Company and the Markham Small Business Centre with providing him with the right tools and connections to launch this successful business.
Kyle Morgan - Backcountry Coffee
Niagara Falls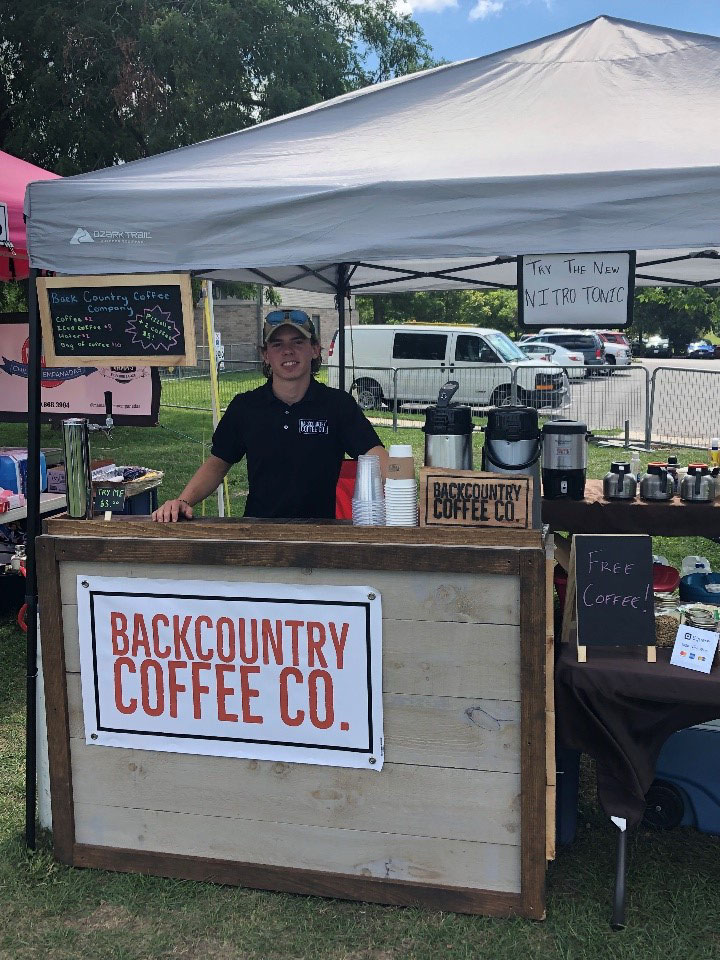 Caffeinating the country with memorable marketing
Kyle Morgan is a proud Canadian and a coffee lover, so much so that the website of his Backcountry Coffee Company proclaims: Caffeinate your inner Canadian. Using only fair-trade coffee, Kyle built his successful coffee roasting business with unique and catchy brand marketing. In addition to selling coffee at various festivals and shows, Kyle also built a custom e-commerce website and is selling his roasts online.
Kyle expanded the number of outlets over the summer, using venues such as vendor fairs, craft markets and arts festivals. He concentrated on those and focussed on the e-commerce component of his business as the summer ended. Kyle says he enjoyed the program and all aspects of operating a summer business.
"I put a lot of effort into it," he says, "and I learned a lot about entrepreneurship."
Is there more entrepreneurship on his future? "Absolutely!"
Michael Macki - UmamiMami
Richmond Hill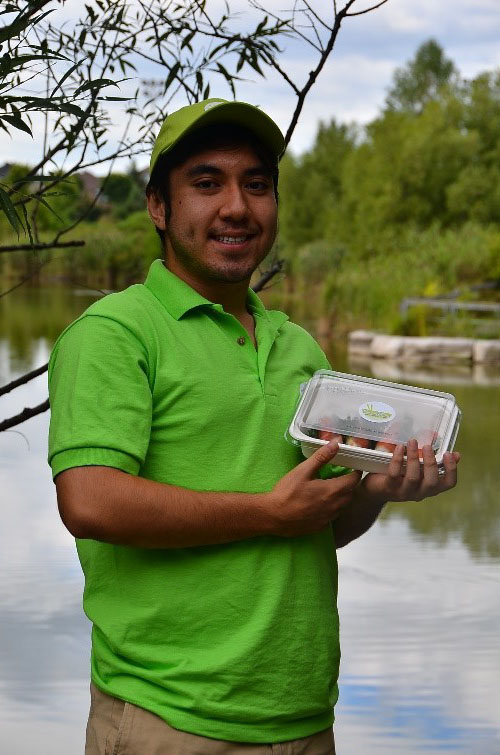 Learning from the master
As a young child, Michael Macki had always marveled at how his mother would cook delicious meals after a full day at the office. "My mom would exchange her work clothes for an apron and cook for hours after work, as I watched in awe," he says.
His mom was the inspiration for UmamiMami, a catering company that uses high quality ingredients to create inspired dishes delivered straight to the customer's door. The company name is a mashup of "umami" (the elusive fifth savory flavour) and an homage to Michael's mom.
Michael made good use of the advice provided by Summer Company, connecting with guest mentors and getting solid legal and web-building advice.
"I've developed so many skills in these few months," he says. "The ability to listen, ask questions, be confident and truly believe in yourself is what stands out the most."
Michael has hopes that UmamiMami will grow to become a fully-fledged restaurant.
"Summer Company has helped me to not only become a better entrepreneur, but a better version of myself," he says. "I can't wait to see what the future holds for both me and UmamiMami."
Jinal Patadia - RadheKrishna Dance
York Region - Newmarket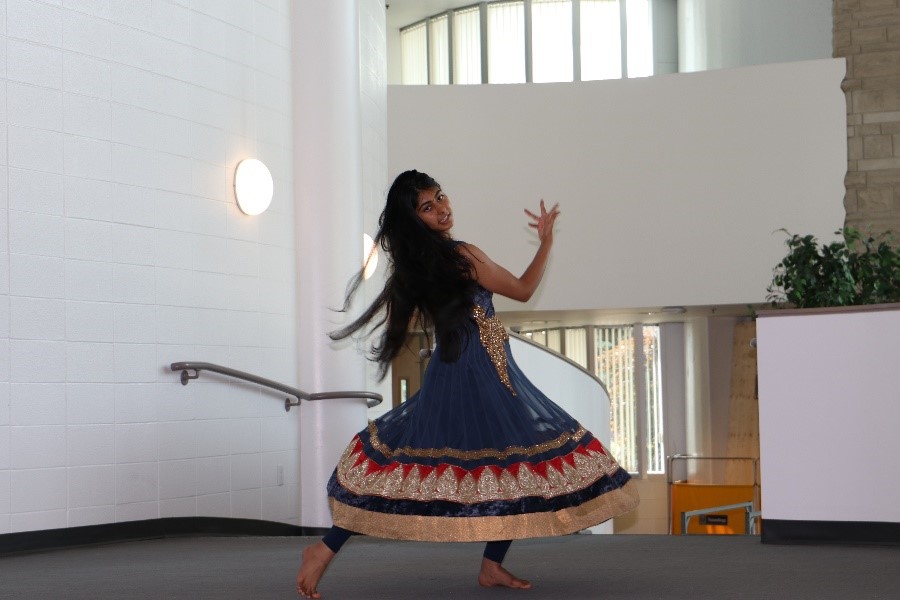 Dancing her way to business success
Jinal Patadia combined her two passions, Bollywood dancing and business, to create a successful Summer Company. Her Bollywood dance school, RadheKrishna Dance, offered dance classes in group, semi-private, and private lessons. In addition to dance lessons, Jinal also performed at engagement, wedding, birthday, and anniversary parties.
With the guidance of the Summer Company program, Jinal not only successfully started her business in her hometown of Aurora, but also expanded to offer dance classes in Toronto, Mississauga, and Brampton.
Jinal credits the Summer Company program for helping her develop skills in time management, business management, sales, marketing, and to build a network of like-minded young entrepreneurs.
"The Summer Company program has been a big help for me to develop confidence, organizational skills, and planning and management skills," she says. "I also learned how to successfully complete administrative tasks, design business cards and flyers, and market my business."
Wesley Penney – Nufit Program
Peterborough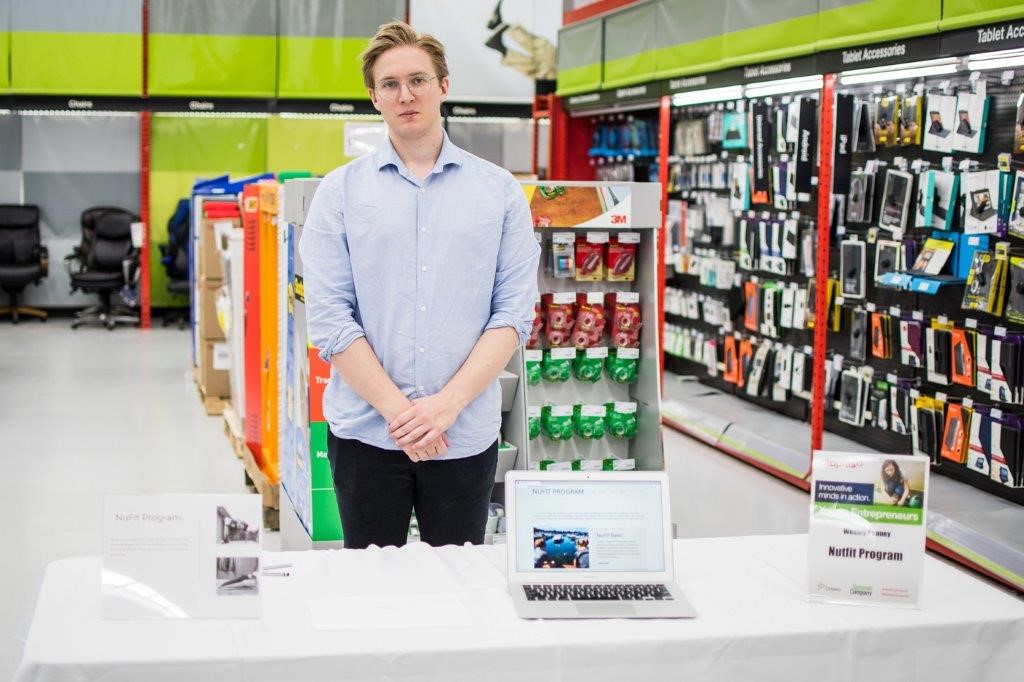 Taking workouts digital
Created by Trent varsity rowing athlete Wesley Penney, Nufit is a general fitness program that's distributed online. Wesley worked in partnership with professional athletes and coaches to develop a fitness program that covers all levels of experience.
"We have programs designed for absolute beginners to programs designed for competitive athletes," says Wesley. "There's no need to stress about getting to the gym or fitting in the time. We offer professional work out and fitness programs that can be done in the comfort of your own home."
Since everything is digital for Nufit (no face to face contact), Wesley had no limit to the number of clients he could serve over the summer. When he returns to his studies (and rowing) at Trent this year, he plans to keep the business running.
"I think it will be a good fit with students, who are usually very busy," he says. "They can work out regularly and stay on top of their studies."
Heidi Duchrow – Heidi's Happy Paws
Pembroke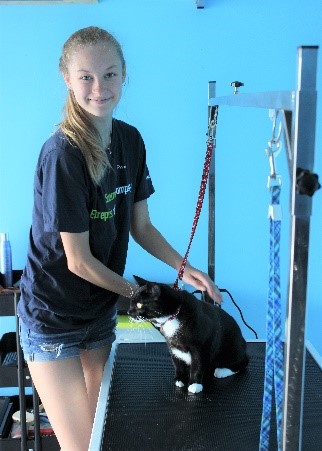 Mobilizing pet services
Any pet owner can tell you that most pets are a lot of work, starting with getting the pet to a service location or taking them for that daily walk. Heidi Duchrow has solved that problem for her customers, for all types of pets. In addition to the usual dog services such as walking, grooming and training, Heidi's Happy Paws offers the added convenience of mobile services for all types of pets.
"Many of my customers found it difficult to take their pets of their home environment," says Heidi. "People are busy, and pets can be stressed when they're outside of their home environment."
Heidi's customers booked their appointments online, easily co-ordinating their pet's grooming and training with their own busy schedule. She also offers exotic pet care, and photo shoots for greeting cards and special occasions.
Ameena Abdulaziz - Riveting Adventurez
Orangeville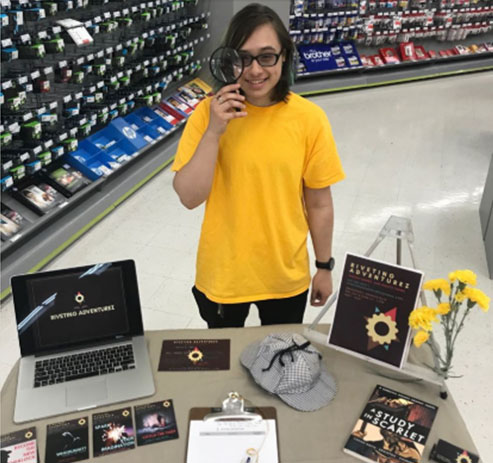 Creating a new business and cultural event
Ameena Abdulaziz entered the cultural scene in Dufferin with youthful enthusiasm and a great sense of fun. Her business, Riveting Adventurez takes players on a fun-filled, mystery tour of downtown Orangeville. The combination of escape-room-like puzzles and mystery stories provides an exciting, outdoor experience, and offers insights into the Town's past and its wonderful heritage.
Games involve sleuthing through local businesses to find clues to a number of different mystery stories. Options for play include the main puzzle walking tour "Clockwork Orangeville" or the photo walking tour "Parasols and Monocles". Different levels of difficulty accommodate all kinds of players.
Ameena was happy with her Summer Company experience.
"It was a lot of work but well worth it," she says. "I improved my time management skills and got a lot of good insights from the mentors and trainers."
Her creativity extended beyond the business. Ameena built and launched her website, along with all promotional collateral. She's now in her first year at Waterloo in the Mechatronics Engineering program and will run the company again in 2020.
Adrienne Robinson - Sugar Dust Bakery
Owen Sound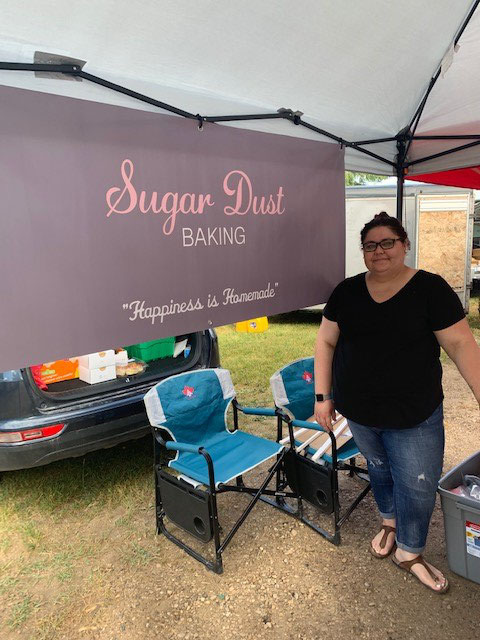 Making happiness homemade
Adrienne is an incredibly creative and artistic individual, with a passion for baking. She's modified a favourite saying to serve as her company's tagline: "Happiness is homemade with a sprinkle of sugar dust."
Adrienne started Sugar Dust as a part-time business. She began by taking custom orders and expanded her sales by baking large batches of sweets to sell at local farmers markets. Encouraged by the enthusiastic response to her products, decided there was a need for some Sugar Dust in Owen Sound, and applied to Summer Company.
Through the program, she was able to grow her clientele which has resulted in the expansion of an Owen Sound storefront location. Currently, Adrienne is running her bakery full-time, while returning to school part-time online.
Brooke Lauwers - Brooke Clean 'n' Stuff
Sarnia Lambton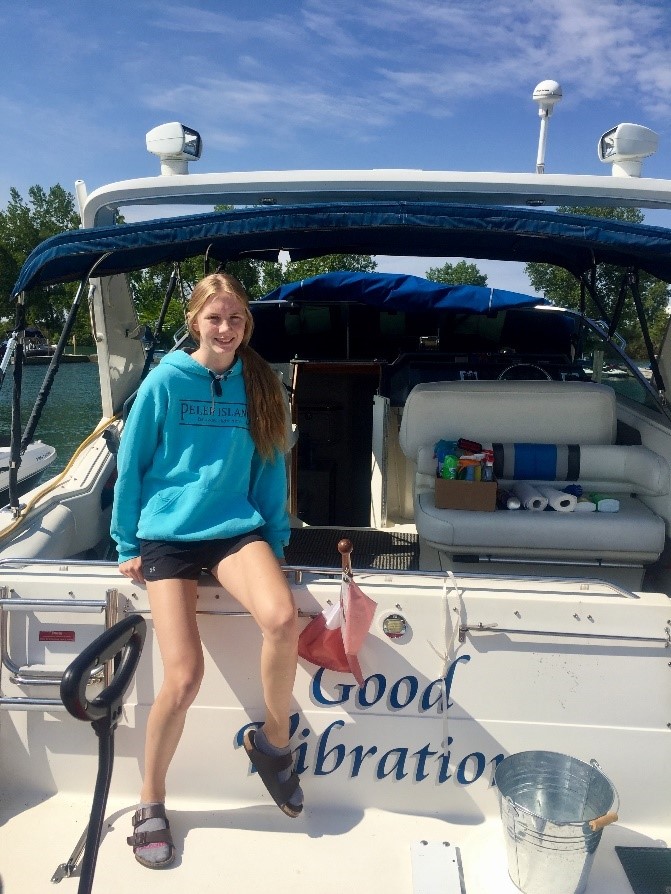 Cleaning up in Lambton
Brooke Lauwers always knew she had a knack for cleaning, but it wasn't until she learned about the Summer Company program that she realized her talents could help her start and run a business.
She started Brooke Clean 'n' Stuff, a cleaning company focussing on homes, boats, cars, trailers and just about anything else that needed cleaning. The grade 10 student from St. Patrick's High School hit the ground running this summer, acquiring many customers across Lambton County with her infectious energy.
Her customers like her cleaning precision and expertise, which allows then to relax and enjoy the summer, knowing their property is in good hands. Brooke made sure to customize her services to fit any client's job, large or small.
Brooke usually finds her week's booked solid with many repeat customers, as she has built quite a loyal clientele due to her quality of work. Brooke is already planning on keeping her business going over the school year while also looking at taking on some more clients.
Jesse de Dreu - De Dreu Artisanal Chicken
Woodstock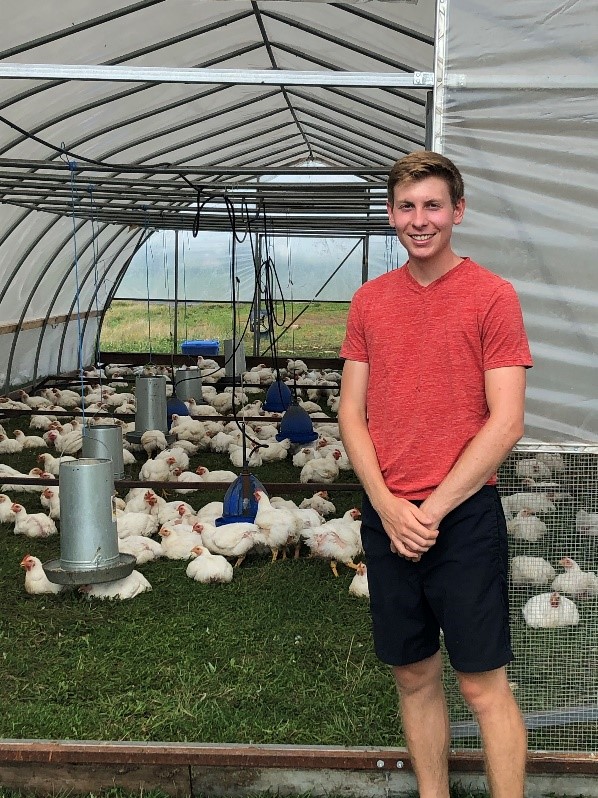 Sustaining growth
Jesse De Dreu prides himself on raising chickens the way nature intended: on pasture land. De Dreu Artisanal Chicken gets its day old chicks from a government certified hatchery when they are just one day old, and uses portable chicken coops to give them access to the pasture in their first few days.
"My business focuses on growing chickens in a healthier, more sustainable way," says Jesse. "We give them access to fresh grass and insects within a secure environment. We seed our pasture with a custom mix to encourage the chickens to forage a healthy diet. That gives them a wider variety of nutrients that they would miss out on otherwise."
Jesse's customers usually order ahead, choosing from a variety that includes whole chickens, boneless chicken breasts and many other options. Summer Company has been a very positive experience for Jesse.
'The small business center was crucial in helping me get started and organizing my business resources in a way that set me up for success," he says.
Jesse took advantage of the advice he received from experienced and successful entrepreneurs working with the program.
"I wouldn't have been able to access their expertise otherwise," he says. "I can safely say that this has been a very positive experience over the summer. I would strongly recommend that any students thinking about the program should apply."
Renée-Claude Pilon - Paddle Out Paintings
Sudbury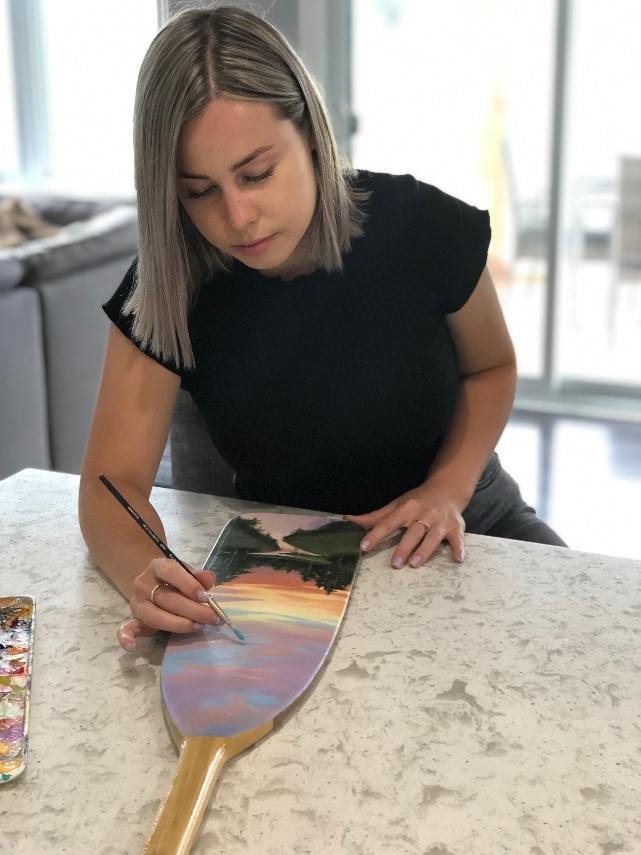 Seizing a perfect opportunity
Renée-Claude Pilon was finishing her last year in the Fine Arts program at the University of Ottawa when she saw an opportunity for artistic expression and a new business. In northern Ontario, summer is known as 'Cottage Season' and the Sudbury community is a strong supporter of the 'shop local' movement. For Renée-Claude, it was the perfect time and place to launch Paddle Out Paintings.
Summer Company gave Renée-Claude the tools she needed to start her business. She used the grant money to purchase top quality materials. She painted her custom portraits on wooden paddles and sold them as the perfect décor for home or cottage. Many of her designs mirrored Northern Ontario's beautiful natural landscapes. She also created custom pieces on request.
"My summer Company experience has been all around very rewarding," she says. "It pushed me to start a small business that showcases my talent. I was able to attend sessions that taught me new valuable new business skills. I learned how to network, how to promote myself and my business, and how to stay on the right path to success."
Carly Sutherland Dean – Nature Wise Landscaping
North Bay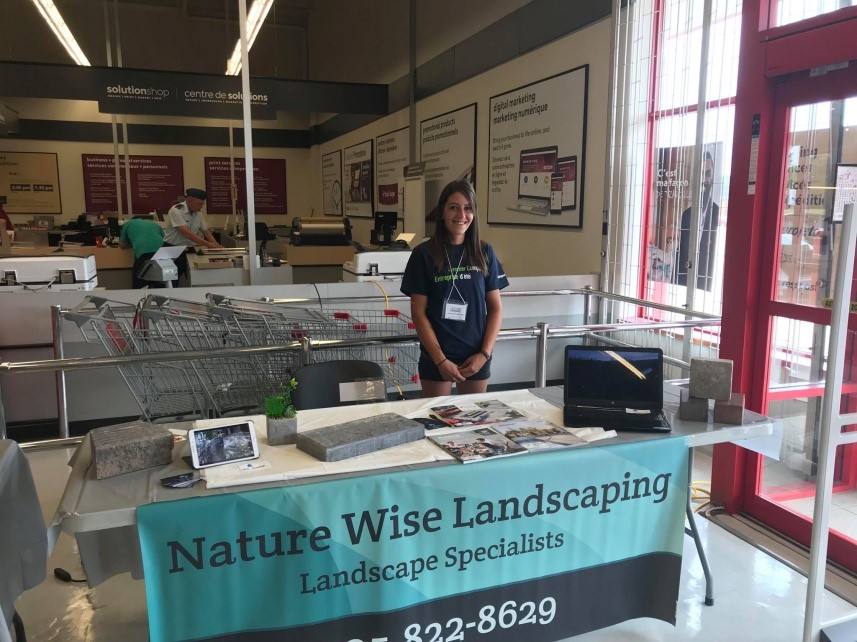 Running a company instead of wheelbarrows
Carly Dean had 10 years of experience as a landscaper, working for various companies in Ontario and British Columbia. She had no plan to start her own business, until she heard about Summer Company. As she said in an interview with the North Bay Nugget, she realized that she could "run wheelbarrows for the rest of my life, or I could run a company and hire someone to do it for me."
Carly's leap into the world of entrepreneurship started with her own company, Nature Wise Landscaping of Sturgeon Falls. Its services include land rehabilitation, landscaping, and installation of interlocking stone and retaining walls.
The Summer Company Staples Tradeshow provided Nature Wise Landscaping with potential clients and investors who helped her expand her business. Carly will continue to operate her business while attending school and completing her diploma as an Environmental Technician.
Carly plans to take Nature Wise Landscaping to the next level by creating a full-time business when she receives her diploma. She says she really enjoys the flexibility of being an entrepreneur, and she looks forward to continuing to grow her business with winter services.
Alumni Stories
Adrian Arnieri, Alumni - Mississauga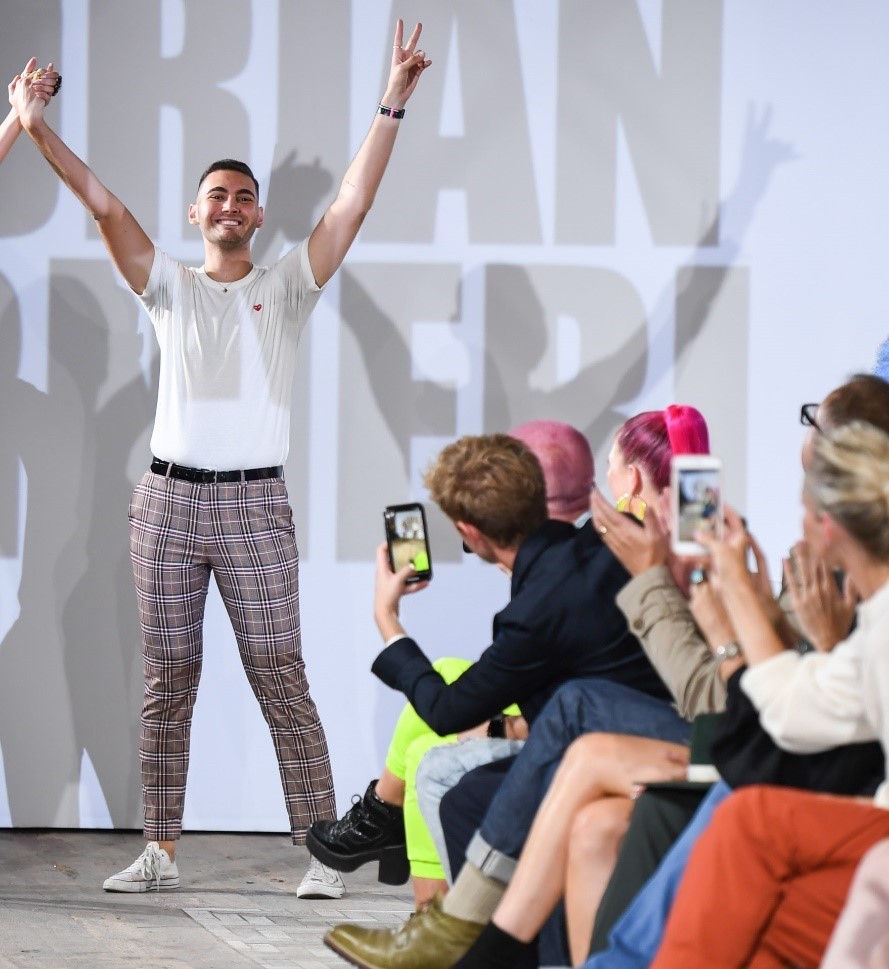 A born designer
Fashion designer Adrian Arnieri has been passionate about design since he was a child. As a young boy, he was influenced by celebrity icons such as the Spice Girls and theatre productions such as The Wizard of Oz.
"Today my maturity and passion has only grown," says Adrian. "I'm influenced by modern day performers and artists such as Lady Gaga, The Spice Girls, Madonna, designers such as Jeremy Scott, Alexander McQueen, and Donatella Versace."
Adrian is a graduate of the Ryerson University Fashion Design Program. He launched the ARNIERI brand as a Summer Company in 2015. The rest is fashion history, as the brand continues to grow.
"The program gave me the confidence, tools and knowledge to start a business which has continued to expand since its launch back in 2015," he says.
Adrian is an enthusiastic and effective promoter of his brand. ARNIERI has been featured in exclusive hair magazines all over North America, working closely hair product supplier Schwarzkopf Canada. Adrian connected with Entertainment Tonight Canada and gained worldwide exposure, when host Sangita Patel wore a custom ARNIERI gown to the 2018 Golden Globe Awards.
"Life is a statement to be lived everyday," says Adrian. "My dream and vision for the future is to continue designing garments that challenge the fashion norm."
Robert Roopa, Alumni - Vaughan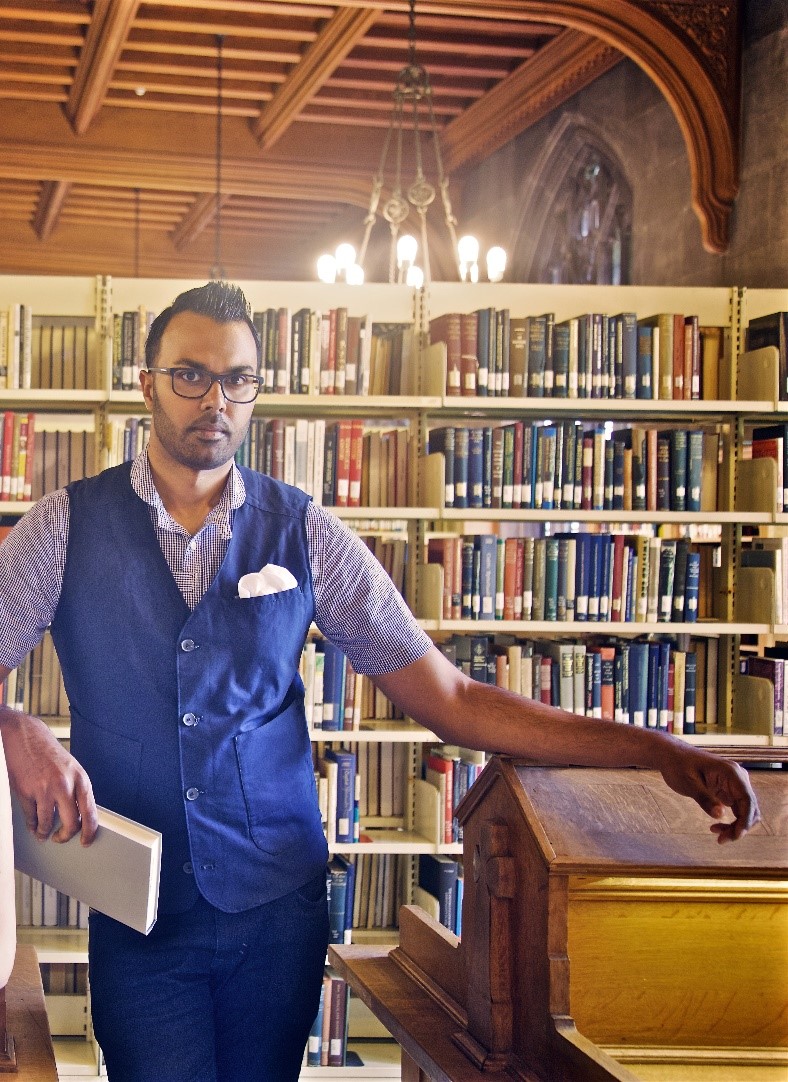 A passion for helping others
Robert Roopa's Summer Company was different than most. Inspired by his passion for helping others and a desire to serve his community's healthcare needs, Robert founded Counselling Services for York Region. Seven years later, the counselling centre has earned a prestigious reputation, helping clients overcome serious challenges.
A registered psychologist and psychotherapist, Robert participated in the Summer Company program to develop his business skills and knowledge. The mentorship and advisory services helped him communicate his clinic's focus on providing research-based therapy and a collaborative approach to patient care. The success of Counselling Services for York Region led to creation of a sister company, the OCD and Anxiety Clinic of Ontario.
Robert's company has earned a reputation in the medical community for helping individuals who struggle with complex cases of anxiety and obsessive-compulsive disorders. Patients and healthcare professionals from all over North America seek consultation and services at the clinic. It has received two prestigious awards, a Consumer's Choice Award and the Ruth Berman Award, presented by the Ontario Psychological Association.
Summer Company helped Robert build a strong, recognizable brand, now a major provider of psychological and psychotherapeutic services in York Region.