Summer Company Yearbook 2020
A Message from the Honourable Victor Fedeli
Minister of Economic Development, Job Creation and Trade
I am very pleased to present the 2020 Summer Company Yearbook. This year, despite of the unique challenges presented by COVID-19, 227 students from across Ontario started their own businesses through the Summer Company Program. This yearbook showcases 31 of those inspiring young entrepreneurs who launched their companies in a variety of fields, including educational services, new ventures in technical services, retail, as well as food services and landscaping services.
Since the program inception in 2001, Summer Company has helped over 9,000 students transform their ideas into exciting new ventures. The program helps Ontario's young entrepreneurs start and run their businesses by providing them with a mentor network, access to capital, and the hands-on skills and training they need to be successful in today's competitive global economy. Each of these start-ups is an opportunity to tap into the talent of our highly skilled youth and support the next generation of entrepreneurs.
Congratulations to each one of this year's participants. We celebrate your creativity, passion and dedication to exploring new opportunities and unlocking solutions to complex problems. I wish you the best of luck in all your future endeavours.
Sincerely,
Victor Fedeli
Minister
Wyatt Adkins – Adkins Hockey Training
Woodstock
Virtual training camp goes viral
Wyatt Adkins was looking for something safe to do during the pandemic. With employment opportunities limited, he didn't have a lot of options. Hockey is Wyatt's passion, and he has well-developed skills that he likes to share.
"This year has been unique for everybody," says Wyatt, "and has allowed me to reach for new opportunities. When there was no sign of the quarantine ending, I knew I had to figure out something I could do with my time, while still remaining safe."
Wyatt's creative solution was to offer hockey training virtually, with drills and advice provided online. His work with the Small Business Centre to develop his virtual service was also conducted virtually.
"They gave me the advice I needed on how to operate and what to focus on. The start-up grant paid for a lot of my expenses. "
Wyatt's business started off slowly, with only a few clients a week. Following advice from staff at the Small Business Centre, Wyatt created a virtual flyer that he shared on social media.
"I was starting to get flooded with people looking to work with me," he says. "I had up to 12 clients in a single day. I can definitely say that it was a very successful summer, and a very successful business!"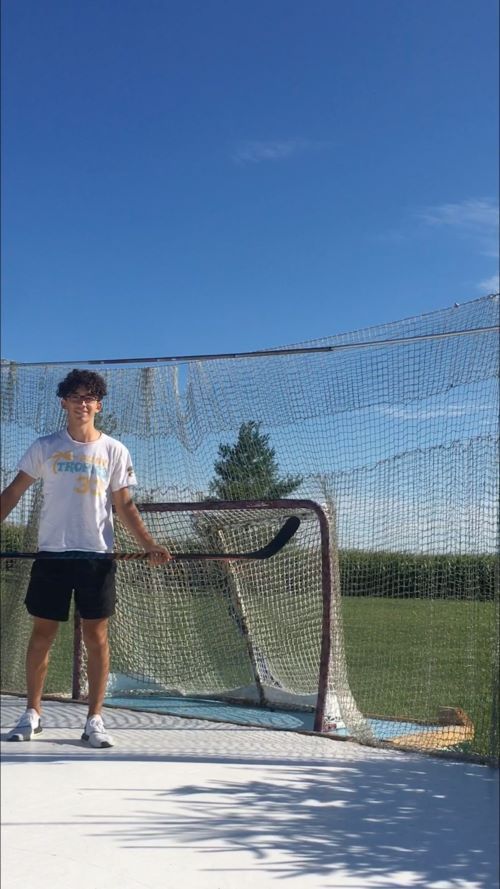 Charlie Bachtold – Student Yard Works
Windsor
Building confidence to get the job done
Before Charlie Bachtold started Student Yard Works, he was uncertain about several aspects of starting and running his own business. Through the training and mentorship components of Summer Company, he was soon much more confident about pitching his business, advertising, managing his time, communicating with customers, tracking his financials, and setting realistic goals.
Charlie is hardworking, driven and positive. He learned how to build fences, clean yards, cut lawns, cut trees, and build decks from his grandfather, and was confident in his ability to get the job done. He found value in meeting previous Summer Company participants and mentors, which helped to give him the confidence operate his business successfully.
Charlie was diligent throughout the program, and planned for weather conditions that could affect his jobs. He posted a substantial profit over the summer, and lined up more work for the fall. He will operate his business next year, and plans to turn it into a year-round business.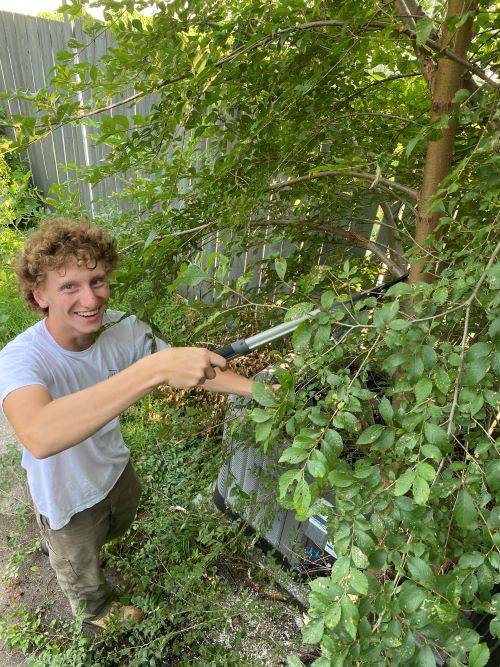 Ananya Vishwanath – VQueues
Vaughan
Taking the first step to entrepreneurship
When the COVID-19 lockdown began in March 2020, Ananya Vishwanath kept reading about long line ups outside of stores selling essential items. She immediately saw a business opportunity: how could technology transform the queueing experience, save time, and help customers physically distance?
Ananya's brainstorming created VQueues, a queue management platform that eliminates long lineups by allowing businesses to move their lines and waiting rooms online. Customers join a virtual queue, and wait for their turn nearby or in the comfort of their cars.
Through Summer Company, Ananya participated in digital marketing workshops that helped her define her target market and promote her service to potential customers. Mentors gave her advice on improving the platform and refining her sales process.
"Summer Company provided me with amazing resources and connections that were instrumental in getting VQueues to where it is now," she says. While most customers are in Ontario, VQueues has also gained interest abroad. She was contacted by an UK entertainment company considering using VQueues to manage more than 2 million visitors to a month-long event.
Last fall, Ananya started work on a double major degree in computer science and business administration at the University of Waterloo. "Entrepreneurship is something I definitely want to pursue as a career," she says.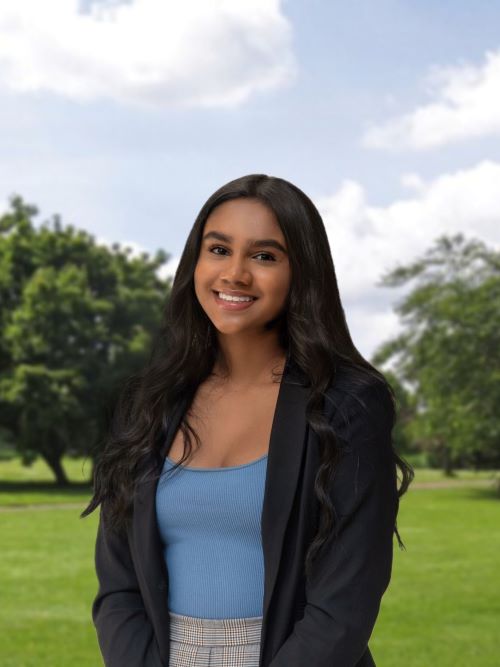 Alexsis Augustine – Augustine's Beaded Design
Thunder Bay
Drawing a bead on business success
Working with beads is nothing new for Alexsis Augustine. A business student at Lakehead University, she's been selling her beaded artwork to friends and family for some time, with lots of requests for custom items. Last summer, she decided to take the next step and create a brand and a business to bring her creations to a wider audience and sell them. Summer Company helped her leverage her business acumen with her artistic skills, and turn her hobby into a profitable enterprise.
Augustine's Beaded Designs sells small batch beaded items such as earrings, keychains, or hair barrettes. The training and mentorship provided by Summer Company helped Alexsis build confidence in herself and her craft. Her mentor helped her establish networks with other local businesses, and to plan how to keep the business open beyond the summer. The networking paid off: she fulfilled a large batch order from a local shop that resold her work.
Alexsis says she enjoys working for herself and intends to continue the business after returning to school. And Augustine's Beaded Designs will live on beyond Summer Company. Alexsis plans to use the knowledge she's gained to start another business with her family.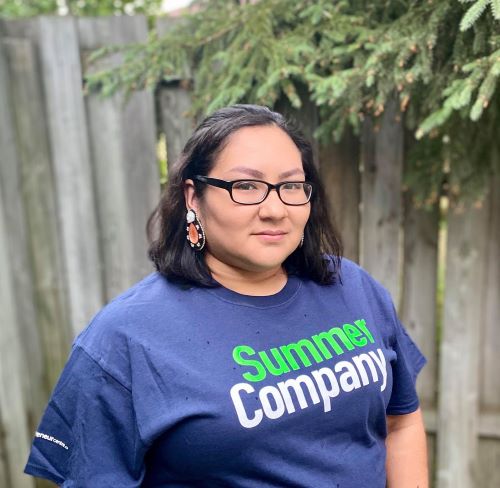 Shawn Wong – Shawn's Photo Scan
Haileybury/Temiskaming
Making memories accessible
Everything is digital these days, but many people still have boxes and boxes of old photos that never see the light of day. Shawn Wong had an inkling that there was a big market to transform those hidden treasures into useable and shareable memories in New Liskeard. The success of Shawn's Photo Scan shows that he was right.
With the help and guidance of the Enterprise Temiskaming Summer Company program, Shawn crafted a clear business mission statement that served him well over the summer, and also resonated with customers. "Shawn's Photo Scanning offers affordable and comprehensive photo scanning and digitization packages to help you preserve your printed photos and to help you access them on all your digital devices."
The Western University science student delivered on his promise of securing cherished memories to a good number of area residents. Shawn's online presence and outgoing personality attracted and retained a large number of satisfied customers. He also gained exposure through local media stories.
Shawn offers customers a choice of USB memory sticks or online storage for their photos, along with clear instructions on how they can access them. Quality results and competitive pricing complete the picture of a successful Summer Company.
Sam Thomas – The Odd Job Guy
Stratford
Charting a course through entrepreneurship
Starting his last year of high school last fall, Sam Thomas was thinking a lot about what program he should pursue at his post-secondary school. Constantly changing his mind and struggling to find his passion, Sam did not come to his decision easily.
However, he had always thought about entrepreneurship, and Summer Company showed him the way. Sam saw a need for a company that would complete the many outdoor tasks that many people want to avoid. Jobs completed by The Odd Job Guy include grass cutting, weeding, gardening, car washing, pool cleaning, painting, windows washing, gutter cleaning, firewood cutting, and anything else customers need to get done around their property.
With its summertime success, Sam continued to run The Odd Job Guy during the school year. With help from the Stratford Perth Centre for Business, Sam plans to create a mobile app that would allow customers to describe the task they need completed easily and securely online, and book jobs. Sam was motivated to continue to serve his customers and operate his business during his final year of high school and looks forward to continuing his entrepreneurship path.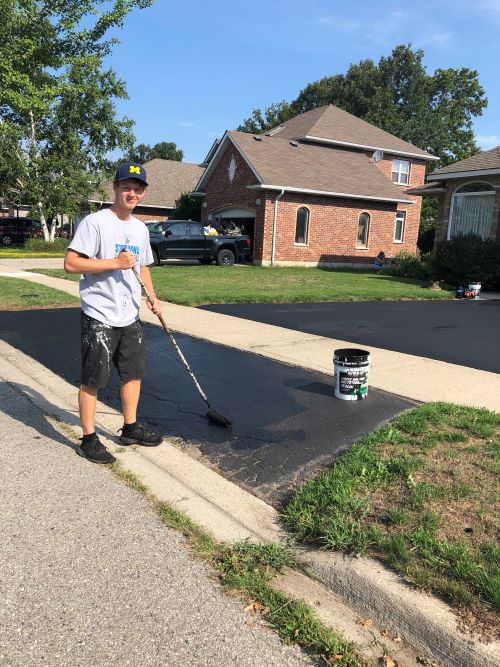 Gwenyth Vojvodin – Stone Tree Prints
St. Thomas/Elgin
A catalyst combines art and business
Gwenyth Vojvodin had often thought of starting her own business, but the prospect of actually doing it was daunting to the artist. Summer Company was the catalyst that helped her overcome her fears.
"Despite often thinking about it, I never had the confidence to start a business on my own," she says. "The idea of contacting people, self-promotions, sending emails, and bookkeeping was terrifying to me! Summer Company pushed me to go out of my comfort zone and grow, and I feel so much more confident in myself, my business and my art now."
Gwenyth originally started the business doing lino printing, one of her favourite art forms.
Since then, she has started making digital art, which she now calls her favorite medium. She's also running a sophisticated ecommerce website, where customers can buy and download digital art prints from her impressive body of work. Customers can print off the file at home, or have it printed at their local print shop.
"I've always wanted to be an artist and an entrepreneur, and Summer Company gave me the opportunity to explore that world," says Gwenyth. "I feel much more capable of reaching out and connecting with different companies and accepting different opportunities than I did before."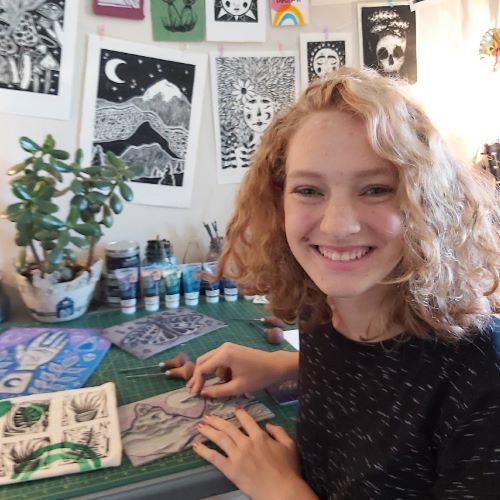 Kirsten Vandenheuvel – Blue Coast Bundles
Sarnia
Supporting local businesses
When the Covid-19 pandemic slammed sales for small businesses and artists in Lambton County, Kirsten Vandenheuvel saw an opportunity. She created Blue Coast Bundles to raise awareness of local businesses and help them sell their wares.
"I saw a need for support for local businesses, and I knew that my company could provide just that," says Kirsten. "I wanted to highlight all the amazing businesses and products our county has to offer."
Blue Coast Bundles is a "goody box" service that bundles products from local vendors and artisans across Lambton County. The themed bundles include a variety of unique products, including handmade art, natural wellness products, home décor, and premium snacks.
Kirsten was busy through the summer, contacting local businesses, assembling the boxes, and organizing curbside pick-ups and deliveries. Her marketing strategy for Blue Coast Bundles included managing her social media platforms, running her Shopify website, and partnering with local influencers to create giveaway promotions.
Since launching, Kirsten's business has a been a great success in the community. All 55 of Kirsten's Father's Day bundles and 50 June, July, and August bundles sold out.
Kirsten recently completed seasonal fall and winter Blue Coast Bundles, while also entering her sixth year of post-secondary education to become a naturopath.
Vanessa Yu – Adagio Lettering
Richmond Hill
A letter-perfect launch
Adagio Lettering specializes in hand-lettering and modern calligraphy, offering services such as customized goods, live calligraphy, and event signage. Company founder Vanessa Yu notes that "adagio" is a musical term meaning "slow", and is often associated with lyricism, grace and elegance. In her calligraphy business, she wanted to create the same 'adagio' effect, and turn a hobby into a business.
"Summer Company was the push I needed to take a step into the business world," she says, "as opposed to simply exploring a hobby and earning a little on the side. Summer Company has helped me pursue my goal of turning this into a business I can build in university and beyond."
Vanessa built up her business on several fronts. She created an Instagram page that featured content on bullet journaling, art and lettering, with more than 130,000 followers. She also held workshops, teaching over 300 students and collaborating with companies such as MOUJI, Coursera, Arteza and Pentel.
Vanessa says the mentorship helped her learn how to attract reader attention, and convert leads to sales. She also learned about the importance of making connections and maintaining relationships, something that was especially useful while she was creating custom menus and signage for local restaurants.
"Wearing so many hats teaches you more than most entry jobs," she says. "It's not so much about how much money you make at the beginning, but the lessons you learn."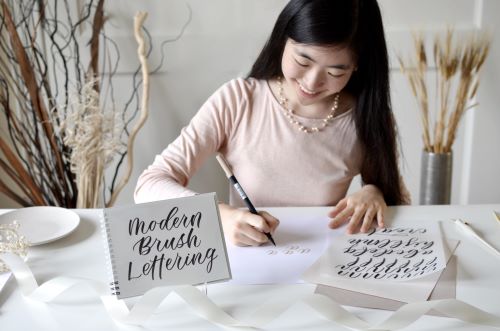 Isaac Young – Backyard Builder
Renfrew County
Rising to the pandemic challenge
An increased interest in gardening and other home-based activities was one of the more positive results of the pandemic. Last summer, Isaac Young realized there was a new demand for wooden garden boxes, as people spent more time at home. With guidance and encouragement from his dad, Isaac decided to start a business to meet that need, and the Backyard Builder was born.
His first products were handcrafted wooden garden boxes and raised garden beds. His customers could create their own backyard gardens quickly and easily. Fresh vegetables and flowers were soon sprouting in backyards all over Renfrew County.
As the summer progressed, Isaac decided to expand his line of products. He was soon building white cedar picnic tables, children's sand boxes, and wooden composters. Word about Isaac's quality products spread quickly. The Backyard Builder was featured on CTV Ottawa, and the 15-year-old Isaac was soon contracted to build six cedar picnic tables for a pub patio in Ottawa.
In keeping with his positive response to the pandemic, Isaac offered curbside pickup to keep his clients safe, and free local delivery for those who weren't able to pick up their purchases.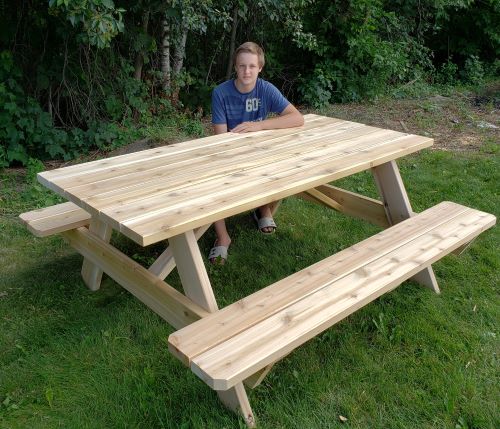 Sabrina Boileau – Jada Jewels
Prescott-Russell/L'Orignal
Growing confidence and growing sales
Jada Jewels started as a hobby that quickly grew into a passion, and eventually a successful business. Sabrina Boileau, a 25-year-old student from the village of Curran, decided to pursue her passion for jewellery last summer. The result was Jada Jewels, a new business offering handcrafted necklaces and bracelets.
Sabrina is an artist who has become an entrepreneur. She hand crafts each piece of jewellery in her small studio. Her products are affordable and made of high-quality materials such as 14k gold-filled and sterling silver. Sabrina describes her line as "elegant and minimal jewellery pieces that are perfect for everyday wear." This was her first experience in the entrepreneurial world.
As her sales grew over the summer, so did Sabrina's confidence in her own talent and business acumen. She is attentive to her customers' needs, and maintains a relationship with them on social media. Her summer business was a positive learning experience that she will pursue as she completes her studies. She says she will continue to search for new opportunities to grow her business, such as selling her products in beauty salons. Her products are available on her website.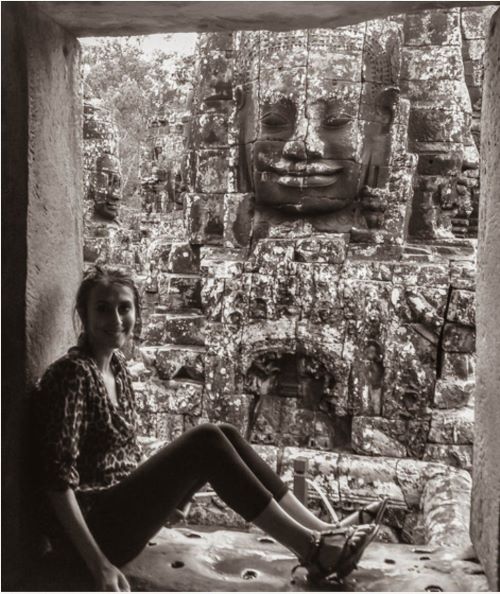 Thales Hunter – Hunter Music Academy
Port Elgin
Playing a profitable tune
Thales Hunter is an energetic young musician who has taken his passion and talent and turned it into a business. The young Kincardine, Ontario entrepreneur is an active performing musician, and a multi-instrumentalist. A guitarist in the Dark Angel Blues Band, he also performs solo. Responding to the challenges posed by the pandemic, Thales ported his musical talents to a new venue, online music lessons.
Last summer was the perfect time to launch his business, as his target market was seeking online services that could provide their children with fun and educational learning opportunities. Thales developed lesson plans that would appeal to a broad range of learners, from casual beginners to experienced musicians who were looking for more in-depth theory.
Along with his musical talents, Thales is a resourceful media pro, creating an impressive website and developing targeted media strategies. Aside from being engaged in his business activities, Thales was an active and eager participant in the training and mentorship resources provided by the Summer Company Program. He plans to maintain his business throughout the school year and is looking forward to growing it.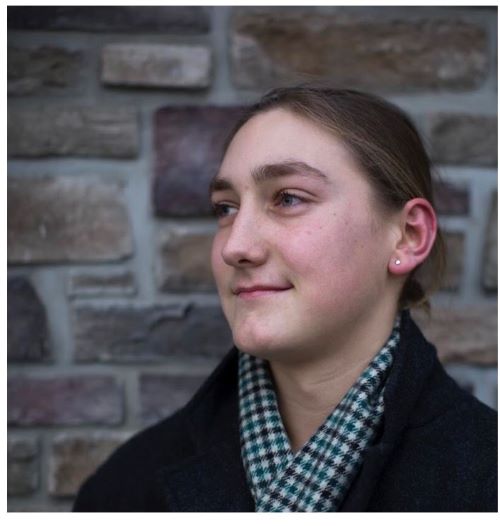 Anna Hiemstra - Makrtech!
Ottawa
Taking STEM to new places
Opportunities in the STEM disciplines continue to expand for Ontario students, but localized education programs aren't always available. Since she grew up participating in numerous STEM programs, Anna Hiemstra knew that the Canadian market was lacking its own affordable and challenging STEM kits.
Anna set out to change that. After working on several prototypes, Anna developed The Robotic Arm Kit through her Summer Company. Her mission is to teach coding and problem-solving skills to both adults and kids, at an affordable price. Anna launched her product last summer, and The Robotic Arm Kit is officially available to the Canadian market.
"I've been planning to design and sell STEM kits since I was in junior high, and with the help of Summer Company I was able to finally make it reality," says Anna. "The program helped me to finish my designs, order parts and packaging, build a website and get my product to market. My first STEM kit, a robotic arm, is for sale on my website. It's a great project for anyone interested in STEM."
Anna took advantage of Summer Company workshops that applied to her business, and worked closely with mentors.
"I've learned about all the challenges of running a business, like issues with suppliers, and how to work through them," she says. "It's exciting to see my plans come together in a business that I can continue into the future."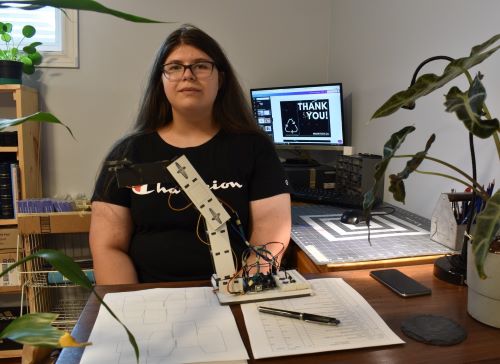 Milan Joaquin - ReVolt Computer Solutions
Orangeville
Offering a better buy
With the help of Summer Company 2020, Westside High School student Milan Joaquin realized a long-time ambition of owning his own tech business. Before his final approval for Summer Company came through, Milan was planning to work for a large retailer like Best Buy.
His acceptance into the program improved on that plan. Milan struck out on his own, gaining valuable industry experience and intelligence as an entrepreneur. His business plan and exclusively online activities proved to be ideal for operating within the COVID-19 environment. He developed marketing, sales, bookkeeping, and negotiation skills over the summer.
ReVolt Computer Solutions purchased components from reputable technology suppliers, and built high quality computers for resale. Milan made a comfortable profit, because his final products could be sold at competitive prices that undercut commercial computer retailers.
Milan gained insight into the unpredictability of the market. "One late shipment could delay the entire business," he says. His response was to diversify his suppliers to ensure there is a valid backup plan.
Now back in school, Milan has gained a wealth of business experience to bring to his studies and add to his resume. He will continue to run his business on a part time basis but intends to focus on school and resume full time business pursuits in the future.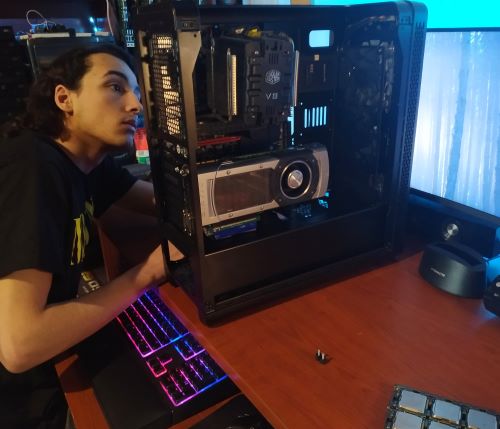 Stephanie Mazza – Steph's Engagement & Tutoring
Halton/Oakville
Keeping kids and parents happy and informed
Steph's Engagement & Tutoring (SSET) caters to parents who are looking for a fun and educational outlet for their children aged 5-14, from the comfort of their own home. Through a virtual format, SSET teaches children skills in math or English, and introduces them to new activities such as the ukulele or a new craft. The service allows children to stay safe at home, while giving parents a break and kids some fun.
Stephanie says that the Summer Company program empowered her to run her own business. She was an active participant in all of the mentor meetings, asked lots of questions, and provided ongoing feedback on her challenges and experiences. "It was much more valuable than getting a part-time job in another business," she says.
Through her experience over the summer, Stephanie soon realized that word of mouth was going to be a large part of her business promotion efforts. One of the mothers of an SSET student promoted the program on her Facebook mom's group, resulting in about 60 new online bookings. Stephanie also was featured in a local news channel, YourTv, which drove additional interest.
Stephanie hopes to continue SSET next summer, after completing her year at the University of British Columbia.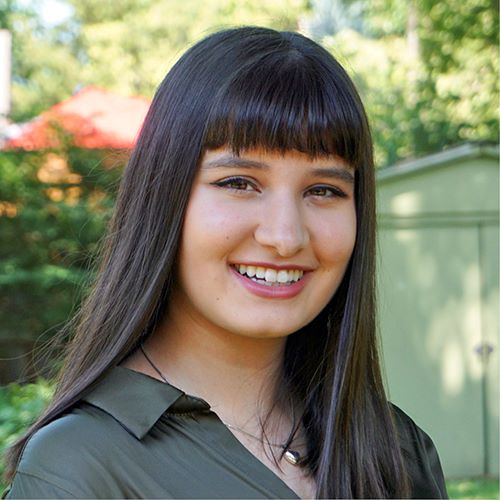 Ethan Miller – Miller MetalWood Creations
North Bay
Achieving business success at an early age
The youngest participant in the program this year has also turned out to be among the most successful.
Ethan Miller has been passionate about woodworking for many years. As he says, he can spend hours in his home workshop and not realize how much time has passed. A freshman going into sophomore year, Ethan attends a trades-specific specialty program at his high school. He recently acquired metal work skills that have expanded his repertoire.
Ethan used most of his grant to purchase a new table saw, and that saw has been put to good use. Miller MetalWood Creations designs and creates custom, one-of-a-kind pieces, including cutting boards, tables, chairs and cottage decor. Customers include a local restaurant and a local specialty shop that features his products.
While Ethan spent a lot of time last summer creating stock, he was also able to market himself successfully and expand his business skill set. He created a compelling online presence with a website and through social media channels and took any opportunity to speak with local reporters.
His ambition and passion for his trade have helped him create a reputable company with quality products and service that will likely be running long after his time in Summer Company.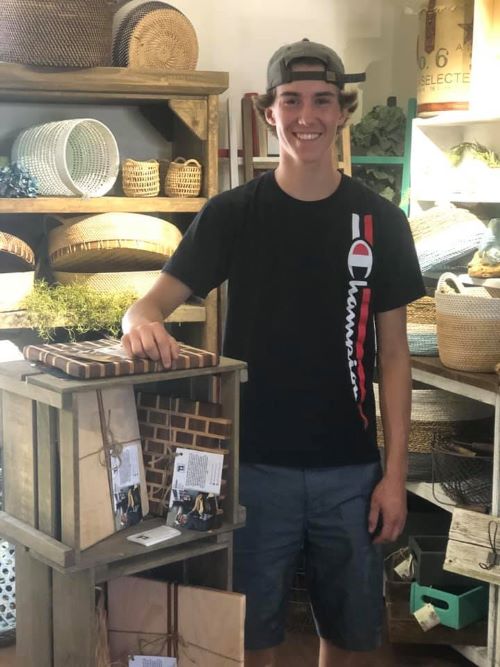 Mackenzie Deamude – Mackenzie Blaze
Niagara Falls
Transforming nature into a new art form
Mackenzie Deamude is a Niagara College student who turned her passion for art into a full-time summer job running her own business. Mackenzie is a tree ring relief artist, creating unique prints from logs. Through her Summer Company, Mackenzie Blaze, she sourced the materials from fallen trees, prepped them, created the prints, marketed them, and sold them. Her "relief art prints" are in high demand in Niagara.
Mackenzie created a strong social media presence that helped sell her prints online, as well as at a few local businesses in Niagara Falls. Once Mackenzie made her first sale, the message spread through word of mouth, and she was able to make additional sales, facilitated through her social media channels.
Mackenzie says she learned a lot over the summer and enjoyed the Summer Company experience. She was also featured in a local promotional video, where she discussed her art process and her experience with the Summer Company program.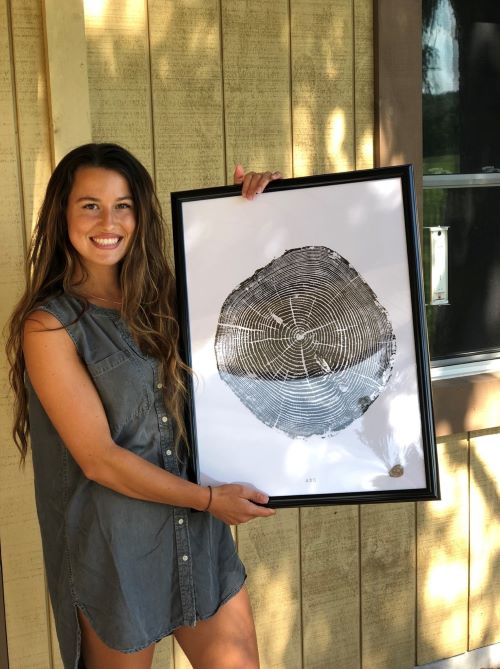 Carlie Heeringa – Daisy Cakes Dog Treats
Muskoka/Bracebridge
Confronting challenges head on
It was a summer of unexpected possibilities and challenges for all businesses. In Huntsville, high school student Carlie Heeringa was determined to sell her dog treats, despite the COVID-19 circumstances.
"This year has been very unusual, to put it one way," says Carlie, owner of Daisy Cakes. Carlie says she had no idea how the sales would go, but she was still willing to give it a try. "Despite COVID-19, I wanted to make this an awesome year to make sales," she says. Her determination paid off in sales and profits.
Carlie's original plan with the Summer Company was to sell the homemade dog treats at the Huntsville Farmers Market. When that proved to no longer be an option because of the pandemic, she built her own website and started making sales online. She also promoted her product at dog agility trials, where she got a warm response and encouragement from the agility players.
Carlie says the training sessions and bi-weekly mentor meetings, were helpful, educational, and inspirational. "Talking to other people (mentors) gives you the inspiration to work on new projects each week," she says.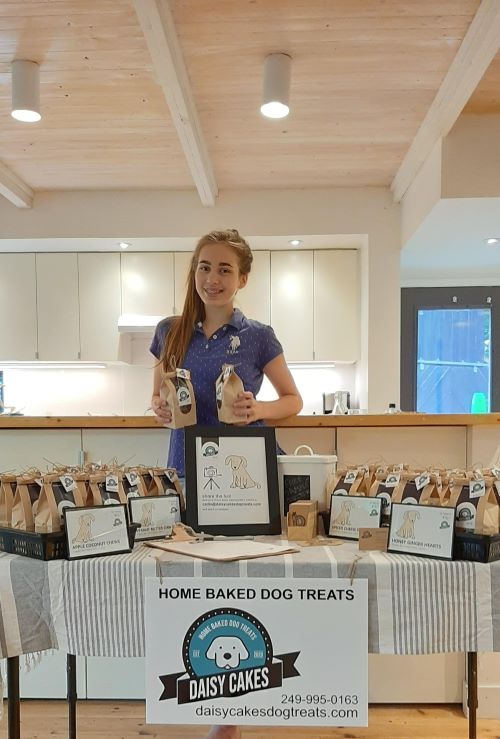 Marcel Scheele - Varsity Lawn Care
London
Good business in tough times
Lawns (and weeds) continue to grow, no matter how bad the economy is. Marcel Scheele knew that, and he also knew that he could launch and operate a successful lawn maintenance business in arguably the worst economy in the history of our country.
The Western University student proved that hard work and determination will produce results, no matter what the state of the economy. Marcel used the Summer Company grant of $3,000 to purchase tools and promote his new venture. He combined traditional marketing methods and a social media strategy to get the word out to homeowners across London.
While the economy was in a deep dive with businesses shuttering and individuals losing their jobs, Marcel generated revenues into the low five figures in less than four months.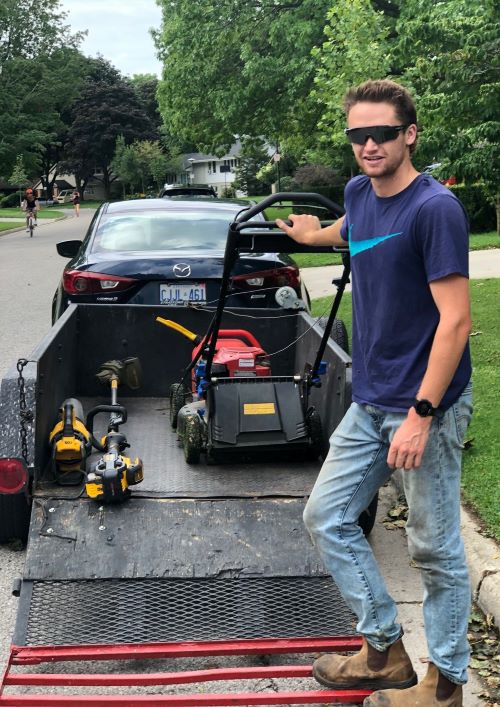 Will Richardson - Wheelie Good Bike Tune Ups
Kenora
Contactless bike tune-ups in the time of
Will Richardson is a problem-solver by nature. To deal with COVID-19 restrictions and safety requirements, he built a bike rack for contactless pick-up and drop-offs for his customers. Will ran Wheelie Good Bike Tune Ups out of his parent's garage in Kenora, providing bike tune ups, washes and repairs for kids' bikes, adult bikes, road bikes, mountain bikes, BMX bikes and even eBikes. He also set up a booth at the Kenora Business Partner's outdoor main street market, where he offered on-site repairs.
To say Will has a passion for his business would be an understatement. He loves mountain biking, and spends an average of 20 hours a week riding. His vacations revolve around mountain biking, and he has been to Whistler and Colorado to bike in the mountains.
Will learned how to fix bikes in his grade 9 introduction to shops class, where he spent half the semester learning the ins and outs of bike repair. Will is going to save the money from his final award this year, so he can purchase the start-up items needed to launch again in spring of 2021. He says he will operate his business for as long as he can, to help pay for his passion – bikes!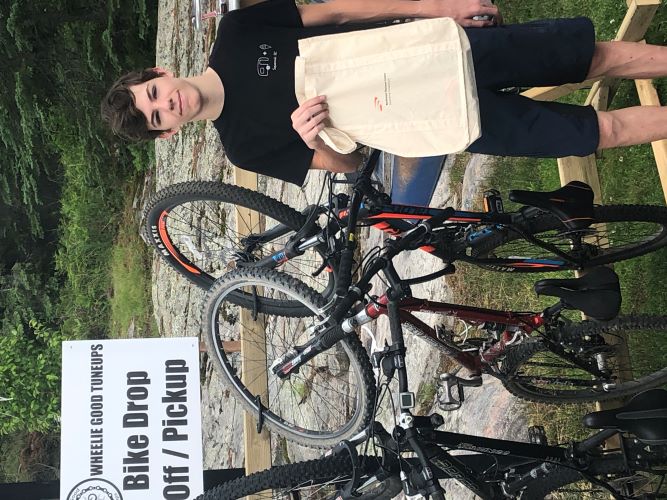 Cole Gooch – Cutting Edge Woodworks
Kawartha Lakes/Lindsay
Using the creative edge
Cole Gooch's Summer Company's success is due to a combination of creative craftsmanship and a flexible production strategy. Cutting Edge Woodworks are handcrafted "live edge" wood works, used to create serving trays, end tables, candleholders, coasters, and wood planters.
Cole creates his one-of-a-kind original products in a workshop at his home. He combines nature and function for his unique designs. Targeting local home and cottage owners, he sold most of his products through his website and at a booth at the Fenelon Falls Farmers market.
Cole's products were well-received, and he has had a big demand for custom orders. Due to this demand Cole spent far more time in production than he anticipated. Rising to the challenge, he reworked his business plan and focussed on time management. He learned about operations and batch production for efficiency. As a result, he surpassed his expected sales target early on. At the end of the summer, he was still filling numerous custom orders.
Cole will be working at his business during the school year. Once he realized how much time he needs to produce his products, he built up inventory in the summer to have on hand for the Christmas season.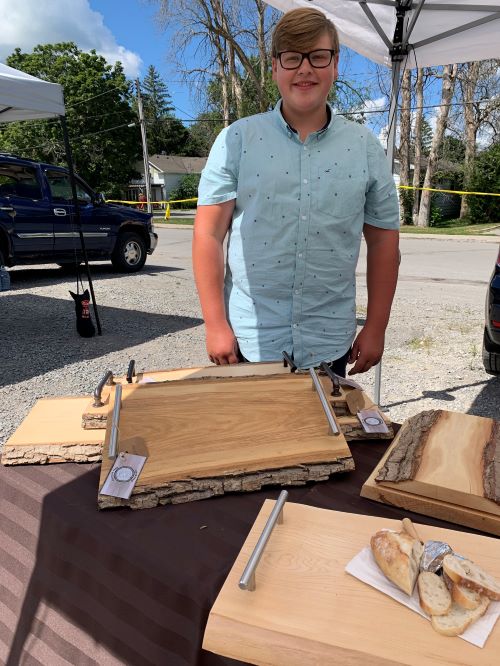 Safiyah Khan – Planterz
Brampton
Up-selling from a strong base
Planterz had an interesting business model that differs from most Summer Companies. Safiyah's business makes and sells portable garden products to customers in Brampton, with the main product an indoor red cedar planter. Her target markets were any people (individuals, seniors, kids, and families) interested in starting their own in-home gardens for sustainable food security or decorative purposes. But as Safiyah notes, the product line didn't stop there.
"Each product sale provides the opportunity to up-sell soil, seed, and seedlings, and how-to guides," she says. In August, she faced a new challenge, self-isolation while awaiting COVID-19 test results. Safiyah used the time productively.
"During this time, I was still able to research and learn more about hydroponics and aeroponics without physically working on anything," she says. "I started writing an article to publish on my website about the advantages of at-home gardening. I also watched numerous videos on how to use the laser feature on my engraver."
Her engraver tool also provided her with another opportunity to up-sell.
"I made one sale to a family member and used my laser engraver to add a personalized message," she says. "I sold this planter for $44.99, as it included the engraved message along with a linseed oil finish."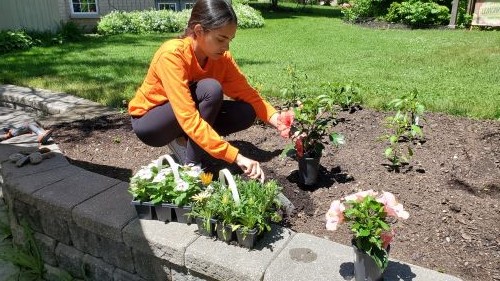 Anna Morley – Knoxvilla Farm
Northumberland/Cobourg
Moving from field to table
Anna launched Knoxvilla Farm with a strong vision, a solid strategic plan, and dedication, and the result is a successful business model. Anna's mission is to "produce food that is nostalgically delicious, nutritious, sustainable and lovingly grown".
Her business covers the spectrum, from seeding, growing and tending her own fresh organic vegetables to selling at markets and delivering to customer's homes. She's also launched an innovative non-profit component to the business. "Swap A Crop" lets market vendors or patrons access excess produce and essentially, swap their crops. Anna also recognized a niche market for homemade organic granola and sourced a certified kitchen that produces one of her best-selling products.
Anna had to overcome challenges that included getting insurance in order to sell to a large market and finding a licensed kitchen to source her granola product.
Anna has branded and marketed her business very strategically, through social media, an e-commerce website, labelling on her products, and by joining the market network that secures their own social media marketing. Her customer service and delivery model exemplify the hard work she has implemented from beginning (growing) to end (sale to the customer).
Anna has already begun plans to continue her business following the program.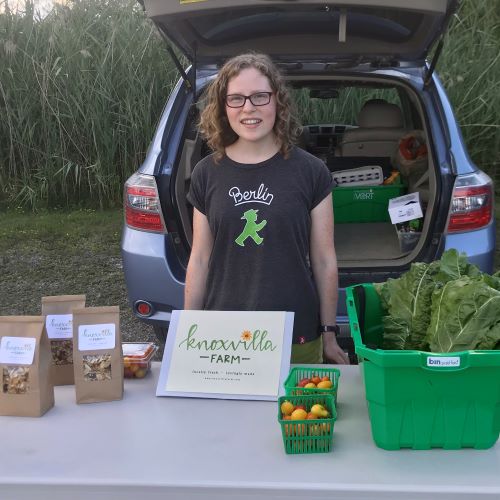 Gabe Rossitter – belong
South Georgian Bay/Collingwood
Building a caring brand
Gabe Rossitter is a 16-year-old student and entrepreneur who lives on his family's farm in Grey County, Ontario. He has a passion both for business and for understanding the seriousness of mental health challenges that face many youths and their families.
Summer Company helped him to launch belong, an online store that sells branded apparel such as T-shirts, hats, and hoodies with a focus on raising awareness about the issues of mental health and youth. The belong logo represents inclusivity, hope, health, and awareness.
Gabe wants people who wear his apparel to be well-informed on the serious issues of mental health, and to help raise awareness around the issue. His goal is to promote positive mental health for youth in a unique way, with 10 percent of all sales going to local mental health and addiction services.
Gabe began his journey back in April, when he began to research how to create a branded apparel company. He spent over 280 hours working on the plan, with support from the Small Business Enterprise Centre. They helped him with marketing, advertising, strategic planning, networking, and building a business plan.
"I really have to thank them for their support," says Gabe. "I could not have done it without them."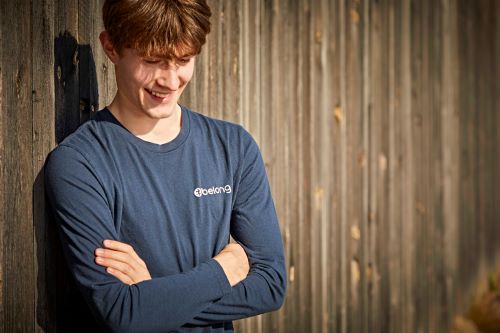 Jeremy Hartle – Hominin Clothing
Cornwall
Rebranding for style and profit
One particularly popular (and profitable) business model involves purchasing quality clothing and branding it, to give it a custom cachet. Jeremy Hartle chose this model for his business, Hominin Clothing. Jeremy combined the unique company name (defined as "the group consisting of modern humans, extinct human species and all our immediate ancestors") with a compelling logo and some savvy marketing to create a successful Summer Company.
With the COVID-19 pandemic, selling online and at outdoor pop-up shops were the only choices for Jeremy. He chose the well-known Champion line as his first source. Hominin adds its style and branding to the items, offering fashionable products that customers will feel confident wearing. Initial products included T-shirts, (short and long sleeved) and hoodies. As the summer progressed, bookbags, fanny packs and jogging pants were added to the line.
Constant and consistent advertising was the cornerstone of his marketing plan. With the target market identified, he chose Instagram to drive users to his Shopify website. He also set up a pop-up shop in Cornwall where sales surpassed his forecasts.
A continued focus on quality, quick shipping and delivery and effective advertising has given Hominin Clothing a successful summer season and a very bright future.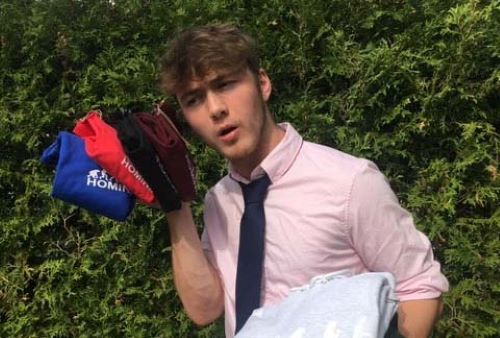 Laura Campagnolo – Laura's Little Kitchen
Guelph
A recipe for success
Laura Campagnolo comes from an entrepreneurial family, so starting a summer business came naturally.
Add the key ingredient of free access to a commercial kitchen, and Laura's Little Kitchen was up and running.
Laura's Little Kitchen sells baking kits, which include a recipe, all the required ingredients (pre-measured) and access to demonstration videos. Laura's target market is families with children aged 8-14 who want their children to have the life skill of baking.
The baking kits are assembled in a health inspected commercial kitchen. Orders are placed online with arrangement for pickup on specific days from the student's location. The business plan considered the COVID-19 situation and delivered all the products and information without contact.
Customers love Laura's Little Kitchen, because they can pick up everything they need in one location, and the videos ensure baking success. Parents who would have spent money on summer camps had a new activity to keep kids occupied.
Laura has helped her mom run summer camps, and her experience in teaching children baking and cooking was an added advantage. With the resources and supports of the Summer Company program, Laura met her sales goals for the summer, and plans to continue with the business after school starts, with new product kits.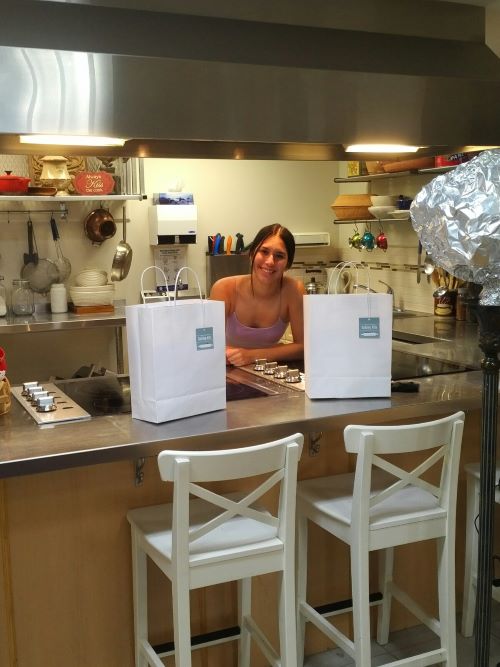 Jody Martin – Six Nations Native Glass
Hamilton
Creating a business through sharing a culture
Sharing her culture has always been a passion for Jody Martin. Last summer, she combined this passion with her creative skills to successfully launch her company. Six Nations Native Glass offers affordable hand-crafted stained-glass feathers and butterflies, all one-of-a-kind artwork.
"I make a variety of different stained-glass pieces," says Jody. "Each piece is unique because it can be customized in any colour, style and size."
The Summer Company program helped Jody develop her business and entrepreneurial skills, sharing her passion and creative abilities across North America this summer. Mentorship played a huge role in Jody's Summer Company experience, as she was able to meet professionals and entrepreneurs who wanted to see her succeed.
As an artist, one of Jody's biggest accomplishments this summer was being able to sell her artwork. As soon as she started marketing and advertising her work, she was delighted by the interest and response she received. With infinite passion for creation, Jody is excited to continue putting her inventory of hand-crafted one-of-a-kind stained-glass feathers and butterflies on display for the world. She plans to continue her business with hopes of expansion into festivals and cultural events in the near future.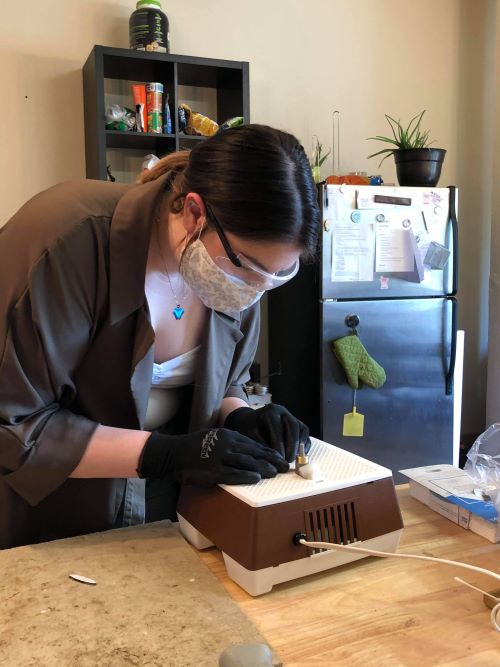 Josiah Petersen – The Whistling Woodworker
Huron/Goderich
Transforming a hobby into a business
Meet Josiah Petersen, a talented young woodworker and proud owner of The Whistling Woodworker in Clifford, Ontario. Josiah is 15 years old and started grade 11 at F.E. Madill Secondary School last fall. After learning about the Summer Company Program in careers class, Josiah immediately pursued the idea of turning his carpentry hobby into a real business last summer.
Josiah found his passion for carpentry at the age of 10, when he and his brother received a scroll saw for Christmas. If you ask Josiah what he likes to make best, he'll likely tell you "probably everything". He does admit to loving his lathe, and woodworking bowls, mugs, charcuterie boards and pencil holders are popular products.
One new product he introduced over the summer was toy airplanes, made with maple and walnut and finished with boiled linseed oil.
"I got the inspiration for these planes off of a picture I found on the internet," says Josiah. "I decided I would guesstimate the measurements and make my own pattern. I have since made a few adjustments to the design and shortened the time down to three hours a plane."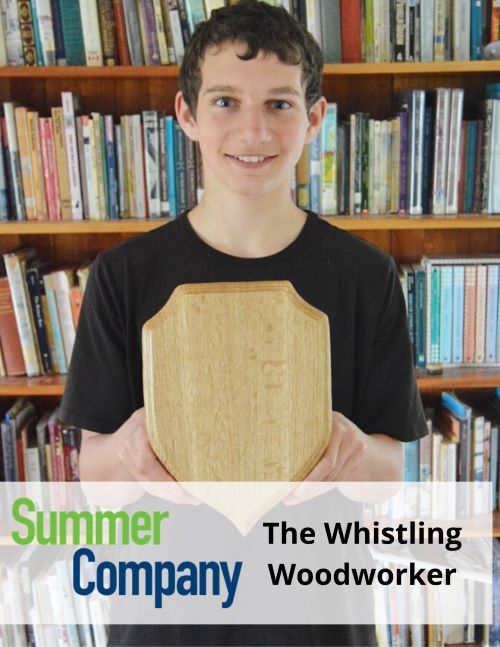 Renee Xie – The Gallery Case
Durham/Whitby
Making the case for art
With cell phones all looking somewhat the same, custom phone cases have become very popular. Renee Xie, a business student at Western University, saw an opportunity to build a phone case company that offers unique phone cases and supports local artists.
"Growing up as a dancer and with a mother who teaches art classes, I was intrigued by the power of artistic expression," says Renee. "I'm interested in the world around us, and how different artists perceive it. So I created this company to allow local artists to continue their work and showcase their talent."
Renee has an interesting business model. Artists apply to have their pieces showcased, and after approval, receive 20 percent commission on every case purchased. To create each case, Renee takes hi-resolution images of their art, and uses a sublimation printer to transfer the design to the cases. The artists use media ranging from photography to acrylic paint. The company now features eight different artists, each with their own collection.
"We have sold over 100 cases, and are continuing to expand our artist collections," says Renee. "We are incredibly excited for the future of the company and are extremely thankful to everyone who supports these local artists."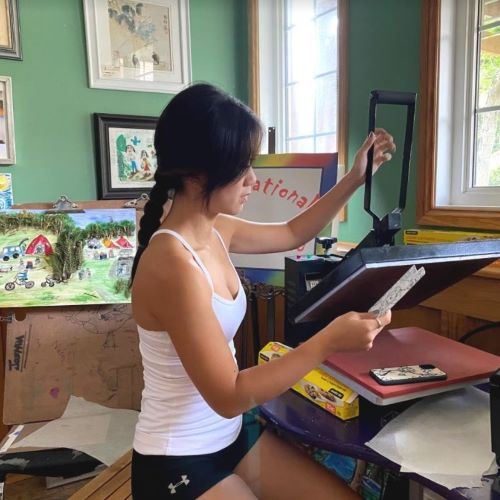 Marion Miller – Moonbeam
Timmins
Sewing sales
Moonbeam, Ontario is known for its roadside flying saucer, but it may soon also be known as the hometown of young entrepreneur Marion Miller. Marion decided to turn her hobby into her full-time job this summer. Marion is a talented seamstress who makes custom bucket hats, scrunchies, masks and various headbands.
Her products are unique and are made out of 80 percent recycled material to reduce her carbon footprint. Marion buys her fun, pattern-filled fabrics from local second-hand stores in the Kapuskasing area and transforms them into funky wearables.
She takes custom orders, and some of her products are reversible. Marion made most of her sales through Facebook and in-person at the local Farmer's market at Twin Lakes campground. Summer Company helped Marion to start her own business with very low costs and build on the entrepreneurial skills she had already developed.

Adam Pinard – Unconditional Design
Sudbury
Success by design
Adam Pinard was finishing his undergrad at Laurentian University for his Bachelor of Business Administration when he learned about Summer Company. After discussing it with a fellow graduate and 2019 Summer Company alumni, Adam saw the opportunity to pursue his dream and launch his own creative agency, Unconditional Design.
"Summer Company has been amazing," says Adam. "It gave me the opportunity to grow so much in a short period of time. I've always wanted to start a company, and it pushed me to focus on the most challenging aspect – the start."
Over the summer, Adam worked on several projects throughout the community. Clients included real estate agencies, retail shops, and local marketing firms. Adam also saw a great opportunity to participate in a project for Northern Ontario Families of Children with Cancer with other local agencies and NHL players. Adam used his grant money to purchase and upgrade his equipment. He appreciates the Summer Company experience too.
"This program has helped me build confidence in my skills, abilities, and resourcefulness," he says. "I've met some great people, built amazing relationships, and found phenomenal mentors to help me grow my summer company."