American chestnut
Scientific name: Castanea dentata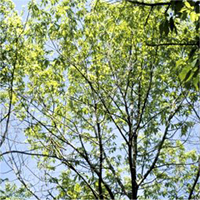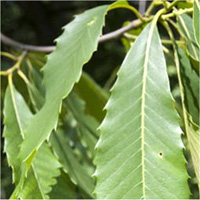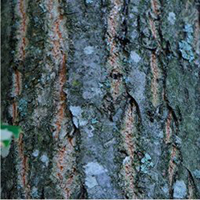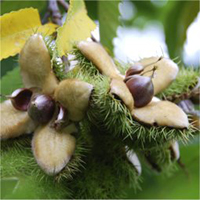 What it looks like
Before the blight, trees grew up to 35 m tall, but as the disease attacks the trunk and causes resprouting from the base, most surviving trees are smaller than 10 m. Leaves are 15-28 cm long, with bristle-tipped teeth. The male flowers are long and white, and once pollinated, female fruits have a dense, spiny husk with edible nuts within.
Since 1988, the Canadian Chestnut Council has been working on locating surviving trees and developing a breeding program with hopes to return this tree to its former status.
Where it is found
The American chestnut tree was once a dominant forest species in Southwestern Ontario but due to a blight disease introduced from Asia in the early 1900s, is now rare throughout its range. It is listed as Endangered and is protected under the Endangered Species Act, 2007.
Planting Tips
Size: Up to 10 m tall, rarely to 35 m
Moisture: Moist to dry
Shade: Full sun to full shade
Soil: Adaptable, even to rocky soils
If you are interested in planting American chestnut as part of the Recovery Strategy, contact your local Ministry of Natural Resources Species at Risk biologist.
Did you know?
American chestnut has one of the strongest, most decay-resistant woods of any North American tree species.
Image credits
Tree: Joseph O'Brien, USDA
Leaf: Natural Resources Canada, Canadian Forest Service
Bark: Vern Wilkins
Fruit: Melissa Spearing
Updated: October 18, 2022
Published: October 21, 2014