Drug funding review and approval process
Learn how drug funding decisions are made for Ontario's public drug programs.
Overview
Drugs are considered for funding in Ontario through an established, evidence-based process that evaluates:
effectiveness and safety
clinician and patient input
value for money and affordability
the impact on other health services as compared to existing treatments in Ontario
These are the typical steps in the drug funding review and approval process:
The manufacturer submits to Health Canada for regulatory approval to sell and market their drug product in Canada.
The manufacturer makes a submission to the Canadian Agency for Drugs and Technologies in Health and/or the ministry requesting public funding for their drug product.
The drug product is reviewed through a health technology assessment and a recommendation is issued on whether or not the product should be publicly funded.
A pricing negotiation takes place, if applicable, for products that receive a positive health technology assessment recommendation.
The Executive Officer of Ontario's public drug programs makes the final funding decision.
This is a flow chart representing the process: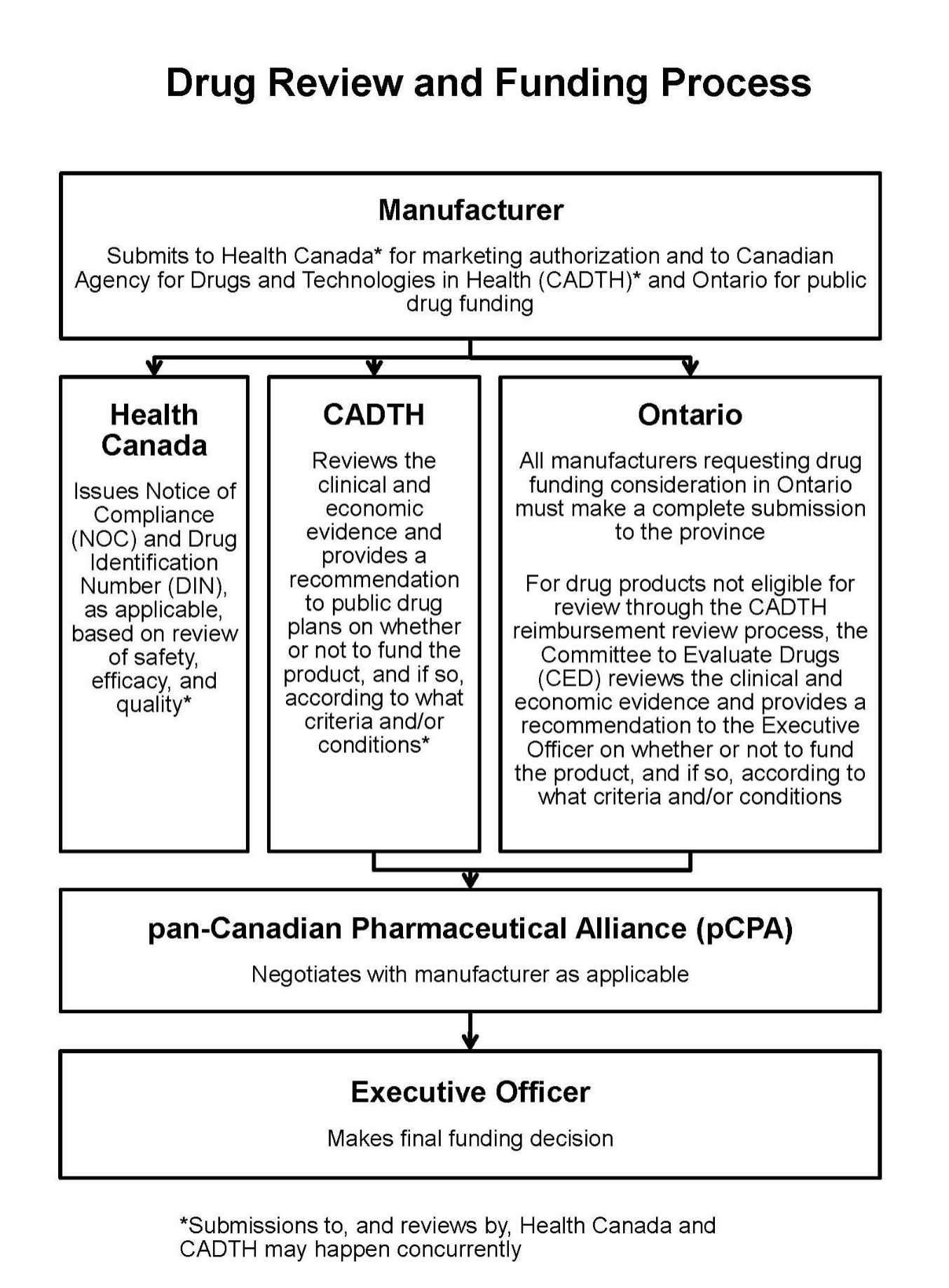 Regulatory approval
Before a drug product is authorized for sale in Canada, the drug manufacturer must submit scientific evidence of the product's safety, efficacy, and quality to Health Canada for review and approval. The length of time to complete the review depends on the nature of the product, submission-specific factors, and Health Canada's workload.
If Health Canada approves the drug product for sale in Canada, a Notice of Compliance (NOC) and a Drug Identification Number (DIN) for the product are issued. It is important to note that Health Canada's approval of a drug does not automatically mean that the drug will be publicly funded in Ontario.
More information about Health Canada's regulatory approval process can be found on their website.
Drug submissions
For a drug product to be eligible for funding through Ontario's public drug programs, a manufacturer must provide a complete submission, in accordance with prescribed conditions set out in regulations and/or policies, to initiate the standard drug funding review process.
More information can be found on the drug submissions page.
Health technology assessment
For new drug products and new indications for existing drug products, a health technology assessment is conducted by an expert advisory committee to inform the final funding decision. The committee thoroughly reviews the evidence related to a drug product's effectiveness, safety, and value for money, and also considers clinician and patient input and implementation issues. Based on this assessment, the committee issues a recommendation advising whether the drug product should be funded and, if so, according to what criteria or conditions.
National reviews
Most newly approved drugs and indications are reviewed through the Canadian Agency for Drugs and Technologies in Health (CADTH)'s national reimbursement review process. All federal, provincial, and territorial drug benefit plans in Canada participate in the CADTH process, except Québec.
For further information please visit the CADTH website.
Provincial reviews
Drug products not eligible for review through the CADTH reimbursement review process are reviewed provincially by the ministry's independent expert advisory committee on drug-related issues, the Committee to Evaluate Drugs (CED).
Negotiations
Originally established in 2010, the pan-Canadian Pharmaceutical Alliance (pCPA) includes participation from provincial, territorial, and federal governments to conduct joint negotiations for drugs in Canada.
For further information, please visit the pCPA website.
Funding decisions
The Executive Officer of Ontario's public drug programs makes the final decision on whether or not a drug product should be reimbursed. Several factors are taken into consideration when making this decision, such as:
expert review committee recommendations
patient and societal impact, public interest
pCPA negotiations and product listing agreements with manufacturers
guidance from other advisory bodies
the sustainability of Ontario's public drug programs
Updated: November 20, 2023
Published: November 15, 2023