Fisheries Management Zone 15 (FMZ 15)
Information about fishing and how fish resources are managed in Fisheries Management Zone 15 (Parry Sound, Bancroft, Pembroke, Algonquin Park).
News and updates
FMZ 15 management plan update 2022
The management plan for FMZ 15 is intended to outline the status of the fisheries in the zone, describe management objectives and provide direction for management actions. We are proposing some changes to fishing regulations in this zone through the planning process such as:
improving brook trout, lake trout, lake whitefish and walleye sustainability, by:

reducing brook trout catch limit
changing lake trout season and size
reducing lake whitefish catch limit

providing more opportunities for smallmouth and largemouth bass fishing
The Environmental Registry of Ontario comment period for the draft management plan for FMZ 15 ended on November 28, 2022.
All comments and feedback received are being reviewed and considered. When complete, the final plan will be posted on the Environmental Registry of Ontario.
You can read more about these proposed changes on the Environmental Registry of Ontario.
Fishing rules
You can:
About this zone
FMZ 15 is located in central Ontario. This large zone has:
many natural lake and brook trout lakes
a well-developed road network and moderate angling effort
Algonquin Provincial Park
lake and brook trout stocking to increase angling opportunities
important recreational fisheries for lake and brook trout, walleye, northern pike, smallmouth bass
FMZ 15 is one of 20 fisheries management zones in the province.
Location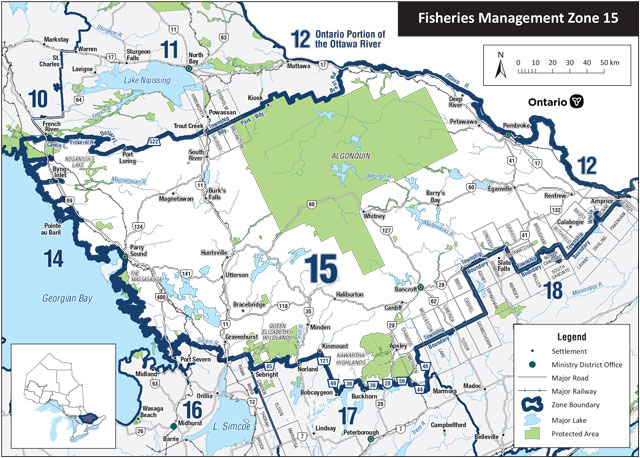 FMZ 15:
extends from Georgian Bay in the west to the Ottawa River in the east
its northern boundary follows the Pickerel River, Highway 522 and the northern edge of Algonquin Park
cities include Parry Sound, Gravenhurst, Bracebridge, Huntsville, Minden, Haliburton, Whitney, Bancroft, Deep River, Petawawa, Pembroke and Renfrew
Legal boundary map and detail maps
Legal boundary map for FMZ 15 and detail maps 1 - 32.1 (PDF)
Monitoring reports and management plans
None available at this time.
Zone advisory council
There is currently an advisory council. For more information on how you can get involved in fisheries management, contact your local district office.
General fishing rules
Dip net for lake whitefish and lake herring in Parry Sound, Bancroft, Pembroke or Algonquin Park (fisheries management zone 15)?
You can dip net for lake whitefish and lake herring only in these designated waters:
Aylen Lake (45°37'N., 77°51'W.) – Dickens Township
Bonnechere River (45°37'22"N., 77°27'08"W.) – North Algona, Fraser and Hagarty Townships, between the Tramore Bridge and Golden Lake
Bonnechere River (Richards Township) – between Jacks Chute and Round Lake
Boshkung Lake (45°04'N., 78°44'W.) – Stanhope Township
Canning Lake (44°56'27"N., 78°38'50"W.) – Minden and Snowden Townships
Carson Lake - (45°30'50"N., 77°45'31"W.) – Jones and Sherwood Townships
Dam Lake (45°25'18"N., 77°32'22"W.) – Radcliffe Township
Diamond Lake (45°22'07"N., 77°32'13"W.) – Radcliffe Township
Golden Lake (45°33'56"N., 77°19'29"W.) – North and South Algona Townships
Greenan (Kulas) Lake (45°28'16"N., 77°44'03"W.) – Jones and Sherwood Townships 
Halfway Lake (45°24'43"N., 77°35'52"W.) – Radcliffe Township
Narrows between Legrou and Chartier Lake (45°50'55"N., 79°53'00"W.) – Mills Township
Oblong Lake (45°10'46"N., 78°25'58"W.) – Harburn Township
Raglan (White) Lake (45°16'21"N., 77°30'42"W.) – Raglan Township
Trout (Stubbs) Lake (45°29'31"N., 77°44'36"W.) – Jones and Sherwood Township
Twelve Mile Lake (45°01'31"N., 78°42'22"W.) – Minden Township
Victoria Lake (45°37'N., 78°01'W.) – Murchison and Clancy Townships
Wadsworth Lake (45°26'22"N., 77°34'48"W.) – Radcliffe Township
Updated: July 26, 2023
Published: July 17, 2014