Forest fires
Information about the current forest fire danger, forest fire activity and fire restrictions across the province.
Report a fire

To report a forest fire call 310-FIRE (3473), or 1-888-284-3473

South of the French and Mattawa rivers please call 911.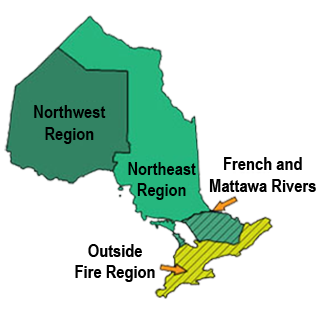 Real time updates.
Our interactive map visually shows active fires, current fire danger across the province and restricted fire zones in effect.
The map now shows perimeters for some fires over 40 hectares in size. Please note that not all fires are mapped and perimeters are not updated every day (may differ from the size reported in the table).
We recommend using Google Chrome as your web browser to access the map.
Forest fire updates
Friday April 1 was the first day of the 2022 fire season. Although there may still be snow in some areas of the province, Ontario's Outdoor Burning Regulations are now in effect until October 31.
Northeast Region
There were no new wildland fires confirmed in the Northeast region by late afternoon on May 19.
There are 11 active fires in the Northeast region. Active fires of note include:
Timmins 1 was confirmed the afternoon of Tuesday May 10th. It's located two kilometres southeast of Morin Village and half a kilometre north of Barager's Lake. The fire was remapped and its perimeter was updated to 1445 hectares. There are 16 FireRanger crews dedicated to the fire. For road closure updates, please consult Ontario 511. This fire remains not under control.
The Ministry of Northern Development, Mines, Natural Resources and Forestry is advising the public that the existing Implementation Order that restricts access and use of certain roads and Crown lands has been revised based on current fire conditions.
Residents of Shining Tree can now return to the community by accessing Highway 560 from Elk Lake only. Restrictions remain in place for all travel, use and access to the following areas: Highway 560 from Meteor Lake Road easterly to the Garibaldi/Sheard Township lines, Nabakwasi Road from Highway 560 northerly to the Miramichi/Connaught Township lines, all activities within Miramichi Township and parts of Garibaldi Township.
Barricades are in place on Highway 560 at Meteor Lake Road and at the intersection of Highway 560 and Sandy Lake Road. A barricade is also in place at the intersection of Nabakwasi Road and Cabot Road. No person shall enter these areas unless authorized by a travel permit from the Ministry of Northern Development, Mines, Natural Resources and Forestry. To obtain a travel permit contact the Timmins District office at 705-465-1218.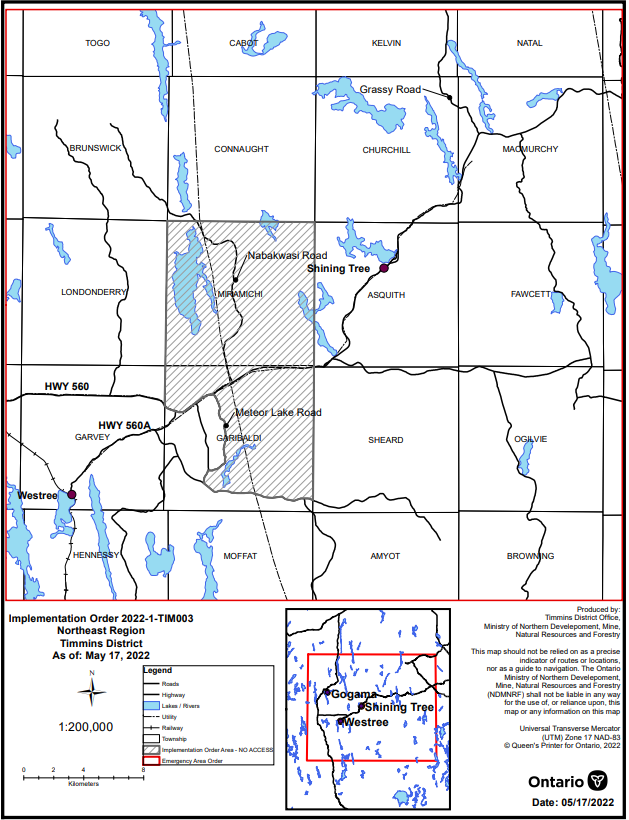 Sudbury 4 was confirmed the afternoon of Tuesday May 10. It is a 212 hectare fire located three kilometres east of Estaire and one kilometre south of Nepewassi Lake road. It is under control.
Sudbury 7 was confirmed the afternoon of Tuesday May 10. It is a 221 hectare fire located 600 metres north of Ashigami road and 0.3 kilometres west of Ashigami Lake Road East. It is under control.
Timmins 2 was confirmed the afternoon of Tuesday May 10. It is a 57.5 hectare fire located near Duchabani Creek, 1.5 kilometres northwest of Cullen Lake. It is under control.
Kirkland Lake 2 is under control at 40 hectares and was confirmed Friday west of Twitchgrass Lake.
Sudbury 11 was confirmed on Friday. It is a 88 hectare fire located two kilometres northeast of Mink Lake. It is under control.
Northwest Region
There is one active fire confirmed in the Northwest Region by the late afternoon of May 19.
Nipigon 3 is located near Margo lake, approximately 14 kilometres east/northeast of Longlac. The fire has been called out at 0.1 hectares.
The fire hazard is predominantly low across the Northwest Region with the exception of areas of moderate hazard in the northern reaches of the Sioux Lookout and Red Lake sectors.
Please note the next update for the Northwest Region will be on Monday, May 23
Restricted Fire Zones
None
Follow Outdoor Burning Regulations
Aviation, Forest Fire and Emergency Services would like to remind the public to use caution when performing any outdoor burning. In order to dispose of yard waste and woody debris, we encourage you to use methods such as composting or using your local landfill. If you must burn, follow Ontario's Outdoor Burning Regulations.
Fires are to be ignited no sooner than two hours before sunset and extinguished no later than two hours after sunrise. Always have tools/water adequate to contain the fire at the site. Know the rules for safe outdoor burning. Read the full set of Outdoor Burning Regulations.
Contact information
Northeast Region
Evan Lizotte
Fire Information Officer
705-564-6146
Northwest Region
Chris Marchand
Fire Information Officer
807-323-1851
For highway conditions, including road closures:
511
 511on.ca
For air quality in your area, please visit:
 Public Weather Alerts for Canada
For smoke drift conditions across North America, visit:
 Smoke drift across North America
For information about forest fire smoke and your health, consult:
 Smoke and your health
Fires: year to date
The figures below represent the year-to-date total number of forest fires inside Ontario's fire region for the 2021 fire season, as they compare to the 2020 season and to the 10-year average.
---
You are responsible for fires you light
From April through October, people using outdoor fires must follow strict guidelines under the Forest Fires Prevention Act of Ontario to ensure their fires are properly managed.
Anyone who starts a fire outdoors must take all necessary steps to tend the fire, keep it under control, and make sure the fire is out before leaving the site. A person failing to burn safely could be fined and held responsible for the cost of putting out the fire. People living in municipalities should check with local fire officials for bylaws on outdoor fires.
About Aviation, Forest Fires and Emergency Services (AFFES)
Visit our forest, wildland and outdoor fires page for more information on AFFES and wildland fire management, including:
Updated: May 19, 2022
Published: March 14, 2022