High Occupancy Vehicle (HOV) lanes
Learn about HOV lanes on provincial highways and how to use them.
Overview
High-Occupancy Vehicle (HOV) lanes are designated lanes that can only be used by vehicles carrying two or more people or other specific types of vehicles, such as licensed taxis and motorcycles.
HOV lanes help:
encourage carpooling
manage congestion
reduce transportation-related emissions
optimize infrastructure investments
In Ontario, HOV lanes are on the far-left side of the highway and are clearly marked by signs and pavement markings.
Who can use HOV lanes
You can use an HOV lane if you have at least two people (including the driver) in a:
car
van or light truck
commercial truck less than 6.5 metres long with a gross weight of 4,500 kg or less
vehicle towing a trailer with a combined vehicle-trailer length of less than 6.5 metres
Some vehicles can use HOV lanes at all times, regardless of how many passengers they are carrying, including:
Some HOV lanes on the Queen Elizabeth Way (QEW), Highway 410 and Highway 403 can also be used by solo drivers with a High Occupancy Toll (HOT) lane permit as part of Ontario's HOT lanes pilot program.
You can face fines and demerit points for using HOV lanes improperly.
Using HOV lanes
Ontario has HOV lanes on many sections of 400-series highways. To find them, look for:
HOV signs marking the leftmost lane
markings on the road, including diamond markings and a striped buffer zone that separates the HOV lane from other lanes
Find where HOV lanes are located on Ontario 511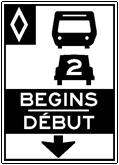 When approaching a section of highway with an HOV lane, you will see overhead signs on the left side of the highway that show where the lane begins. If you do not meet the HOV lane requirements, you must change lanes before the HOV lane begins.
When an HOV lane ends, other traffic is free to move over into the left-most lane when it is safe.
Entering and exiting HOV lanes
You can enter and exit HOV lanes only at designated points, which are usually available every two to four kilometres. They are clearly marked by signs, white broken lines and diamond pavement markings. It is illegal and unsafe to enter or exit an HOV lane by crossing the striped buffer zone.

In most cases you will need to exit the HOV lane several kilometres before your highway exit.
Look for signs that show you when to exit the HOV lane so you can exit the highway safely:

A few highway exits do not have an HOV exit. In these cases, you will see a warning sign:

Entering and exiting HOV lanes on Highway 400
HOV lanes on Highway 400 between Major Mackenzie Drive and King Road have a dedicated transfer lane between the HOV lane and the regular lanes. You can use this transfer lane to increase or decrease your speed before merging in or out of the HOV lane.

Enforcement and penalties
HOV lanes are enforced by Ontario Provincial Police (OPP) officers.
If you are caught using the HOV lane improperly, such as not having enough people in the vehicle, you could face a fine of $110 and 3 demerit points.
Updated: March 18, 2022
Published: March 18, 2022