About the redevelopment project
Ontario Place is being redeveloped into a world-class, year-round destination that will include:
family-friendly entertainment
public and event spaces
parkland
waterfront access
health and wellness services
science-based educational programming
an indoor-outdoor live music and performance venue
new and improved marina
expanded food and beverage offerings
Our vision for Ontario Place will provide people of all ages with something to enjoy. The redeveloped site will not include casinos or condos, and the government will continue to own the land.
Ontario Place will be redeveloped in a sustainable way, that:
respects Ontario's historical and natural features
showcases Ontario's diversity and multiculturalism
honours the rich traditions, cultures and heritage of Indigenous peoples
In addition, key heritage and recreational features will be brought up to modern standards and integrated into the redevelopment, including:
the Cinesphere
the Pod complex
the marina
Trillium Park
the William G. Davis Trail
A redeveloped Ontario Place will bring many benefits to the region, including:
5,000 new jobs during both construction and permanent operations
enhanced profile of Toronto's central waterfront for local, provincial, national and international visitors
anticipated 4–6 million visitors a year
private sector investment of $500 million in capital on the site
new revenue from lease agreements
Once complete, the redeveloped Ontario Place will be open to the public 365 days a year, with free public access and a waterfront experience that everyone can enjoy.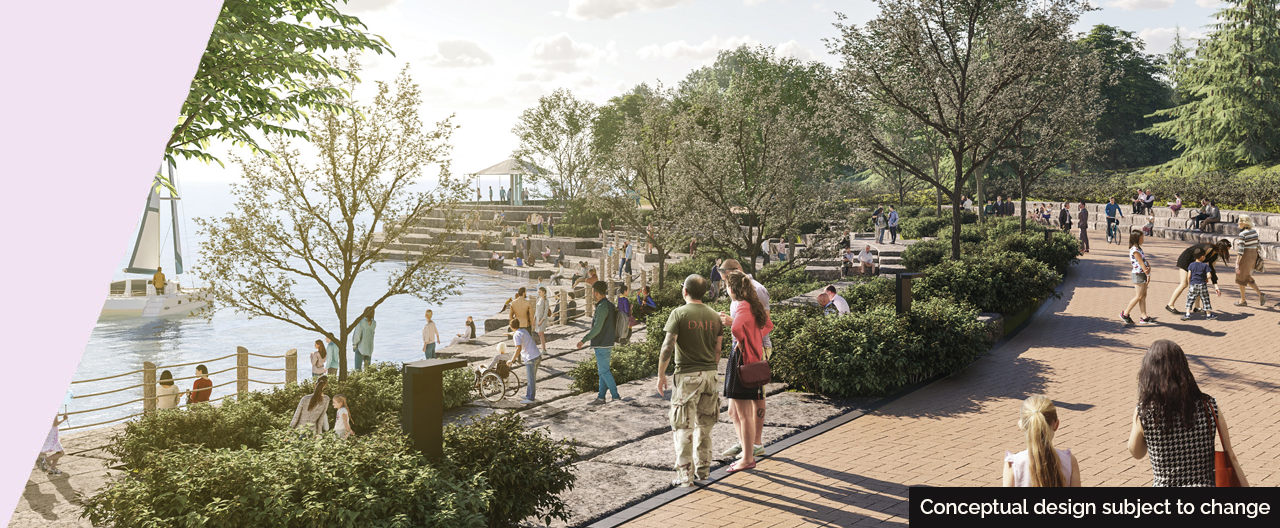 Waterfront access
The redeveloped Ontario Place site will be a unique waterfront location with year-round, free public access to the water. Visitors will have the opportunity to enjoy a variety of waterfront experiences and recreational activities, including:
beaches
waterfront trails
swimming and boating
an improved marina with retail, dining, and family-friendly activities
We will also ensure that the waterfront is enhanced and protected as part of the redevelopment project, including:
water quality improvements
shoreline repairs
soil remediation
site-wide flood mitigation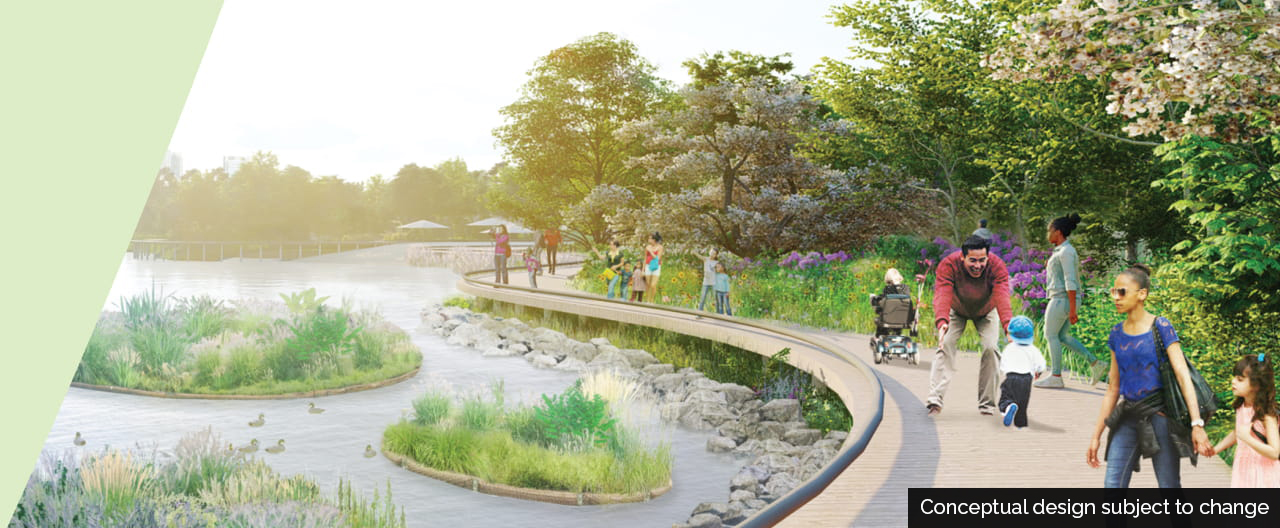 Green space and parkland
As part of the redevelopment project, we will enhance the site's green space and parkland, including maintaining Trillium Park, and expanding William G. Davis waterfront trail along the entire shoreline of Ontario Place, which will provide additional public access to the waterfront. There will also be more trees, gardens, landscaping, and native plants throughout the site.
Our vision will also focus on creating spaces for rest, relaxation, and recreational activities. People will be able to enjoy trails for walking, jogging, and biking.
Public and event spaces
The redeveloped site will also include free public and event spaces. This will include spaces for markets, social gatherings and areas with additional seating to bring friends, families and tourists together to create lifelong memories and experiences.
Ontario Science Centre
The Ontario Science Centre will move to Ontario Place, creating a new state-of-the-art facility to welcome local visitors and tourists from across the province and around the world.
The Ontario Science Centre relocation will bring exciting, family-friendly science-based educational programming to Ontario Place, including using the historic Cinesphere and Pod complex. A heritage consultant will be part of the project team to ensure heritage attributes are conserved and any impacts are mitigated. Construction of the new facility is anticipated to begin in 2025.
The relocation will support the province's economy by bringing additional tourism, cultural and educational experiences to Ontario Place. The new Ontario Science Centre builds on the government's plan to support STEM-education and prepare young people for the jobs of the future.
Construction work
As part of the redevelopment of Ontario Place, construction activities have started across the site, including repairs to the Cinesphere, Pod complex, and bridges. Site servicing construction work began in Spring 2023 to upgrade the site's critical infrastructure, such as sewage, water, electrical and gas services. This work requires heavy machinery and construction equipment, as well as trained personnel with proper safety gear. Learn more about the latest construction work at Ontario Place.
We are making all efforts to minimize disruptions to public access during construction. However, as protecting public health and safety at Ontario Place is paramount, we will be closing areas of the site, and limiting public gatherings and events.
Learn more about access to the site during construction.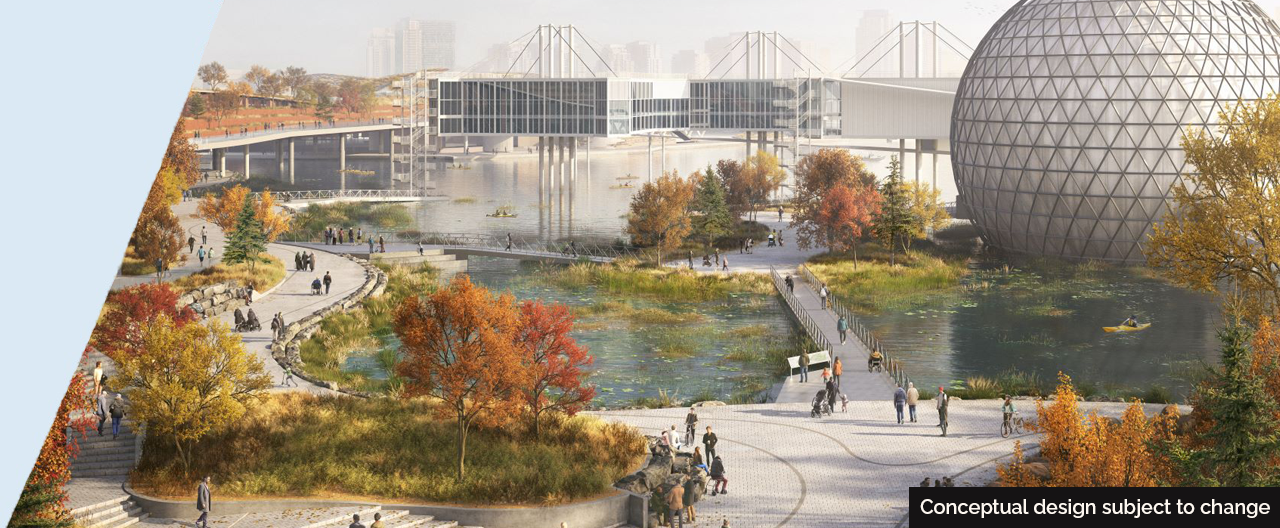 Development partners
In addition to the free public spaces, parkland and waterfront access, visitors will also have the opportunity to experience year-round entertainment and recreational activities, delivered by Therme Canada and Live Nation.
Therme Canada and Live Nation were selected in 2021 as development partners through a Call for Development process, and will lease the land from the Government of Ontario.
Therme Canada
Therme Canada will create an all-season, family-friendly health and wellness experience with something for all ages and interests, including:
pools and waterslides
botanical spaces to relax
sports performance and recovery services
restaurants with an exciting dining experience
Outside on the West Island, people will enjoy approximately 16 acres of free, publicly accessible gathering spaces, trails, parkland, gardens, easy access to the water and a new beach.
Therme Canada is also a partner of local and global arts and culture organizations and will bring inspiring programming to Ontario Place. This will give people the opportunity to enjoy a day of fun at the waterfront and participate in arts and culture experiences beyond those offered in traditional galleries and museums.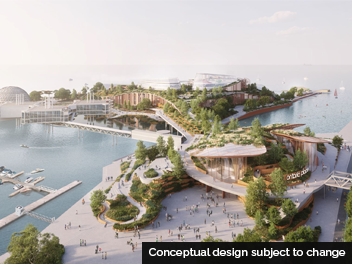 Live Nation
Live Nation Canada will revitalize the existing amphitheatre into a modern, sustainable live music and entertainment venue that will continue to provide great experiences for fans and artists alike.
Protecting the iconic amphitheatre lawns, the new venue will have an expanded capacity with the ability to host events year-round.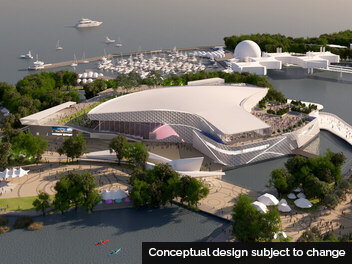 Recommended design concepts
View the exciting recommended design concepts for the future public spaces and parkland at Ontario Place, as well as the development partners.
Engagement
As we continue to move forward, public input is critical to support the planning and redevelopment of the Ontario Place site. This includes planning and development related to:
the Category C Class environmental assessment
public space
heritage
Public engagement began in fall 2021 and feedback will continue to be collected as part of the redevelopment process. We are engaging the public, stakeholders, and Indigenous communities to ensure all perspectives from across the province are recognized and considered.
Consultation
Visit EngageOntarioPlace.ca to learn more about the planning and development work underway, as well as completed public engagement activities.
You can also visit the virtual public engagement room to learn about the recommended design concepts for the public spaces and parkland at Ontario Place.
Updates will be available on this page throughout the redevelopment process.
Updated: November 10, 2023
Published: January 14, 2019