Ontario's Ring of Fire
Learn more about the Ring of Fire, a significant mineral development region in the Far North of Ontario.
Overview
Ontario's Ring of Fire region is one of the most promising mineral development opportunities for critical minerals in the province. It's located approximately 500 kilometres northeast of Thunder Bay and covers about 5,000 square kilometres.
The region has long-term potential to produce:
chromite
cobalt
nickel
copper
platinum
Critical minerals like these play a role in the future of low- and zero-emission vehicles and transportation, and help support the transition to a cleaner, sustainable global economy.
Working with First Nations
Developing the Ring of Fire can contribute to Ontario's economy by:
creating jobs
generating revenue
building infrastructure
bringing prosperity to communities across the north, including First Nation communities
Ontario is working directly with First Nations through bilateral agreements that support each community's unique needs and priorities.
First Nation communities are leading proposed road projects in the Ring of Fire, including assessing any potential social and environmental impacts, as well as maximizing opportunities for First Nations people.
All-season road access
All-season road access to the Ring of Fire is an important step to creating economic opportunities in the region.
Better road infrastructure in the north can:
reduce the cost of delivering consumer goods, fuel and construction materials
give communities access to primary health care and other services
reduce the overall cost of living
Proposed road projects
Current proposed road projects will help create a north-south corridor connecting the Ring of Fire area to the provincial highway network.
Marten Falls First Nation and Webequie First Nation are leading environmental assessments for their individual proposed all-season road projects.
They are also co-proponents for the planning and development of a proposed Northern Road Link to the Ring of Fire. The Northern Road Link would connect to the proposed Marten Falls Community Access Road at the south end, and to the proposed Ring of Fire developments and Webequie Supply Road at the north end.
Map of proposed road environmental assessment study areas in the Ring of Fire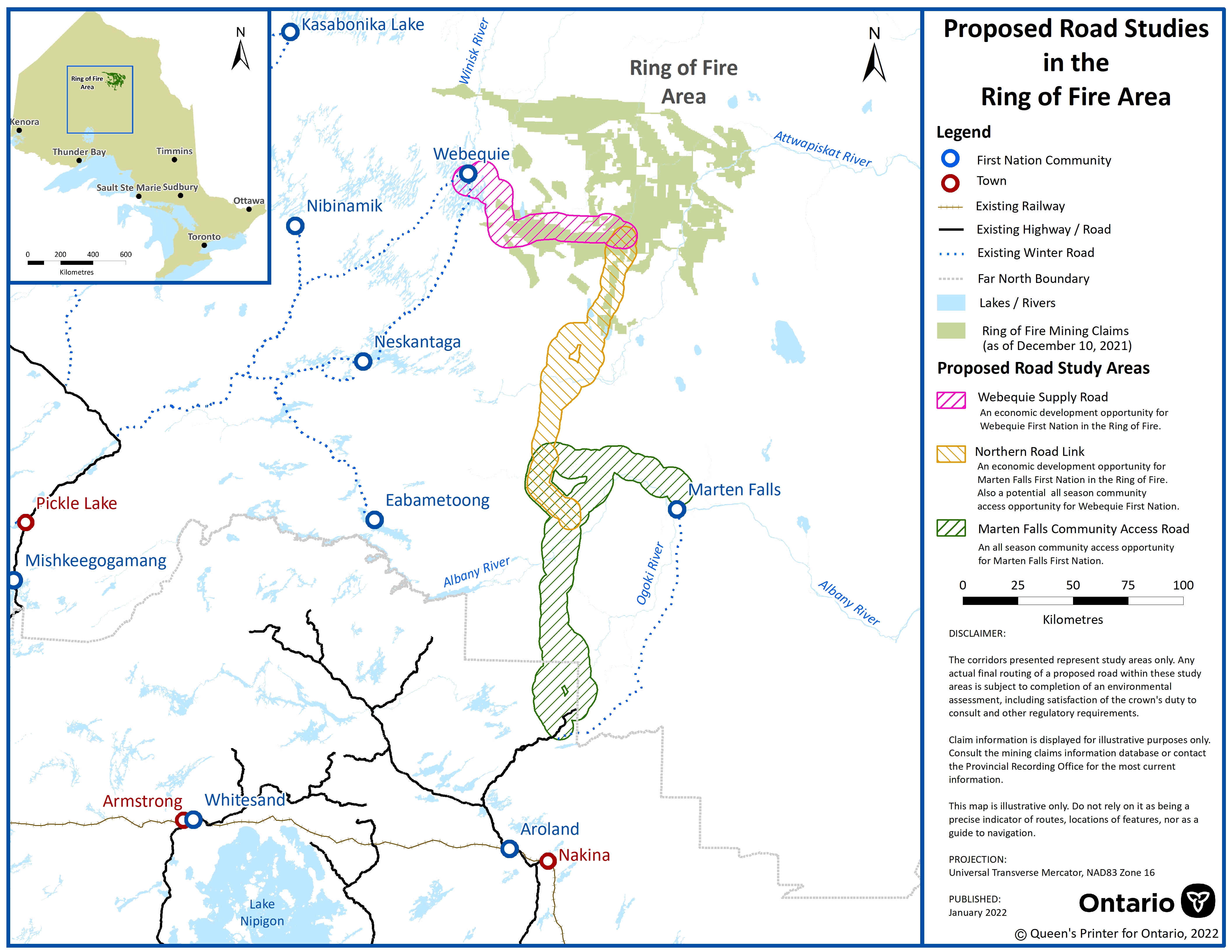 Exploration
Exploration activity is underway in the Ring of Fire. As of January 2022, there are about 26,167 active mining claims held by 15 companies and individuals, covering approximately 4,972 square kilometres.
Minerals found in the Ring of Fire to date include:
chromite
copper
zinc
gold
diamond
nickel
platinum group elements
Updated: November 01, 2022
Published: February 07, 2022