Red Mulberry government response statement
Ontario's policy direction for the protection and recovery of Red Mulberry.
Publication date: October 11, 2013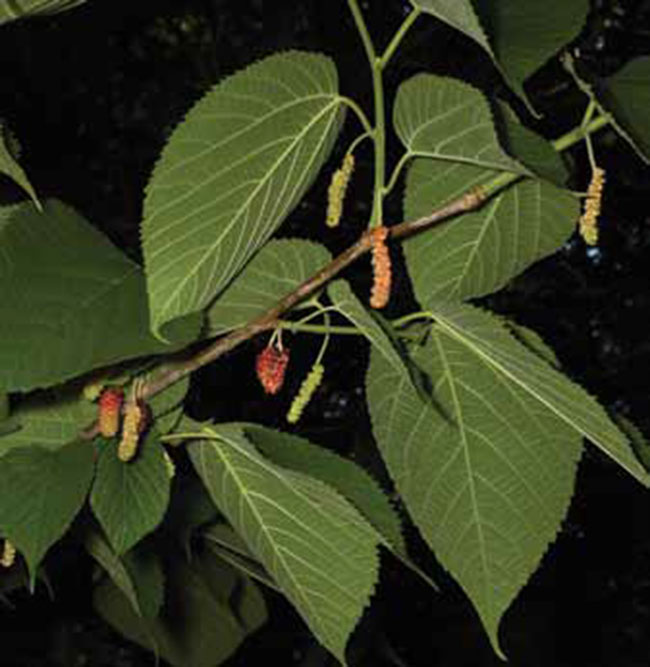 Photo: Allen Woodliffe
Red Mulberry is an understory tree that typically reaches a height of six to 18 m, has large variable or heart-shaped hairy leaves, and produces deep, red-coloured fruits in July. In Ontario, it grows in moist, well-drained Carolinian forest habitats including floodplains, bottomlands, and ravines.
Protecting and recovering species at risk in Ontario
Species at risk recovery is a key part of protecting Ontario's biodiversity. Biodiversity – the variety of living organisms on Earth – provides us with clean air and water, food, fibre, medicine and other resources that we need to survive.
The Endangered Species Act, 2007 (ESA) is the Government of Ontario's legislative commitment to protecting and recovering species at risk and their habitats. As soon as a species is listed as extirpated, endangered or threatened under the ESA, it is automatically protected from harm or harassment. Also, immediately upon listing, the habitats of endangered and threatened species are protected from damage or destruction.
Under the ESA, the Ministry of Natural Resources (the Ministry) must ensure that a recovery strategy is prepared for each species that is listed as endangered or threatened. A recovery strategy provides science-based advice to government on what is required to achieve recovery of a species.
Government response statements
Within nine months after a recovery strategy is prepared, the ESA requires the Ministry to publish a statement summarizing the government's intended actions and priorities in response to the recovery strategy. The recovery strategy for Red Mulberry (Morus rubra) was completed on January 11, 2013.
The response statement is the government's policy response to the scientific advice provided in the recovery strategy. All recommendations provided in the recovery strategy were considered and this response statement identifies those that are considered to be appropriate and necessary for the protection and recovery of the species. In addition to the strategy, the response statement is based on input from stakeholders, other jurisdictions, Aboriginal communities, and members of the public. It reflects the best available traditional, local and scientific knowledge at this time and may be adapted if new information becomes available. In implementing the actions in the response statement, the ESA allows the Ministry to determine what is feasible, taking into account social and economic factors.
Moving forward to protect and recover Red Mulberry
Red Mulberry is listed as an endangered species under the ESA, which protects both the plant and its habitat. The ESA prohibits harm or harassment of the species and damage or destruction of its habitat without authorization. Such authorization would require that conditions established by the Ministry be met.
Red Mulberry is found throughout eastern North America. Since botanical inventories were first undertaken in the province, it appears to have been found mostly in the Carolinian ecoregions of southern Ontario. Its distribution and abundance prior to this period are unknown, but its range is known to have declined since record-keeping began. Since European settlement, the amount of natural wooded Carolinian forest has been greatly reduced due to clearing for agriculture, urban development, and industry. Across the forest's historical range in southwestern Ontario, less than three percent forest cover remains. At least five historic Red Mulberry occurrences are considered extirpated and another 11 have not been observed in the past 20 years. There are currently 21 known Red Mulberry locations in two distinct regions of southern Ontario: Niagara, where it occurs along the moist Niagara escarpment, and Essex County and Chatham-Kent, where it occurs in more open, sandy habitats. These different ecological conditions may have created distinct genetics and local adaptations in Red Mulberry populations. Of these 21 known Red Mulberry locations, only 10 are considered core populations that include five or more trees within 1 km of each other.
The most significant threat to Red Mulberry is hybridization with the non-native, more aggressive White Mulberry (Morus alba). Due to its low abundance, Red Mulberry has a strong reproductive disadvantage and lower seedling survival than both White Mulberry and hybrids. The hybrid trees have been shown to often be genetically more similar to White Mulberry, suggesting that Red Mulberry is being genetically assimilated by White Mulberry. In addition, two core populations located on Lake Erie Islands, such as East Sister Island Provincial Park, are threatened by severe damage or loss of trees from large nesting colonies of Double-crested Cormorants (Phalocrocorax auritus). Other threats to Red Mulberry include habitat loss and fragmentation, and disease and stress factors that cause declining health in mature trees.
The government's goal for the recovery of Red Mulberry is to maintain or increase the existing population levels within the two distinct regions where it is found in Ontario.
Protecting and recovering species at risk is a shared responsibility. No single agency or organization has the knowledge, authority or financial resources to protect and recover all of Ontario's species at risk. Successful recovery requires inter-governmental co-operation and the involvement of many individuals, organizations and communities.
In developing the government response statement, the Ministry considered what actions are feasible for the government to lead directly and what actions are feasible for the government to support its conservation partners to undertake.
Government-led actions
To help protect and recover Red Mulberry, the government will directly undertake the following actions:
Continue to monitor the impacts of Double-crested Cormorants on Red Mulberry in East Sister Island Provincial Park. If deemed necessary and appropriate, evaluate through the appropriate public process whether or not to implement management actions to control cormorants.
Educate other agencies and authorities involved in planning and environmental assessment processes on the protection requirements under the ESA.
Encourage the submission of Red Mulberry data to the Ministry's central repository at the Natural Heritage Information Centre.
Undertake communications and outreach to increase public awareness of species at risk in Ontario.
Protect Red Mulberry and its habitat through the ESA.
Support conservation, agency, municipal and industry partners, and Aboriginal communities and organizations to undertake activities to protect and recover Red Mulberry. Support will be provided through funding, agreements, permits (including conditions) and/or advisory services.
Establish and communicate annual priority actions for government support in order to encourage collaboration and reduce duplication of efforts.
Government-supported actions
The government endorses the following actions as being necessary for the protection and recovery of Red Mulberry. Actions identified as "high" will be given priority consideration for funding or for authorizations under the ESA. The government will focus its support on these high-priority actions over the next five years.
Focus area: protection and management
Objective: Protect and enhance habitat suitability and address major threats to existing populations.
Actions:
(High) Develop and test the effectiveness of White Mulberry control procedures (such as selective removal of White Mulberry and hybrids) to reduce the threat of hybridization.
(High) Survey existing Red Mulberry populations to evaluate habitat characteristics, threats, the health of mature trees, and identify and prioritize populations most in need of habitat improvement or augmentation.
(High) Develop and implement best management practices at priority populations to manage or improve Red Mulberry habitat, which may include:

implementing effective White Mulberry control procedures;
removing invasive species; and
maintaining conditions that improve Red Mulberry seedling establishment.

Augment identified priority populations to increase reproductive success where necessary to achieve population recovery.
Focus area: monitoring and research
Objective: Improve knowledge about existing Red Mulberry populations.
Actions:
(High) Determine current genetic composition of all populations to identify the number and location of pure Red Mulberry trees and identify hybrids.
Develop and implement a standardized monitoring program to detect changes in population size, distribution, demographics, health, reproductive success, habitat characteristics, and threats at all known sites.
Research conditions that will improve natural seedling establishment and survival of Red Mulberry including:

pollination and dispersal distances for both Red and White Mulberry to inform White Mulberry and hybrid management; and
habitat conditions that support establishment and growth of pure Red Mulberry over White Mulberry and hybrids.

Research Red Mulberry minimum viable population size taking into account the risks posed by threats and the species' reproductive biology.
Focus area: awareness
Objective: Increase public awareness about Red Mulberry and stewardship opportunities.
Actions:
Develop and deliver outreach initiatives to the public, conservation partners, landowners and key stakeholders to increase awareness about Red Mulberry, its primary threats, and to promote the use of best management practices through voluntary stewardship actions. Outreach should include information about White Mulberry, why it is a threat to Red Mulberry, and alternative native shrubs that could be used in plantings.
Collaborate with First Nations to incorporate Aboriginal traditional knowledge, where available, into outreach initiatives.
Implementing actions
Financial support for the implementation of actions may be available through the Species at Risk Stewardship Fund, Species at Risk Research Fund for Ontario, or the Species at Risk Farm Incentive Program. Conservation partners are encouraged to discuss project proposals related to the actions in this response statement with the Ministry. The Ministry can also advise if any authorizations under the ESA or other legislation may be required to undertake the project.
Implementation of the actions may be subject to changing priorities across the multitude of species at risk, available resources and the capacity of partners to undertake recovery activities. Where appropriate, the implementation of actions for multiple species will be co-ordinated across government response statements.
Reviewing progress
The ESA requires the Ministry to conduct a review of progress towards protecting and recovering a species not later than five years from the publication of this response statement. The review will help identify if adjustments are needed to achieve the protection and recovery of Red Mulberry.
Acknowledgement
We would like to thank all those who participated in the development of the "Recovery Strategy for the Red Mulberry (Morus rubra) in Canada" for their dedication to protecting and recovering species at risk.
Website: ontario.ca/mnr
Updated: April 29, 2022
Published: October 11, 2013