Reporting wild pigs in Ontario
Wild pigs are an invasive species in Ontario. Learn about invasive wild pigs in Ontario and how to report sightings.
If you see a wild pig (for example, any pig outside of a fence) or have information about a sighting, please report it to:
Overview
The term "wild pig" refers to any pig "outside of a fence" and includes:
domestic pigs that have become wild (or 'feral') and ownership cannot be determined;
Eurasian wild boar; and
hybrids of domestic pigs and Eurasian wild boar
It can be difficult to visually distinguish between the three.
In Ontario, Eurasian wild boar are imported and raised as alternative livestock on farms for meat. While farmers are required to prevent wild boar (and other farmed wildlife) from escaping, they may occasionally escape or be illegally released into the wild. When that happens, the wild boar must be retrieved because they pose risks to the environment and the agriculture industry.
Domestic pigs are also raised in Ontario and may occasionally escape. Domestic pigs have been known to look more like their wild boar ancestors when living in the wild and can breed with other escaped pigs (including wild boar) to create hybrids.
Report a sighting
If you see a wild pig or have information about a sighting (dead or alive), please report it to:
If you believe you have seen a wild pig or signs of a wild pig, please include the following if you can:
Note the date, and time of the sighting
Note the location (intersecting roads, landmarks or GPS coordinates)
Take pictures or a video, if possible
Note the number of pigs and whether piglets are present; indicate whether the pig appeared to be a:

domestic farmed pig;
pet pig (for example, pot-bellied pig);
wild boar; or
hybrid.

Identify whether this was an isolated sighting or whether the same individual(s) has been seen multiple times
In addition, please email wildpigs@ontario.ca if any dead wild pig is found. The Ministry is interested in obtaining samples (for example, hairs with roots attached) that can provide valuable information about the status of invasive wild pigs in the province.
Notice of collection
Personal information submitted through the wildpigs@ontario.ca email address is collected under the authority of Section 51 of the Invasive Species Act, and may be used by staff to contact individuals regarding potential sightings and locations of wild pigs. For questions regarding this collection and use of this personal information, please contact:
Policy Coordinator of the Fish and Wildlife Policy Branch,
300 Water St., 5th Floor North Tower,
Peterborough, Ontario,
K9J 3C7,
Tel: 705-755-1940, or
Email: MNRF-FishandWildlifePolicyBranch@ontario.ca.
Status of invasive wild pigs in Ontario
Read our 2019-2020 Annual Report (PDF) for information on invasive wild pig sightings in Ontario.
This report summarizes the wild pig sightings reported to us from October 15, 2018 to March 31, 2020.
As of 2020, there are no known populations of wild pigs that are breeding and self-sustaining in Ontario.
We continue to collect and monitor email reports of invasive wild pig sightings from the public. These reports help us learn more about the number and location of wild pigs in the province.
Based on the sightings you report, we do research that includes on-the-ground follow up in areas where reports suggest a high likelihood that wild pigs are present.
At these locations, ministry staff:
engage with residents to learn as much as possible about wild pig activity
set up trail cameras to detect whether wild pigs are still in the area
Where appropriate, we are prepared to test approaches for trapping and removing invasive wild pigs from the environment.
To contribute to this important research, continue to report sightings of wild pigs to wildpigs@ontario.ca or iNaturalist Ontario wild pig reporting.
Risks to the environment
Wild pigs are not native to Ontario and can have a negative impact on native wildlife and ecosystems. They have high reproductive potential which means that populations can increase in number and spread rapidly, making their impacts more severe. Impacts to the natural environment include:
preying upon native plants and wildlife
competing with native wildlife for food, water, and space
rooting into the ground with their tusks and snouts to dig for roots, tubers, bulbs, worms, insects, slugs, and snails
trampling and wallowing habits can cause erosion, impact water quality, and degrade natural areas
spreading disease to wildlife
Other impacts include:
damage to crops and pasturelands
spreading disease to livestock, pets and humans
aggressive behaviour to humans or pets
high costs to control wild pigs if they become established in parts of Ontario
What wild pigs look like
Scientific name: Sus scrofa
Native continent: Eurasia and North Africa
Classification: hoofed mammal
Typical colour and markings:

adults: black, grey, brown, red, white (highly variable)
piglets: may be striped or spotted

Wild pigs:

The appearance of wild pigs can vary substantially from resembling domestic pigs to Eurasian wild boar. Individuals that are a result of hybridization can exhibit many colour variations, ranging from very dark to light, and may have spots.

Wild pigs may have the following features, but they can be quite variable:

long snouts
large tusks
wedge-shaped heads
coarse hair
length: 3.5-5 ft
height: 2-3 ft
weight: 30-420 lbs
Photos of invasive wild pigs
The term 'wild pig' encompasses several types of swine that are all the same species, (Sus scrofa) and their appearance can vary substantially:
Invasive wild pigs with the typical features of wild boar: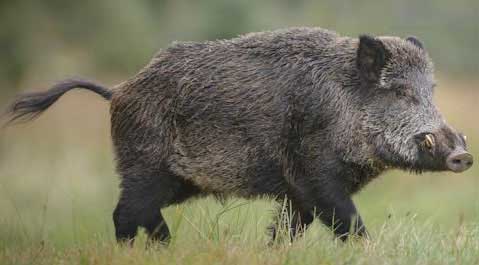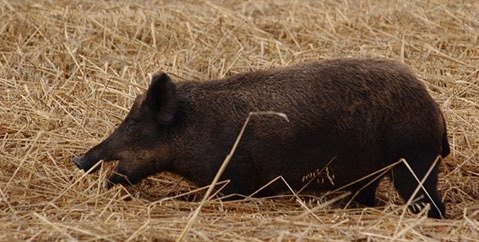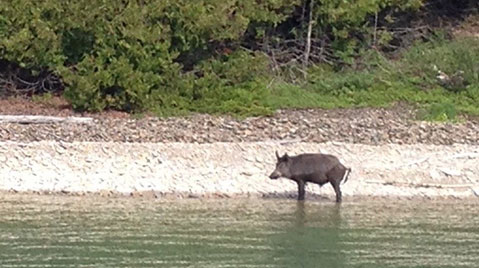 Invasive wild pigs with the typical features of domestic pigs: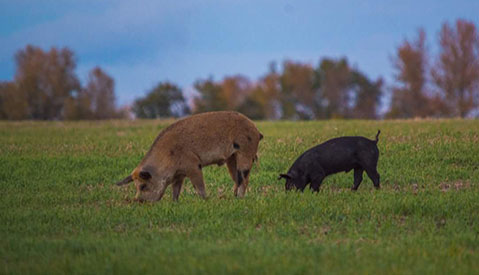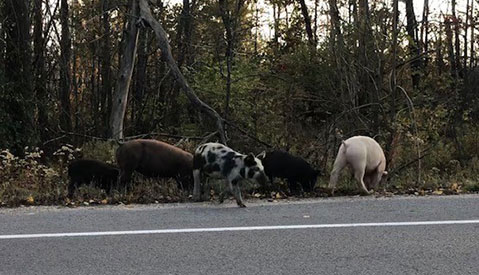 Invasive wild pigs with the typical features of pot-bellied pigs: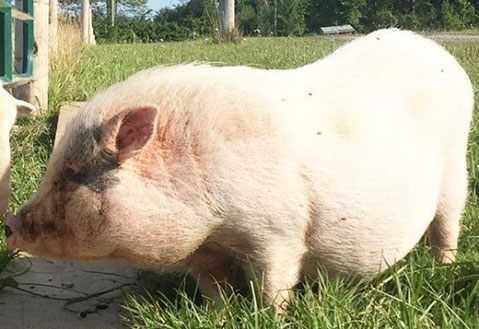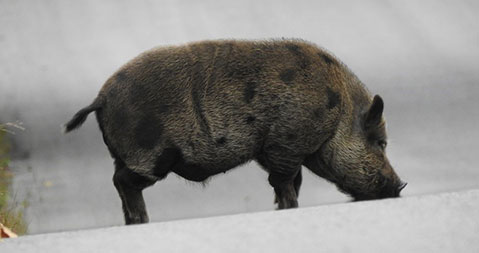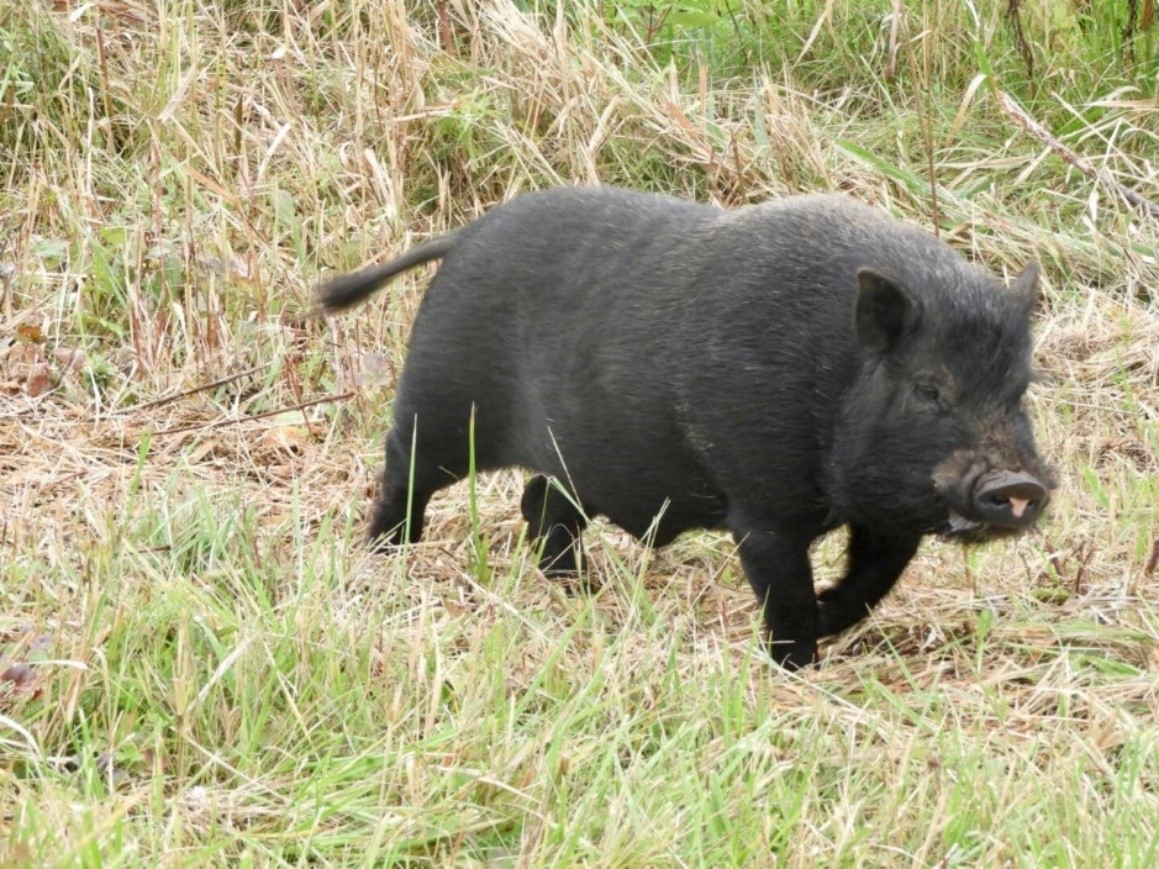 Rules for escaped wild boar
The Fish and Wildlife Conservation Act (FWCA) prohibits the unauthorized release of imported wildlife including wild boar. If you keep wild boar, you:
For guidance on keeping wild boar, please refer to the Ontario Ministry of Agriculture, Food and Rural Affairs wild boar website, along with further guidance on fencing for outdoor pig production.
For guidance on small scale pig production, please visit Ontario Pork's webpage for their Small Scale Pig Production Manual.
Hunters and property owners
At this time, hunting wild pigs in Ontario is not recommended.
This recommendation is based on research and management from other jurisdictions that have demonstrated that hunting is ineffective at eliminating invasive wild pigs and can accelerate their spread.
Wild pigs live in groups and may produce large litters once or twice a year. When they are exposed to hunting pressure, wild pigs:
quickly learn to avoid humans
disperse into new areas
may continue to reproduce
This can make efforts to eliminate invasive wild pigs in the province more difficult.
Landowners (or agents acting on their behalf) have the right to protect their property from wildlife damage, including damage caused by wild pigs. If you decide to shoot a wild pig, it is your responsibility to ensure:
the pig is a wild pig
the pig is not the property of someone else
you are following all relevant federal, provincial and municipal legislation regarding trespass, licensing, and discharge of firearms
To learn more about how to identify wild pigs, review the section above, "What wild pigs look like".
The ministry is asking the public to report wild pig sightings. Sightings play a critical role in understanding the locations and number of invasive wild pigs in the province and will inform further management.
Sightings can be reported via email to wildpigs@ontario.ca or to the iNaturalist Ontario Wild Pig Reporting webpage.
Updated: August 27, 2021
Published: October 05, 2018