Transportation technician initiative
Learn about Ontario's transportation technician initiative and how to apply.
Why apply to the transportation technician initiative?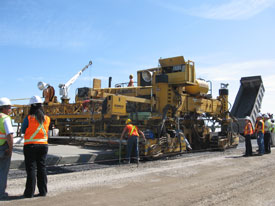 Satisfying and meaningful work. Your contribution will be vital towards maintaining the high quality of Ontario's highways and bridges, as well as MTO's delivery of the largest highway construction program in Canadian history.
Networking opportunities. Interact with technical professionals from the private sector, municipalities, and agencies, putting you on the right track to a successful career in the Ontario Public Service.
Career growth in the Ontario Public Service. Begin with us, stay with us. You will have the opportunity to apply for more senior positions with competitive salaries.
Who can apply for the TT initiative?
This initiative is for engineering technicians, or individuals who have obtained similar experience through working in related disciplines. You must be a Canadian citizen or permanent resident of Canada eligible to work in Ontario.
I'm sold! How and when can I apply?
You can apply for this initiative through the OPS Careers website. Be sure to check the OPS website often for TT job postings.
How long is this program and is this a permanent position?
Individuals hired through the TT initiative are full-time, permanent ministry employees. The TT initiative provides three years of structured experience through rotational assignments in a variety of disciplines.
Is there on-the-job learning and how does it work?
Yes, the ministry provides both classroom as well as on-the-job learning. Participants can expect to engage in practical, multifunctional learning experiences through rotational assignments in many disciplines, which could include:
Where can I ask questions about the TT initiative program?
Please direct any questions you have about the TT initiative to MTO.TTinitiative@ontario.ca. A ministry staff person will respond to you.
What kind of work or rotational assignments are available?
Potential work could include the following:
Construction
calculate cost estimates
conduct site inspections
perform quality assurance sampling, testing and inspection
prepare contract progress reports
assist in consultant acquisition: define requirements, review submissions
use leading edge technologies: SuperPave methodologies, total station surveying, ignition oven testing
Highway design
analyze and determine design options, scenarios, recommendations
conduct on-site field reviews
perform highway capacity analysis
determine and review design approaches
design using: Digital Terrain Modelling, Computer-Aided Drafting (AutoCAD)
assist in consultant acquisition and management, including evaluating proposals
Operations and maintenance
monitor highway conditions and determine need for action
prepare/administer maintenance contracts
perform highway and bridge repairs, electrical systems, overhead signs
arrange for appropriate equipment, material and labour
inspect work to ensure adherence to safety standards
operation of state of the art systems: Advanced Traffic Management System, Global Positioning, Advanced Road Weather Information System
Traffic
conduct capacity and collision analyses
perform signal warrant calculations
identify safety and operational concerns
assess impacts of innovative approaches to traffic management
assist in the design and implementation of: Freeway/Advanced Traffic Management Systems, Intelligent Transportation Systems
Geomatics
perform legal and engineering survey field work using state-of-the-art technology, including: GPS (Global Positioning System), Reflectorless Total Stations, Digital Levels
process field survey data and prepare digital base plans using: Digital Terrain Modelling, Computer-Aided Drafting (AutoCAD)
assist in consultant acquisition and management, including evaluating proposals
Updated: March 18, 2022
Published: March 17, 2022