Dwarf lake iris
Scientific name: Iris lacustris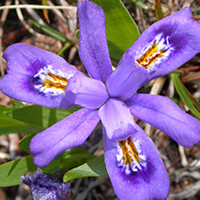 Cover photo credit: C. D. Jones
Status
Special Concern
"Special Concern" means the species lives in the wild in Ontario, is not endangered or threatened, but may become threatened or endangered due to a combination of biological characteristics and identified threats.
Date added to the Species at Risk in Ontario List
The Dwarf Lake Iris was listed as threatened when the Endangered Species Act took effect in 2008, and was re-classified as special concern on January 13, 2012.
What it looks like
Dwarf Lake Iris is a low-growing flowering plant, with a stalk about 10 centimetres high, and broad, strap-like leaves that can reach 18 centimetres in length. In early June, it produces showy, violet-coloured flowers, which in rare cases may be white. This plant spreads mainly by underground roots that can sprout new plants. It also produces seeds, which are spread by ants.
Where it lives
In Ontario, Dwarf Lake Iris grows on sand or thin soil over limestone gravel or bedrock. It prefers open or somewhat shaded areas. It is mostly found in Eastern White Cedar or Balsam Fir woodlands, but also occurs in cedar swamps, clearings on forested sand dunes, and in alvars (open areas of limestone bedrock with very little soil).
Where it's been found in Ontario
Dwarf Lake Iris is only found in a relatively small area in North America along the shores and nearshore areas of the Great Lakes. In Canada, there are 43 known sites in Ontario, mainly on the Bruce Peninsula, with a few locations on Manitoulin Island. In 2003, 32 of these sites were surveyed, and only 16 (plus two newly discovered sites) still supported Dwarf Lake Iris. The total population is estimated to contain approximately one million individual shoots. The exact number of plants is difficult to determine since shoots can be connected by underground roots.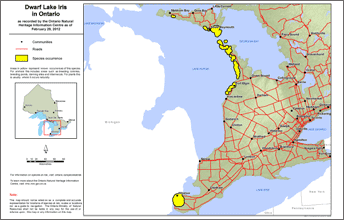 View a larger version of this map (PDF)
What threatens it
In Ontario, the shoreline habitat where the Dwarf Lake Iris lives is also highly prized for cottage and residential development. As a result, much of the habitat of this rare plant has been destroyed, altered or is in jeopardy. Any changes in water levels or sunlight availability could also be a threat to this sensitive plant.
Action we are taking
Special concern species do not receive species or habitat protection.
What you can do
Report a sighting
Report a sighting of an endangered animal or plant to the Natural Heritage Information Centre. Photographs with specific locations or mapping coordinates are always helpful.
Volunteer
Volunteer with your local nature club or provincial park to participate in surveys or stewardship work focused on species at risk.
Be a good steward
Private land owners have a very important role to play in species recovery. You may be eligible for stewardship programs that support the protection and recovery of species at risk and their habitats.
Pollinators, such as bees, are in steep decline across the globe and they play a key role in the survival of many of Ontario's rare plants. For information on how you can help scientists monitor pollinator populations in Ontario visit: www.seeds.ca/proj/poll.
Report illegal activity
Quick facts
Dwarf Lake Iris is similar to Blue Flag Iris, a wildflower commonly found in landscaped backyard ponds and in bouquets. These two species can be easily distinguished because Dwarf Lake Iris is low-growing at just 10 centimetres tall.
Michigan recently designated the Dwarf Lake Iris as its official wildflower.
Updated: August 12, 2021
Published: July 17, 2014