Fisheries Management Zone 17 (FMZ 17)
Information about fishing and how fish resources are managed in Fisheries Management Zone 17 (Peterborough and the Kawarthas).
News and updates
Lake Scugog walleye fishery closed
This change is reflected in the 2016 Ontario Fishing Regulations Summary.
The comments received through the public consultation process helped the ministry determine the regulation change for the Lake Scugog walleye fishery.
Fishing rules
You can:
About this zone
FMZ 17, the smallest FMZ, is located in southern Ontario. This zone has:
important recreational and tourism-based fisheries
recreational fisheries for walleye, bass, panfish
the highest use because of its superb fishing and urban location
FMZ 17 is one of 20 fisheries management zones in the province.
Location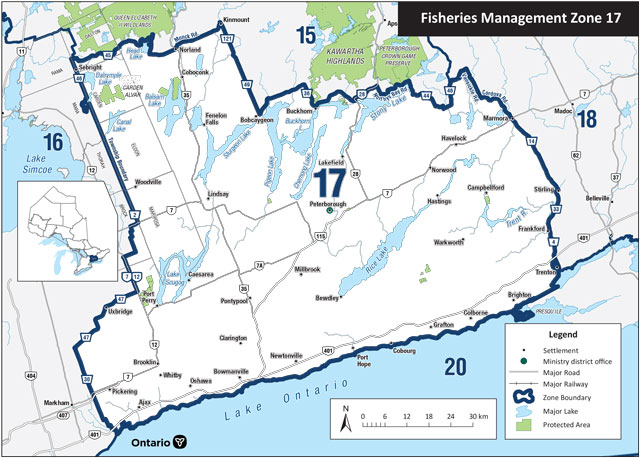 FMZ 17:
includes the Kawartha Lakes, Trent and Crowe River watersheds, and the eastern rivers and streams of the Oak Ridges Moraine
is bordered by Lake Ontario to the south (FMZ 20)
Legal boundary map and detail maps
Legal boundary map for FMZ 17 and detail maps 1 - 16 (PDF)
Monitoring reports and management plans
Zone advisory council
The FMZ 17 council provides advice during the development of fisheries objectives and strategies. Council members represent a broad range of views including:
angling groups
scientists and researchers
conservation groups
interested community members
The advisory council participates in fisheries management by:
sharing ideas and expertise with the ministry
helping to develop and implement management strategies
communicating with the local and angling community
For more information about the Fisheries Management Zone 17 advisory council, please email the council.
General fishing rules
Updated: November 23, 2022
Published: July 17, 2014