Planning transportation in Eastern Ontario
Learn about our plan to connect people and places in Eastern Ontario.
About Eastern Ontario
The Eastern Ontario plan area stretches from the District of Muskoka in the west, south to Prince Edward County, east to Ottawa and the United Counties of Prescott & Russell, and north to the County of Renfrew. Eastern Ontario is home to almost two million people and nearly one million jobs.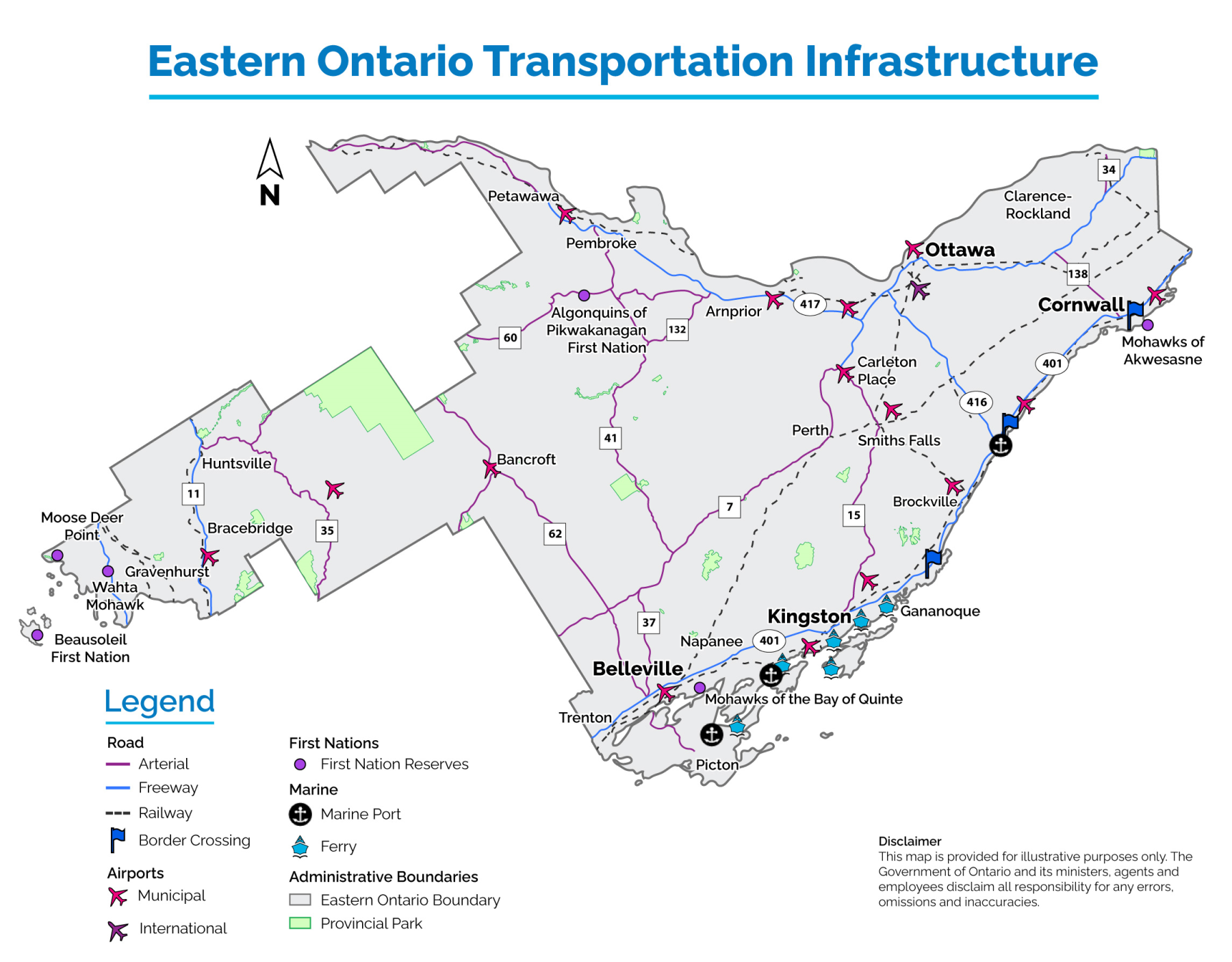 Our plan
A safe, efficient and connected transportation network is a foundation for a healthy and prosperous Ontario. Our draft plan for Eastern Ontario includes more than 50 actions for public transit, ferries, highways and more to:
connect people and places
support a competitive open for business environment
improve safety and inclusion
provide more choice and convenience
prepare for the future
Planning approach
Connecting the East: A draft transportation plan for eastern Ontario includes near- and long-term actions to improve how people and goods get around the region.
To understand local needs and priorities, the plan has been informed by research, technical work, an online public survey, a series of roundtables, and a separate roundtable with eastern Indigenous communities.
The draft transportation plan is a living document that will continue to evolve. The province will work closely with municipalities, Indigenous communities and organizations, Francophone residents and organizations, transportation agencies, and local businesses to gather input and feedback to deliver a transportation network in Eastern Ontario that will make an impact for decades to come.
Eastern Ontario transportation survey
From August 12, 2021 to October 29, 2021, over 2,900 people shared feedback to help us develop a plan for transportation in Eastern Ontario.
The survey looked at:
how people and businesses move and what modes they use
your top concerns as Ontario reopens
actions Ontario can take to better support travel
your current and future priorities for the transportation system
Your responses have helped us develop the draft transportation plan.
Next steps
As part of ongoing regional planning, we are starting a technical study of long-term network needs and priorities. This work will involve broad engagement and will begin in summer 2022.
Updated: April 21, 2022
Published: November 01, 2021