Production lot codes for maple syrup in Ontario
Learn more about production lots, lot documentation and lot code requirements for maple syrup in Ontario.
Lot code requirements
Ontario Regulation 119/11 – Produce, Honey and Maple Products, under the Food Safety and Quality Act, 2001, requires maple syrup containers greater than 125 milliliters to have a production lot code on their labels.
For more information about label requirements for maple syrup, refer to the page entitled Regulatory requirements for maple syrup in Ontario.
If there is ever a food safety or quality issue with the maple syrup, the syrup may need to be removed from the marketplace. Production lot codes, when accompanied by detailed records, help with product identification and tracking when these issues arise. If maple syrup is not lot coded, the entire season's production would be considered one lot and all of it may need to be removed from the marketplace and/or destroyed.
Production lots
A production lot is the group of products that were produced, processed or packaged under similar circumstances and within a specific timeframe.
In the context of maple syrup, examples of production lots may include syrup that was produced during a single day's production or syrup that was produced between cleaning cycles.
Lot codes
A lot code is a unique, specific code that identifies each production lot.
There are no specific requirements for production lot codes. These codes should be unique to each production lot and remain legible beyond the shelf-life of the maple syrup.
A lot code can be any unique combination of letters and/or numbers by which a container or unit of maple syrup can be traced and identified in your operation's records.
The lot code can be applied to the label of maple syrup or attached to the container by any means.
Examples of production lot codes
There are several ways to format production lot codes. Table 1 describes each type of format and provides examples of each.
Lot Code Type
Example
Date of production/packing
If maple syrup was packed on March 29, 2019 the production lot code could be:

032919 (month, day, year)
192903 (year, day, month)

The best before date
If the best before date is April 15, 2021 the production lot code could be:

041521 (month, day, year)
211504 (year, day, month)

Create your own
Customize a code for each production lot using a combination of letters and/or numbers that best suits your operation.
Production lot records
Each lot code must have accompanying records. These records should contain several important pieces of information that describe the maple syrup identified with that lot code, including:
the total amount of maple syrup bearing that lot code
the type of packaging (for example, glass or plastic)
container sizes, and the total number of each size
the date the maple syrup was packed
the source of the maple syrup (this is particularly important if any syrup or sap was purchased from another producer)
any additional production notes
Product distribution records
If you sell your maple syrup to anyone other than direct consumers, for example:
retailers
distributors
re-packers
then each lot code should also have accompanying distribution records. These records track where the product has been distributed, and should include:
the quantity of product distributed
the date of distribution
container sizes and types
buyers' contact information, including:

business or operation name
contact name
address
telephone number
email address
All records for each production lot code should be kept longer than the expected shelf-life of the maple syrup.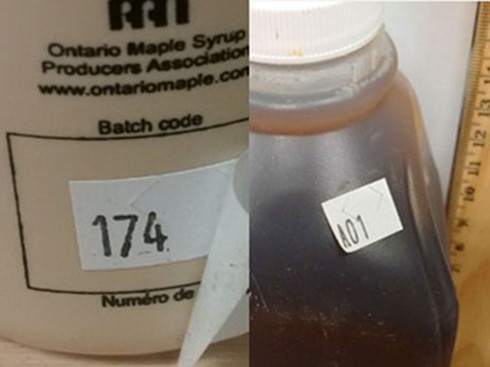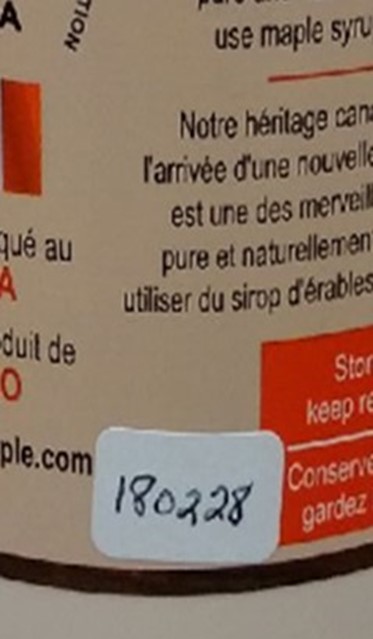 Contact us
For more information, please contact OMAFRA's Food Safety Inspection Delivery Branch by email at fpo.omafra@ontario.ca or call 1-877-424-1300.
Updated: March 18, 2022
Published: March 18, 2022