Urban fishing
What you need to know and where you can fish in Toronto and the GTA, Ottawa and other Ontario cities.
Where to fish
Most of Ontario's major urban centres sit along lakes and rivers with great fishing, like:
Lake Ontario waterfront in Kingston and Toronto
Rideau River and Dow's Lake in Ottawa
Thames River in London
Lake Nipissing in North Bay
St. Mary's River in Sault Ste. Marie
Lake Superior in Thunder Bay
Fish you can catch in the city
You can catch many popular sportfish in city waters, such as:
trout, walleye and bass
panfish like black crappie and yellow perch
Who should try it
Urban fishing can be enjoyed from shore or from a boat. It is ideal for:
novice anglers
families with young children
people who don't own a car
city-dwellers who enjoy the sport
Borrow fishing gear
No gear? No problem. The TackleShare program lends basic fishing gear to children or novice anglers who don't have their own equipment. It's free!
You can gear up at locations in many urban fishing centres, including:
libraries
Big Brothers and Sisters
conservation authorities
TackleShare is an initiative of the Ontario Federation of Anglers and Hunters, supported by Ontario Power Generation.
Find a TackleShare location near you.
City fishing fundamentals
get licenced: if you're between the ages of 18 and 64, chances are you'll need a licence to fish
know the rules and regulations: for many fish there are open and closed seasons and limits on the size and number of fish you can keep
don't trespass: city fishing sites often border private property (boundaries not always marked.)
catch and release: keep a few fish for the table and release the rest to help ensure a good fishery for future generations
be courteous: respect others and do not crowd them
stay safe: always exercise caution when fishing near flowing water, wear life jackets, and let others know where you'll be and when you plan to return
City fishing in Toronto and the GTA
The City of Toronto offers fine fishing for brown and rainbow trout, and chinook, coho and Atlantic salmon. You can find them:
along the Lake Ontario waterfront
at the Toronto Islands, a ferry ride from downtown Toronto
from your own boat or a fishing charter
Fishing with young children? Improve your chances of "catching" instead of just "fishing." You'll find these plentiful, fun-to-catch species in many public ponds, rivers, marshes and lakes:
carp and catfish
sunfish, perch, black crappie
bass
Where to fish
More than 50 public waterways in Toronto and the Greater Toronto Area (GTA) offer public fishing access. Use the Urban Fishing Opportunities in Toronto and Surrounding Areas for:
map and directions
types of fish (by location)
ice fishing
boat launches and boat rentals
amenities like washrooms, payphones, parking, public transit
wheelchair accessible locations
Additional GTA locations
Halton Region
Burns Conservation Area: Twiss Rd. and #10 Sideroad
Bronte Harbour Park: Lakeshore Rd. W. at Bronte Rd.
Tannery Park: Chisholm St., south of Lakeshore Rd. E.
Heart Lake Conservation Area, Brampton
Parr Lake North Brampton
Parr Lake South Brampton
Professors Lake Brampton
Esker Lakes Brampton
Lake Aquitaine Mississauga
York Region
Too Good Pond Markham
Fairy Lake Newmarket
Lake Simcoe - Sibbald Point Provincial Park
Durham Region
Wilmot Creek: creek crossing at Highway 2
Wilmot Creek: downstream of Highway 401 railway crossing
Kendal Crown Property: Regional Road 9, east of Highway 35/115
Joe Fowler Memorial Park: Port Perry off Water St.
Trent Canal: Gambridge Lock 41 under Highway 12 bridge
Nonquon River: between 8th and 12th Concession
Bowmanville Harbour Conservation Area: Liberty St., south of Highway 401
Bowmanville Valley Conservation Area: Roenick St., south of Highway 2
Heber Down Conservation Area: Regional Rd. 23 and Highway 12 N. of Taunton Rd.
Lynde Shores Conservation Area: Brock St. south of Highway 401
Oshawa Valleylands Conservation Area: Simcoe St., south of Highway 401, west to Whiting Ave.
Lake Simcoe, Beaverton Public Pier – Beaverton Harbor
Lake Scugog, Public Launch Port Perry
Talbot River, Gamebridge Crown Land Property (adjacent to lock 41)
What you can catch:
cold-water—rainbow trout, chinook, coho, Atlantic salmon
warm-water—carp, catfish, sunfish, perch, black crappie, bass
City fishing in Ottawa
Canada's Capital Region offers great city fishing. Fish from shore, or launch a boat, kayak or canoe with ease.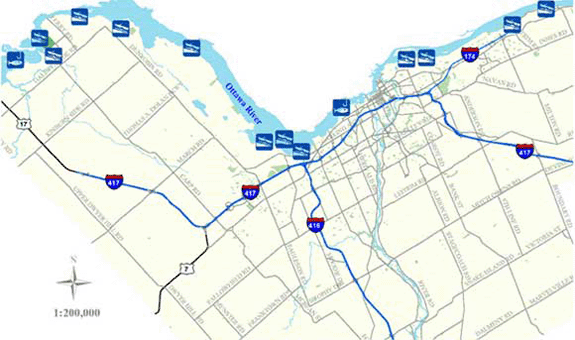 Ottawa River
Where to fish:
West Carleton—Morris Island Conservation Area, Fitzroy Harbour, Fitzroy Provincial Park, MacLaren's Landing, Buckham's Bay
Port of Call marina
Nepean North—Shirley's Bay, Crystal Beach, Dick Bell Park, Champlain Bridge
Ottawa East—Rockcliffe Yacht Club, Blair Road
Orléans East—Petrie Island
What you can catch:
warm-water—black crappie, largemouth bass, smallmouth bass, pumpkinseed, carp, channel catfish, brown bullhead, bluegill, longnose gar
cool-water—walleye, sauger, northern pike, muskellunge, rock bass, freshwater drum, yellow perch, mooneye
Champlain Bridge area—brown trout, stocked by the Province of Quebec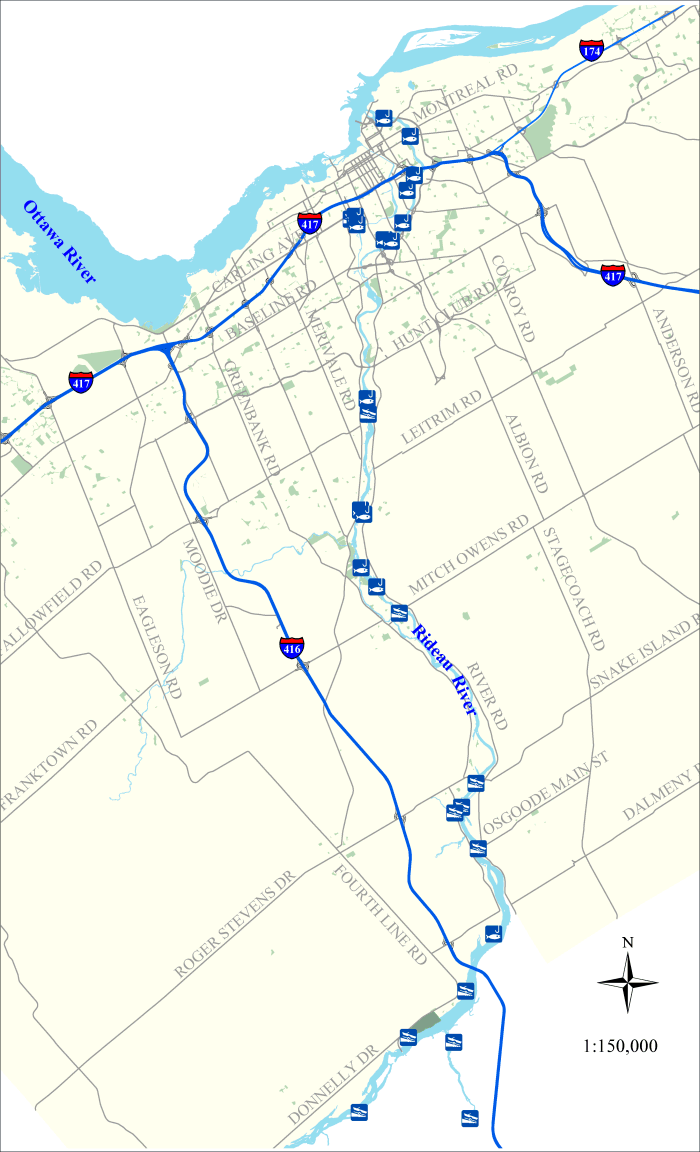 Rideau River
Where to fish:
Vanier Parkway—New Edinburgh Park, Riverain Park
Downtown—Dow's Lake, Brewer Park, Billings Bridge Plaza area, Windsor Park, Brantwood Park, OC Transpo Bridge (between Lees and Hurdman Stations)
Hunt Club Bridge South to Manotick—Eccolands Park, Black Rapids locks, Chapman Mills Conservation Area, Riverside Park
Manotick Area—Walter Upton-Collins Park, Rideau Township marina
Kars and Osgoode Area—Long Island marina, Kars recreation area, Kars public wharf, W.A. Taylor Conservation Area
Dilworth Road, off Highway #416—Baxter Conservation Area, Reeve Craig boat launch
Kemptville and Kemptville Creek—Rideau River Provincial Park, Muldoon Launch, Pirate Cove Marina, Curry Park
What you can catch:
warm-water—largemouth bass, smallmouth bass, bluegill, pumpkinseed, carp, brown bullhead, yellow bullhead
cool-water—walleye, black crappie, rock bass, yellow perch, northern pike, muskellunge
City fishing events
Anglers celebrate Family Fishing Weekend in February and Family Fishing Week in July with events across the province. These special free fishing periods are a great time to give urban fishing a try, enjoy an urban fishing festival or enter a fishing derby.
Updated: February 03, 2023
Published: July 17, 2014