Learn to Fish
The Learn to Fish program is a free program that teaches new anglers how to fish in Ontario.
Overview
The Learn to Fish program introduces kids, teens and adults to fishing. This fun and engaging two–hour program combines a one-hour practical teaching session with one hour of supervised hands–on fishing.
The program will teach you how to:
rig, bait and cast a fishing rod
identify and catch local fish species
get a fishing licence and follow fishing regulations
discover more about fishing in Ontario
fish safely and sustainably
We provide everything you need, including:
experienced instructors focused on fish, fun and safety
fishing rod, reel and bait
a fishing licence to take part in the Learn to Fish program
lifejacket and sunglasses
Learn to Fish program schedule
Our 2022 Learn to Fish season has now ended.
Thank you to all the locations that hosted us and to everyone who participated this summer. We are looking forward to seeing you again in 2023.
Check this page in June 2023 for next year's Learn to Fish program schedule.
Learn to Fish outreach program
Our mobile unit travels to festivals and events across Ontario to introduce new anglers to recreational fishing.
We engage people in fishing through:
information videos
a build–your–own fishing lure activity
a fishing simulator
Beginner anglers can talk with experienced staff and take home a wide variety of introductory fishing publications.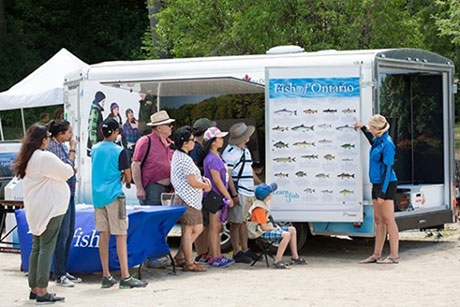 How to book the Learn to Fish mobile unit
Our outreach program targets family–friendly events that draw a high percentage of new or non–anglers.
To invite the Learn to Fish mobile unit to your event, contact us.
We will ask you to complete a short event information form to help us learn more about your event. We will assess events based on:
whether the event fits with the program goals
our availability
What we heard from you: 2022 Learn to Fish feedback results
100% were satisfied with their Learn to Fish experience.
100% reported improved fishing skills.
98% would recommend the Learn to Fish program to others.
Note: we were unable to provide our in-park Learn to Fish program in 2020 and 2021 due to COVID-19 restrictions.
Learn to Fish — Digital
The digital Learn to Fish program helps you navigate this new world of fishing. Follow along as we review all the basics of how to fish with videos, quizzes and other resources like our Learn to Fish Guide.
At the end of this program, you will have the knowledge and confidence to fish on your own.
Follow us on social media @FishWildlifeON for more information.
Request fishing information materials
If you are interested in Learn to Fish promotional materials for your event, contact us.
Sponsorships
The Learn to Fish program is provided by the ministry with support from our sponsors.
Updated: November 01, 2022
Published: December 19, 2014