White wood aster
Scientific name: Eurybia divaricata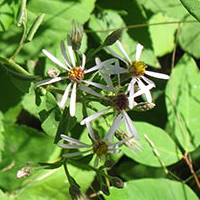 Cover photo credit: Rob Tervo
Status
Threatened
"Threatened" means the species lives in the wild in Ontario, is not endangered, but is likely to become endangered if steps are not taken to address factors threatening it.
Date added to the Species at Risk in Ontario List
The White wood aster was already assessed as threatened when the Endangered Species Act took effect in 2008.
What it looks like
White wood aster is a perennial plant that usually grows 30 to 90 centimetres tall. Its leaves are deeply and irregularly serrated: the lower leaves are heart-shaped while the upper leaves are elongated.
It flowers in the fall, typically in early to mid September. The florets are yellow and purple while the rays are white. White Wood Aster grows in colonies, spreading primarily through underground root-like stems.
Where it lives
White wood aster grows in open, dry deciduous forests that are dominated by Sugar maple and American beech trees. It is often found mixed in with other asters.
The plant does best in well-drained soils and it may prefer a low level of disturbance, as it has been found to grow along trails. It does well in partial to full shade.
Where it's been found in Ontario
White wood aster ranges from New England south to Georgia and Alabama. In Canada, it is restricted to a relatively small number of sites in the Niagara region and a few woodlots in southwestern Quebec.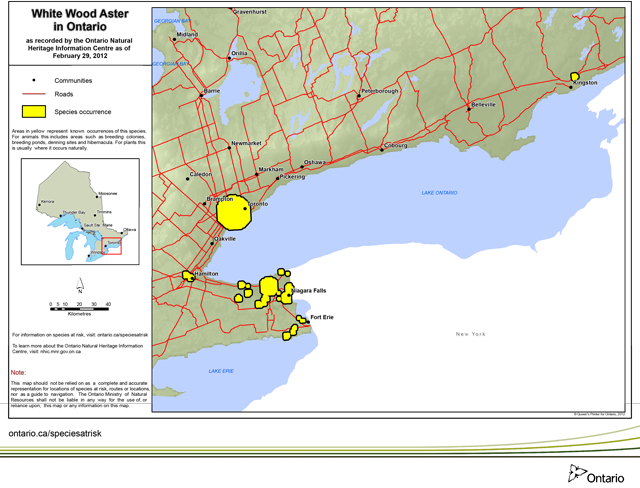 View a larger version of this map (PDF)
What threatens it
Habitat loss and degradation are the greatest threats to White Wood Aster in both Ontario and Quebec. Recreational use at some sites, including potential trampling by hikers is also a factor.
The spread of the invasive species Garlic mustard, grazing by high populations of deer in southern Ontario, and consumption by the weevil are other potential threats to White wood aster.
Action we are taking
Threatened Species and their general habitat are automatically protected.
Recovery strategy
A recovery strategy advises the ministry on ways to ensure healthy numbers of the species return to Ontario.
Read the executive summary and the full document (December 5, 2019).
Government response statement
A government response statement outlines the actions the government intends to take or support to help recover the species.
Read the government response statement (September 8, 2020)
Habitat protection
General Habitat Protection - June 30, 2013
What you can do
Report a Sighting
The Ministry of Natural Resources and Forestry tracks species at risk such as the White wood aster. You can use a handy online form to report your sightings to the Natural Heritage Information Centre. Photographs with specific locations or mapping coordinates are always helpful.
Volunteer
Volunteer with your local nature club or provincial park to participate in surveys or stewardship work focused on species at risk.
Be a good steward
private land owners have a very important role to play in species recovery; if you find White wood aster on your land, you may be eligible for stewardship programs that support the protection and recovery of species at risk and their habitats
invasive species seriously threaten many of Ontario's species at risk; to learn what you can do to help reduce the threat of invasive species, visit:
pollinators, such as bees, are in steep decline across the globe and they play a key role in the survival of many of Ontario's rare plants; for information on how you can help scientists monitor pollinator populations in Ontario visit:
www.seeds.ca/proj/poll.
consult the Ministry of Natural Resources and Forestry when working around forests for information on provincial regulations and best management practices to protect these important habitats; call toll free 1-800-667-1940
the Canada-Ontario Farm Stewardship Program is available to farmers registered under the Canada-Ontario Environmental Farm Plan to encourage greater protection and conservation of habitat for species at risk
Report illegal activity
Report any illegal activity related to plants and wildlife to 1-877-TIPS-MNR (847-7667).
Quick facts
White wood aster seeds are dispersed by the wind but are generally not carried for long distances; this may account for its low colonization rate and restricted range
White wood aster is also known as the Heart-leaved aster because of the shape of its lower leaves
the flowers of White wood aster are attractive to butterflies and it is the host plant for Pearly crescents, a common North American butterfly
Updated: August 12, 2021
Published: July 18, 2014