Build or buy a tiny home
Read our guide on what to look for when building or buying a tiny home for your property.
Some parts of this guide may not accurately reflect recent changes to land use planning rules introduced under the More Homes Built Faster Act, 2022. We are working to update the guide to include these changes.
Introduction
Are you thinking about having a tiny home on your property? Not only are they a great way to save on housing costs, they are also cheaper to build and maintain than a regular house. If you are interested in building or buying a tiny home, this guide will provide you with useful information as you move ahead with your project.
This guide applies only to newly built stand-alone tiny homes that are separate buildings from existing structures on a property. For the purposes of this guide, the types of tiny homes discussed are new small houses that are either:
built on site
built in a factory and then brought to a property
Renovating an existing building on a property to add a dwelling unit is not discussed in this guide.
If you are planning to renovate an existing, separate structure on your property such as a garage, coach house or laneway house, you should contact your local planning and building departments for more information about how to proceed. You can also read the guide "Add a second unit in your house," with information on what you need to know about adding a second unit inside your house.
Disclaimer: this document is provided for convenience only and should not be relied upon as a substitute for construction, engineering, architectural or legal advice. The Ministry of Municipal Affairs and Housing does not assume responsibility for errors or oversights resulting from use of this document.
Tiny home
For the purposes of this guide, a "tiny home" is a small, private and self-contained dwelling unit:
with living and dining areas
with kitchen and bathroom facilities
with a sleeping area
intended for year-round use
A tiny home can be a primary home or a separate structure on a property that already has an existing house. Campers, recreational vehicles, cottages and other structures used on a seasonal basis are not considered tiny homes. Below are three common examples of a tiny home.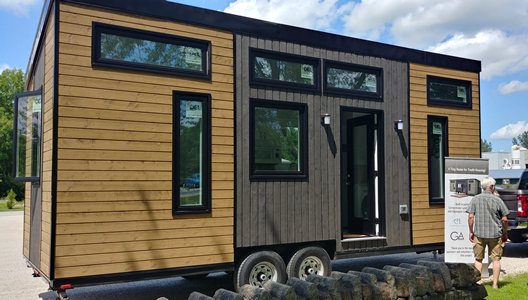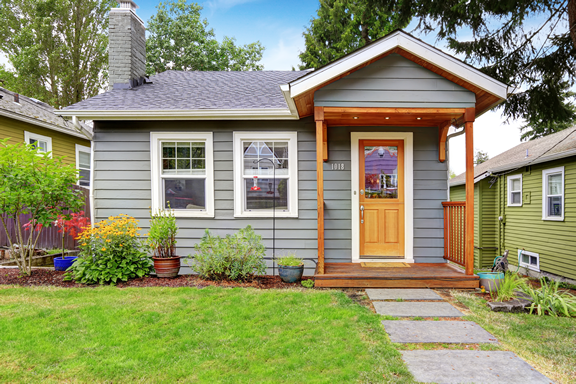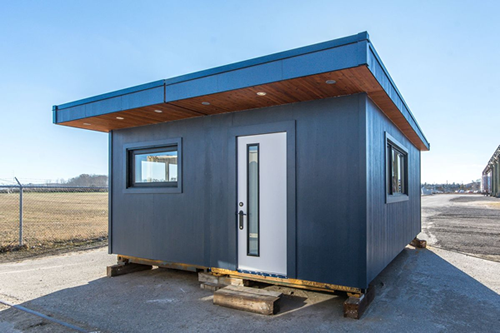 Despite their size, tiny homes must still comply with the health and safety requirements of Ontario's Building Code, municipal zoning and other local by-laws. Tiny homes must also have necessary servicing such as water and sewage.
Tiny home sizes
The size of a tiny home varies from municipality to municipality, depending on standards set out in zoning by-laws.
Some municipalities have minimum size requirements, while others have maximum size requirements. For example, some municipal by-laws require a tiny home to be 37 m2 (400 ft2) or less.
In all cases, a tiny home cannot be smaller than the minimum required size set out in Ontario's Building Code, which is 17.5 m2 (188 ft2).
Add a tiny home to your property
Before you decide to add a tiny home to your property, it is important that you first speak with your local municipal planning and building departments. They can tell you whether you can add or build a tiny home to your property and answer questions related to the Building Code, zoning and other by-laws.
Some of the important things you should talk to your municipality about as you consider building a tiny home include:
municipal zoning requirements that apply to your property
designing your tiny home to comply with the Building Code
getting necessary building permits
required building inspections during construction
parking requirements
size requirements for tiny homes, if any
rules about connecting to municipal services, if available
To help you through the sometimes-complex approval and building process, we recommend you hire at least one of the following:
Building Code designer registered with the Ontario government
professional planner
architect
engineer
These professionals and your builder can help you get all the necessary approvals, building permits and arrange for construction inspections.
You can check the qualifications of a provincially registered Building Code designer.
Updated: January 30, 2023
Published: November 26, 2019