Places to Grow – Growth Plan for the Greater Golden Horseshoe, 2006
On June 16, 2006, the Government of Ontario released the Growth Plan for the Greater Golden Horseshoe, 2006. It was prepared under the Places to Grow Act, 2005, as part of the Places to Grow initiative to plan for healthy and prosperous communities throughout Ontario.footnote 1[1]
Figure 1 below shows the extent of the Greater Golden Horseshoe Growth Plan area.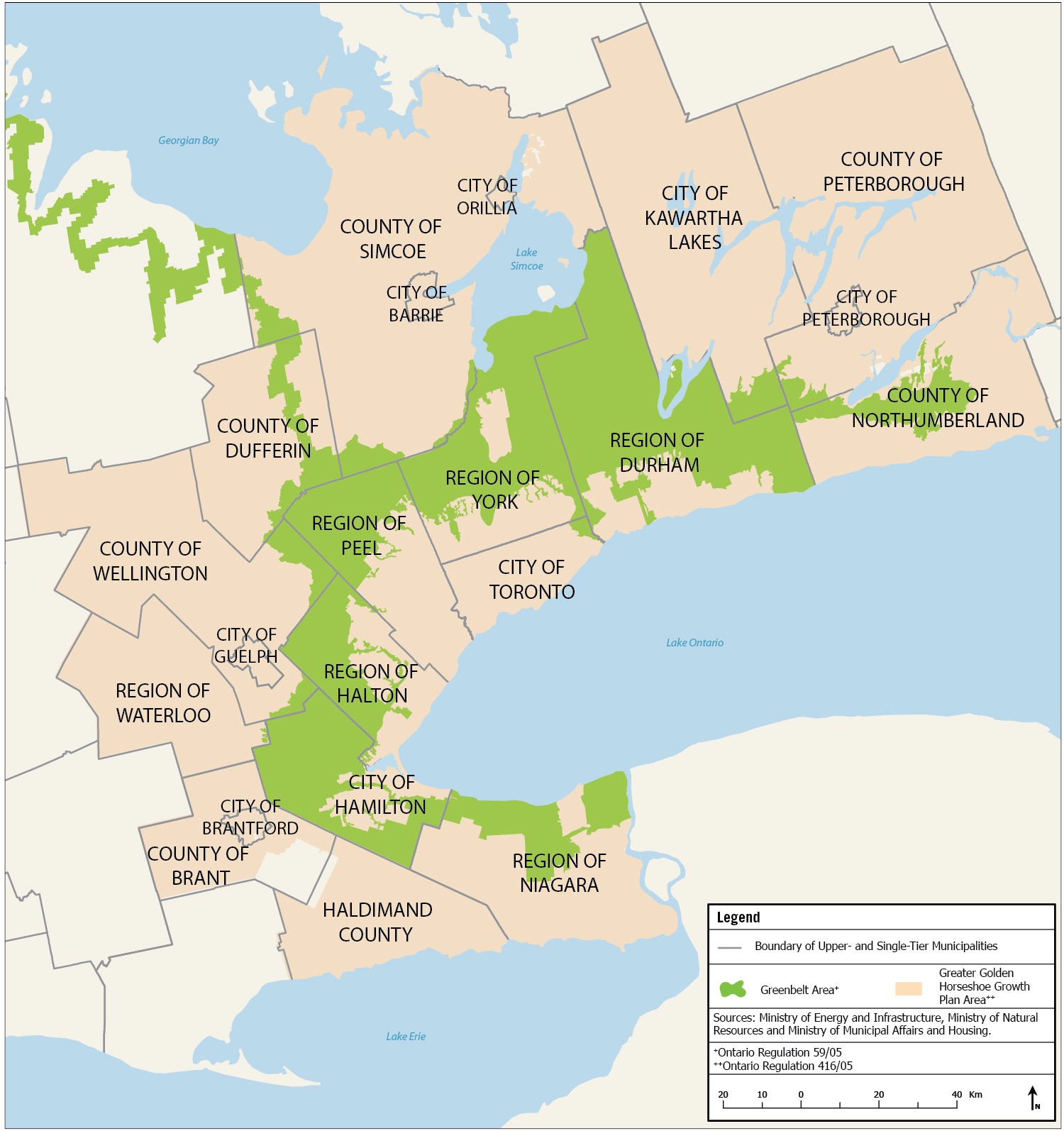 Description: Map showing the Greater Golden Horseshoe Growth Plan Area. This area is comprised of 21 upper- and single-tier municipalities that include the Region of Niagara, Haldimand County, City of Hamilton, County of Brant, City of Brantford, Region of Waterloo, County of Wellington, City of Guelph, Region of Halton, County of Dufferin, Region of Peel, County of Simcoe, City of Barrie, City of Orillia, Region of York, City of Toronto, Region of Durham, City of Kawartha Lakes, County of Peterborough, City of Peterborough and County of Northumberland.
The Growth Plan for the Greater Golden Horseshoe, 2006 aims to:
Revitalize downtowns to become vibrant centres;
Create complete communities that offer more options for living, working, shopping, and playing;
Provide greater choice in housing types to meet the needs of people at all stages of life;
Curb sprawl and protect farmland and green spaces; and
Reduce traffic gridlock by improving access to a greater range of transportation choices.
The Growth Plan identifies twenty-five existing or emerging downtown areas as urban growth centres and establishes policies and minimum density targets to encourage intensification and downtown revitalization. This report contains the maps depicting the size and location of each urban growth centre, except Downtown Brantford. Given the ongoing legal matters, claims and assertions within Brantford, the urban growth centre remains as proposed in the Technical Paper of Spring 2008.
This report has been prepared pursuant to policies 2.2.4.2 and 5.3.3 of the Growth Plan. The Province worked with municipal governments to develop a set of guiding principles to be used in delineating the size and location of each urban growth centre. The principles, combined with feedback and advice from municipalities, helped to inform the development of the proposed boundaries that were depicted in the Proposed Size and Location of Urban Growth Centres in the Greater Golden Horseshoe Technical Paper released in Spring 2008. Refinements and corrections proposed by municipalities and members of the public provided important input into the size and location of urban growth centres contained in this report.
---
Footnotes
footnote

[1]

Back to paragraph

It is important to note that the Provincial Policy Statement, 2005, other provincial plans, and related provincial acts and policies must be read in conjunction with the Growth Plan for the Greater Golden Horseshoe, 2006.