American Hart's Tongue Fern
Scientific name: Asplenium scolopendrium var. americanum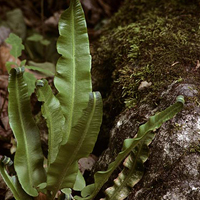 Cover photo credit: Allen Woodliffe
Status
Special Concern
"Special Concern" means the species lives in the wild in Ontario, is not endangered or threatened, but may become threatened or endangered due to a combination of biological characteristics and identified threats.
Date added to the Species at Risk in Ontario List
The American Hart's Tongue Fern was already assessed as a species of special concern when the Endangered Species Act took effect in 2008. A reassessment in May 2017 confirmed this status.
Read the assessment report PDF.
What it looks like
The American Hart's Tongue Fern is a perennial evergreen fern with fronds that grow from a short and stout underground stem. Its blades are strap-shaped with a heart-shaped base and pointed tip, about 12 to 40 centimetres long or longer, and 2 to 4.5 centimetres wide.
Where it lives
American Hart's Tongue Fern grows on calcareous rocks in deep shade on slopes in deciduous forest. Most Ontario occurrences are in maple-beech forest. Established plants can grow in exposed, rocky crevices and on outcrops, but moist, mossy areas seem to be essential for spore germination and early plant development.
Where it's been found in Ontario
American Hart's Tongue Ferns are found at sites in New York, Michigan, Tennessee, Alabama, Ontario, Oaxaca, Chiapas and Hispaniola. Ontario has the bulk of populations north of Mexico. In this province, the fern has been reported at more than 100 sites, mostly on the Niagara Escarpment, with about 75 of these believed to still exist.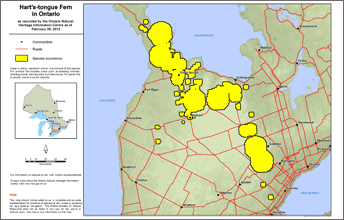 View a larger version of this map (PDF)
What threatens it
Populations of American Hart's Tongue Fern in Ontario are relatively secure, making the province an important refuge for the plant in North America.
In Ontario, threats to the species include logging, quarrying, development, competition from invasive plants, trampling on escarpment trails and collecting for transplanting into gardens.
Action we are taking
Special concern species do not receive species or habitat protection, but may be eligible for grants to help with their protection and recovery.
What you can do
Report a sighting
Report a sighting of an endangered animal or plant to the Natural Heritage Information Centre. Photographs with specific locations or mapping coordinates are always helpful.
Volunteer
Volunteer with your local nature club or provincial park to participate in surveys or stewardship work focused on species at risk.
Be a good steward
Private land owners have a very important role to play in species recovery. You may be eligible for stewardship programs that support the protection and recovery of species at risk and their habitats.
The Carolinian forests of southern Ontario support an amazing diversity of plants and wildlife, including many species at risk. Carolinian Canada is working to help recover species at risk and their habitats.
Report illegal activity
Quick facts
American Hart's Tongue Fern has very specific habitat requirements, making transplantation and artificial propagation difficult.
Updated: August 12, 2021
Published: July 18, 2014