Bluehearts
Scientific name: Buchnera americana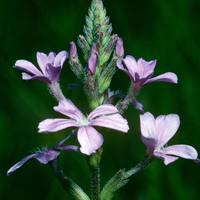 Cover photo credit: Allen Woodliffe
Status
Endangered
"Endangered" means the species lives in the wild in Ontario but is facing imminent extinction or extirpation.
Date added to the Species at Risk in Ontario List
Bluehearts was already assessed as endangered when the Endangered Species Act took effect in 2008.
Read the Assessment Report
What it looks like
Bluehearts is a member of the Broomrape family (Orobanchaceae). It is perennial, and grows up to 80 centimetres in height.
It has a spike of deep purple flowers, the petals forming a tube ending in five widely spreading lobes. The leaves are opposite, stemless, coarsely toothed, with the upper ones progressively smaller and narrower than the lower ones.
The seeds of Bluehearts can remain viable in the soil for at least three years.
Where it lives
In Ontario, Bluehearts is found in wet meadow communities between sand dunes along shorelines where it is associated with plants characteristic of tallgrass prairies. This habitat is considered rare in Ontario.
Where it's been found in Ontario
Bluehearts is concentrated in Tennessee, Kentucky, Arkansas and Missouri. It is believed to be extirpated from Pennsylvania, Michigan, New Jersey, D.C., Delaware, Maryland, North Carolina, and New York.
In Canada, Bluehearts is limited to three locations along a 10-kilometre stretch of the Lake Huron shoreline within the area between Kettle Point and Pinery Provincial Park.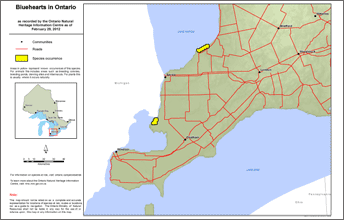 View a Larger version of this map (PDF)
What threatens it
Bluehearts is threatened by habitat loss and degradation, especially a decrease in the extent of water level fluctuations resulting from lower water levels in Lake Huron.
It is also threatened by recreational activities such as ATV riding and cycling, picking, and the development of cottages and roads.
Woody plants and the European Common Reed threaten to crowd it out in places.
Action we are taking
Endangered Species and their general habitat are automatically protected
Recovery strategy
A recovery strategy advises the ministry on ways to ensure healthy numbers of the species return to Ontario.
Read the Executive Summary and Full Document (January 28, 2016)
Government response statement
A government response statement outlines the actions the government intends to take or support to help recover the species.
Read the government response statement (October 28, 2016)
Review of progress
A review of progress made toward protecting and recovering a species is required no later than the time specified in the species' government response statement, or not later than five years after the government response statement is published if no time is specified.
Read the report on progress towards the protection and recovery of 18 species at risk, including Bluehearts (2021).
Habitat protection
General Habitat Protection - June 30, 2013
What you can do
Report a sighting
Report a sighting of an endangered animal or plant to the Natural Heritage Information Centre. Photographs with specific locations or mapping coordinates are always helpful.
Volunteer
Volunteer with your local nature club or provincial park to participate in surveys or stewardship work focused on species at risk.
Be a good steward
Private land owners have a very important role to play in species recovery. If you find Bluehearts on your land, you may be eligible for stewardship programs that support the protection and recovery of species at risk and their habitats.
Invasive species seriously threaten many of Ontario's species at risk. To learn what you can do to help reduce the threat of invasive species, visit:
www.ontario.ca/invasivespecies
www.invadingspecies.com
www.ontarioinvasiveplants.ca
Report illegal activity
Quick facts
Bluehearts is "hemiparasitic" meaning that it may feed off of other plants but do not require this to survive.
The seeds of Bluehearts require light to germinate. As a result, the species depends on disturbances such as fire and water level fluctuations to prevent shade-producing vegetation, trees and shrubs from taking over their habitat.
Bluehearts has bluish-purple flowers that quickly turn black when bruised or picked.
Updated: December 17, 2021
Published: July 18, 2014