Crooked-stem aster
Scientific name: Symphyotrichum prenanthoides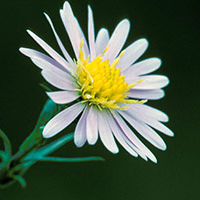 Cover photo credit: Thomas G. Barnes
Status
Special Concern
"Special Concern" means the species lives in the wild in Ontario, is not endangered or threatened, but may become threatened or endangered due to a combination of biological characteristics and identified threats.
Date added to the Species at Risk in Ontario List
The Crooked-stem Aster was listed as threatened when the Endangered Species Act took effect in 2008, and was re-classified as special concern on June 27, 2014.
Read the report (PDF)
What it looks like
Crooked-stem Aster is a perennial herb. It was named after its zigzagging stems that grow 20 to 90 centimetres tall. The oval-lance-shaped leaves are six to 20 centimetres long, narrow near the base and wider towards the tip.
The edges of the leaves are toothed near the tip. The flower heads bloom from August to October and have pale bluish ray flowers and yellow disk flowers which later turn purple or brown.
Where it lives
Crooked-stem Aster grows in rich, sandy soil at the edge of forests or in sunny openings within forests.
It also grows in wet areas along the banks of rivers and streams, and is sometimes found along roadsides.
Where it's been found in Ontario
The Crooked-stem Aster range includes the eastern United States, from New York south to North Carolina and Tennessee, and west to Indiana.
There is a separate population in the American Midwest within Wisconsin, Minnesota, Iowa and Illinois.
In Canada, the Crooked-stem Aster is only found in southwestern Ontario. About 22 populations were believed to exist in 2002, most of these in Elgin County.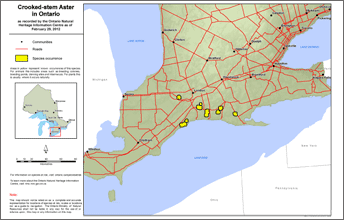 View a larger version of this map (PDF)
What threatens it
The main threat to Crooked-stem Aster is habitat destruction due to clearing of forests, changes to watercourses, and residential or road development.
The aster is also vulnerable to invasive plants, such as Garlic Mustard, that compete with it for water, light and space.
Action we are taking
Special concern species do not receive species or habitat protection.
What you can do
Report a sighting
Report a sighting of an endangered animal or plant to the Natural Heritage Information Centre. Photographs with specific locations or mapping coordinates are always helpful.
Volunteer
Volunteer with your local nature club or provincial park to participate in surveys or stewardship work focused on species at risk.
Be a good steward
Private land owners have a very important role to play in species recovery. If you find Crooked-stem Aster on your land, you may be eligible for stewardship programs that support the protection and recovery of species at risk and their habitats.
Invasive species seriously threaten many of Ontario's species at risk. To learn what you can do to help reduce the threat of invasive species, visit:
www.ontario.ca/invasivespecies
www.invadingspecies.com
www.ontarioinvasiveplants.ca
Report illegal activity
Report any illegal activity related to plants and wildlife to 1-877-TIPS-MNR (847-7667).
Quick facts
Bees and butterflies pollinate the flowers of the Crooked-stem Aster. The seeds are scattered by wind after ripening.
Aboriginal people used the Crooked-stem Aster to treat colds and fevers.
Updated: August 12, 2021
Published: July 17, 2014